KamAZ refused to assemble armored vehicles of NATO countries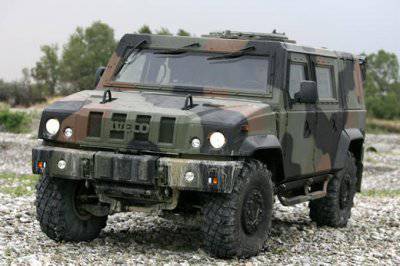 The Russian auto giant will not produce the Russian version of the Italian machine "Lynx".
The idea to localize the production of Italian armored vehicles LMV M65 in Russia under the brand name "Lynx" is close to failure. The head manufacturer of this car, the KAMAZ auto concern, has left the program. Experts believe that the decision is connected with foreign components for which the plant does not and will not have a license.
By the end of 2020, the Ministry of Defense should purchase 2 thousand of such vehicles under the state armaments program.
The decision to withdraw from the program "Izvestia" was told at KamAZ.
- We conducted a pilot assembly of 10 IVECO from Italian vehicle sets, tested them and handed over to the Ministry of Defense. KamAZ's continued participation in this program is not expected, Izvestia was told at the plant.
Key nodes IVECO LMV M65 - non-Italian origin. Ceramic armor is German, its base is Dutch materials, the engine is American. IVECO could not transfer the rights to manufacture these units, since they do not belong to it, and with the Americans, Russia does not have an agreement on military-technical cooperation, a source in the military-industrial complex told Izvestia.
The head of the ACT center, Ruslan Pukhov, believes that if the unlicensed production of armored vehicles began, the US State Department could block the sale of KamAZ trucks in the West. In addition, the Russian army would be dependent on the supply of American parts.
- The buyer of imported weapons should always be prepared for what will depend on the political situation. - Pakistanis, Indians, Venezuelans are perfectly familiar with this situation, Pukhov reminded in an interview with Izvestia.
About plans to purchase armored vehicles IVECO a year ago, said Defense Minister Anatoly Serdyukov, who considered them much superior to the Russian armored vehicles "Tiger". The minister liked the Italians' assurances that the LMV M65 was able to withstand the undermining of 8 kg of TNT under its bottom. Serdyukov personally traveled to Italy to get acquainted with the production of LMV M65, and then watched the tests of these machines in Russian conditions.
10 machines assembled from kits at KamAZ were intended for these tests. According to the customs declaration, which was at the disposal of Izvestia, each LMV M65 car kit cost the car factory 12 million rubles. For comparison, the "Tiger" costs about 5 million
Now, according to Izvestia, they are trying to set up the Lynx SKD assembly at one of the military repair plants in Bryansk. The state defense order must be fulfilled.
Ctrl Enter
Noticed a mistake Highlight text and press. Ctrl + Enter