The All-Russian Public Opinion Research Center (VTsIOM) has published the results of a September poll of Russians, according to which Defense Minister Sergei Shoigu took the first place in the ranking of the quality of ministers. The second and third places went to the Foreign Minister Sergey Lavrov and the Head of the Emergencies Ministry Vladimir Puchkov, respectively.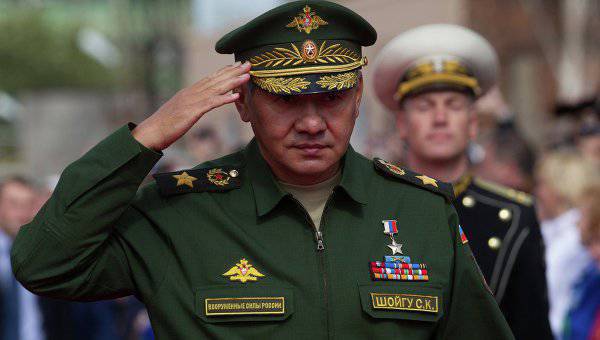 "Best of all, citizens evaluate the work of Defense Minister Sergei Shoigu and Foreign Minister Sergei Lavrov - they received 4,63 and 4,57 points on a five-point scale," the report said VTsIOM RIA
"News"
.
The top five leaders also included Emergencies Minister Vladimir Puchkov, who received 3.94 points, and two deputy prime ministers, Dmitry Rogozin, 3.88 and Dmitry Kozak, 3.82.
Compared to the results of the last June survey, Russians began to evaluate more highly the activities of most of the ministers.
"Citizens believe that they are in a besieged camp: Europe does not like Russia, the United States, especially. Shoigu and Lavrov are the "frontmen," the Russians consider them to be the main defenders of the country, like President Vladimir Putin, "said VTsIOM head Valery Fedorov.
At the last place in the ranking was the Minister of Education and Science Dmitry Livanov, who received 2.94 points. Minister of Development of the Far East Alexander Galushka - 3.29 points, Minister of Agriculture Nikolay Fedorov - 3.28 points, Minister for Open Government Affairs Mikhail Abyzov and Deputy Prime Minister Yury Trutnev, who scored 3.33 points, were also among the unpopular members of the government.
The rank of the most famous ministers was also kept by Sergey Shoigu and Sergey Lavrov - their positions were called 77% and 63% of Russians. And the most unrecognizable was Deputy Prime Minister Arkady Dvorkovich - only 1% of respondents know what position he occupies in the government.
The survey involved 1.6 thousands of respondents from 42 Russian regions, its error does not exceed 3.4%.