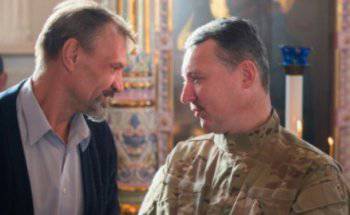 - Igor Ivanovich, to be honest, recently the thought does not leave me that the Minsk agreements resemble the Khasavyurt agreements, which marked the beginning of the end of the first Chechen war and led to the second Chechen war.
- It seems that this is so ... Now we are trying with all our might to prevent "Khasavyurt" in the Donbas.
- In general, I came to this opinion when I saw that for some political reasons the wide victorious offensive of the militias was stopped. What do you think it would be if it were not stopped?
- Slavyansk and Kramatorsk, which we left retaining military potential, would be ours today, not to mention Mariupol. Do you know that when the offensive was stopped, the forward militia units already entered Mariupol? Ukry just fled from our onslaught. Mariupol was empty ... And now - on you! The offensive was stopped and peace negotiations began in Minsk, and at that time I was simply "left", because I was categorically against stopping the offensive. But my fears were fully confirmed. Today, thanks to the "truce", the Ukrainian troops regrouped, pulled up heavy weapons and prepared for new battles. Now this is no longer the alarmist army that, if it had not stopped our offensive, would have been routed. In general, for the Donbassians the biggest tragedy is that the referendum on the creation of the DPR and the LPR was not immediately recognized by Russia as well as the referendum on the annexation of the Crimea. And no one of them thought that an uprising would lead to such a shameful result, as the Minsk agreements are.
- Igor Ivanovich, in all the "misunderstandings" of what is happening in Ukraine, I still care about this question. Why Ukrainians do not rebel against the Kiev authorities, which, having unleashed a war in the Donbas, kill civilians - women, old people, children. Or they do not know about it?
- They know. Very well known. They are constantly shown on television pictures of the bombing of Donetsk and Lugansk, show killed civilians and constantly hammered into their heads, "Here, see what the Russian terrorists are doing on Ukrainian soil." The people are zombied and believe, resent and support the Kiev authorities, who are at war with these "Russian terrorists and separatists".
"But there must be something human among the Kiev security officials ... After all, what they are doing is simply prohibitive, just beyond comprehension.
- Igor Vasilyevich, what do you expect from them? To power in Kiev came the real Satanists. And therefore their methods of warfare are Satanist.
"I have a feeling that some kind of madness has spread over the Ukrainians, similar to the Russian people's madness, when after the 1917 revolution, in the Civil War, the Russian shot Russian ..."
- Militiamen are not concerned with madness. And so - quite right. In Ukraine, there is a civil war, similar to the civil war in Russia.
- But it is believed that there is an international war and even the Third World War.
- I do not think so. In the total number of Ukrainian troops mercenaries a very small percentage. Two thirds of Ukrainian soldiers are Russians, who can even be called ethnically Russian. They speak Russian, and many people think in Russian. Moreover, on the side of ukrov fighting the real volunteers from Russia. Like this...
"But how then can these" Russian Ukrainians "fire at peaceful cities and carry out punitive actions against their fellows?
- If we talk about the shelling of peaceful cities, the shooters do not even know where to fire. They hit where they are given a tip. They do not know the consequences of their shelling. And punitive actions are quite so ardent nationalists, anesthetized, zombie, and not at all reporting on their actions. No reasonable arguments affect them. It seems that they practice neuro-linguistic programming techniques. The same applies to volunteers from Russia who are at war with Ukraine.
- And what are the Ukrainians fighting for?
- ukry? They think that they are fighting for the liberation of Donbass from "Russian separatists and terrorists", for national sovereignty, for a united and indivisible Ukraine, for its independence from Russia. Although among them there are a lot of those who understand the situation, understand that they are fighting against their own people. And because they only pretend to fight. In general, there are many and those who do not want to fight for anyone. But behind the fences ... There were already cases when those fighters who did not want to fight and who left the army recruits were shot. His own ...
- And the Donbassians? What are they fighting for?
- Note-this is not Donbassians attacked ukrov, and ukry on them. Donbass people are fighting for their land, for their ancestral land. And I know for sure that he will defend her at all costs. Even if the second "Khasavyurt" happens, even if Russia refuses to help, Donbassians
weapon
will not add up. Donbassians are fighting for justice, for the right to be Russian, for Russian culture, for Orthodoxy. And I believe that they will win, because the truth is behind them, because God is with them. Ultimately, the militia fighting against the Satanic Kiev authorities, which is supported by the West and the United States.
- What are we today, here in Russia, can help the militias of Donbass?
- Winter is coming soon. Because the militia will really need warm winter sleeping bags, warm clothes, food and medicine. And of course, the Donbass army is in need of heavy weapons, but that is another question ...
- The collection of humanitarian aid to the Donbass is carried out in Russia very, very actively. Is it still missing?
- It would be enough if the humanitarian aid collected in Russia was completely delivered to the Donbass. The problem is that it is partly stolen by fraudulent "aid funds", and partly simply "evaporates". That is, there are forces in Russia that oppose the delivery of aid to the Donbass. People that today are officially engaged in humanitarian issues, such as, for example, Vladislav Surkov, these people are in every way hindering the delivery of collected funds to the territory of Donbass. Therefore, Donbassians must prepare for elementary survival ... For my part, I try to bring this gang of traitors to pure water. "Merge quietly" New Russia they will not succeed.
- And how likely is the "drain" of New Russia?
- I will say it again, even if Russia refuses to help, the Donbassians will not lay down their arms. But, I think, it won't get to the "drain" of New Russia. In Russia, there are still specific people and influential forces that oppose this. Even the result of the Minsk Agreements can be considered the pyrrhic victory of the "party of treason" of the Jewish tribe, which includes Surkov.
- The "signatories" of the plan for resolving the situation in the south-east of Ukraine, that is, Chubais, Gref and others, also from the "party of treason" of the Jewish tribe?
- Yes, too. They speculate that Putin does not want a big war, great sacrifices. He does not want Russia to be considered an occupant country. And in this he is right. And with the "treason party", I hope he will figure it out. Watching Putin's actions, I see that he is not going to leave the militia to the mercy of fate, not going to "merge" Novorossia. He gives her every kind of help that can only be given in this situation.
"Can we send help directly to Donbass, for example, transfer money to the financial accounts of the militia?"
- How do you know if this is a fraudulent account? Those already created a lot. Therefore, it is best to bring help through the temples. We have such temples, in which they collect help for Donbass. I am personally engaged in the creation of a single fund to help Donbas. At the moment, I have already opened an account number to help the militia. I control this account. You can find out about it on the Information Corps website. There you can learn about the transfer of other types of assistance. E-mail: icorpus.ru It is very important to know that the Information corpus has no other addresses and duplicates, except for icorpus.ru
- Why? Already been fake?
- Has already! We created exactly the same site and assigned some invisible small letter to the e-mail address. Moreover, various websites like "Igor Strelkov's Website" were created under my name, "Igor Strelkov on Facebook", and so on. etc ... They write nonsense there in order to discredit not only me personally, but also the militia. But I do have a personal official site. His address is igorstrelkov.ru
- Today, the topic is being discussed in the media that among the militia there are "spiders in the bank" Is this true?
- Among the militias? Well ... There are not all saints. There are those who, instead of fighting, eat vodka. But among the commanders ... I have already said that I am simply ashamed of some of the commanders. But the main thing is that the rebels are mostly aware that they are fighting for the idea. They understand that Novorossia is part of the Russian World. And we all must understand that the Donbass in Odessa, inclusive, is a part of Russia, which was forcibly repelled in 1991 by the traitors of the Russian World. Moreover, it's simply unacceptable to speak of Novorossia as a separate state entity from Russia, and even more so as of Ukrainian territory. Today, New Russia is a bastion of Russia.
- If you go back to the "spiders in the bank", then many hope that you can return to the Donbass and restore order there. Many expect that "Igor will come here, Igor will judge them."
- I have already talked about this in other interviews. I simply do not have the opportunity to return to the Donbass just because no one will let me go there. Not then I was removed from the New Russia to return. Those who hope that "Igor will come here, Igor will judge all" I must disappoint. But I and in Russia have the opportunity to provide effective assistance to the New Russia. Not for this I came to sit back. I will do everything to the militia won. And we will win. For us the truth is with us God.