In Germany, a study was conducted aimed at identifying radical Islamists living in the territory of the Federal Republic of Germany. The work was carried out by such a structure as the Federal Office for the Protection of the Constitution of Germany. If you believe the data of this department, then today in Germany, radical Islamists around 6300, while there is a dynamic growth in the number of radicals arriving in Germany and receiving refugee status. This is reported by the German edition.
Frankfurter Allgemeine Zeitung
.
It is reported that a lot of radical Islamists and among those who have already managed to obtain German citizenship. First of all, they are former citizens of Turkey and a number of states in the Middle East.
The FAZ reports that an increasing number of radical Islamists are also leading to the activization of the extreme right in the Federal Republic of Germany. The publication gives an example of the mass action of radical nationalist movements, which took place in Cologne. On Sunday, a rally of the ultra-right took place in Cologne, representing the most diverse movements of the Federal Republic of Germany. The rally resulted in riots, as a result of which 44 policemen were injured and several law enforcement officers were burned. Protesters were going to advance to the so-called center of Islamic preaching, but the police blocked the way for the crowd.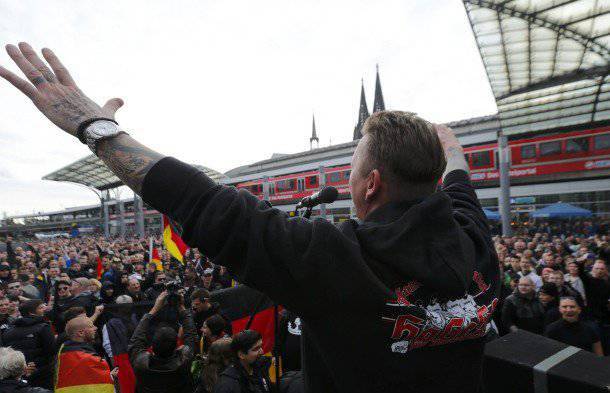 German police report that special measures (tear gas, rubber truncheons and bullets, water cannons) were applied to the ultra-right. As a result of the 20 police special operation, the most aggressive radicals were sent to police stations.
This is the second mass action of the far right since the beginning of autumn. In September, several thousand people staged a riot on the streets of Dortmund, protesting against the increase in the radical Islamist structures in Germany.
As can be seen, the activity of some radicals leads to the activation of the radicals of others - in the center of Europe.