The Prime Minister of the Donetsk People's Republic, Alexander Zakharchenko, said that the "party of war" had passed to the Verkhovna Rada of Ukraine, therefore resumption of hostilities is possible in the near future.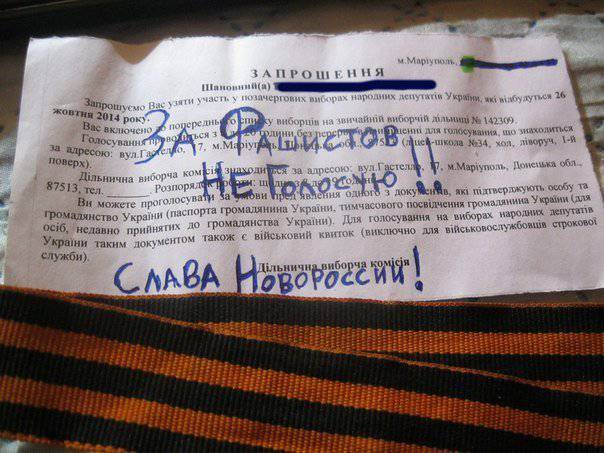 "According to the first election results, the" war party "won rather than the" peace party ". Yatsenyuk, Turchinov, Lyashko, Poroshenko himself - all these figures were in favor of military actions against us, "Rakha reports Zakharchenko
"News"
.
The Prime Minister also stressed that "America is somehow behind them, and she is interested in fighting near the borders of Russia, so the war will continue."
"We expect that there will be a tough policy against us. The ceasefire, which we discussed with 5 of September (the beginning of negotiations in Minsk), Kiev used to regroup the troops, get reinforcements, new
weapons
. Kiev itself says that
tank
factories operate in three shifts. So they're getting ready for something. Well, we are also ready, "said Zakharchenko.
The last elections to the Verkhovna Rada were also commented on by the Deputy Prime Minister of the DPR, Andrei Purgin, who said that they were not free, but perhaps "militaristic hysteria" would subside in Kiev now.
"We do not care about the results of the elections, they are not interesting for us. We have our own choices that will make power in the DNI legitimate. (...) The elections were not free, it is a farce. People are intimidated, the east of Ukraine is not represented. Everywhere, throughout the country, armed people, "- said Purgin.
According to him, it is unlikely that the new parliament will be able to find a way out of the crisis in the country.
"Ukraine is in a deep crisis, can the new Glad to find a way out of it - I doubt it. They stopped the chemical industry, lost the east. Europe pays for Ukrainian gas, just so they do not shut off the gas. And the counter-elite comes to power, which is not interested in getting out of the crisis, "noted Purgin.
Meanwhile, some Ukrainians expressed their attitude to the elections right on the ballot papers -
"Reports from the militia of New Russia"
published pictures of several of them.