On the eve, the CyberBerkut organization distributed on its website information that its representatives managed to gain access to Kiev advertising billboards, which, changing the picture, broadcast commercials on the streets of the Ukrainian capital. Instead of advertising images, the people of Kiev saw the results of the so-called "anti-terrorist" operation in the Donetsk and Luhansk regions.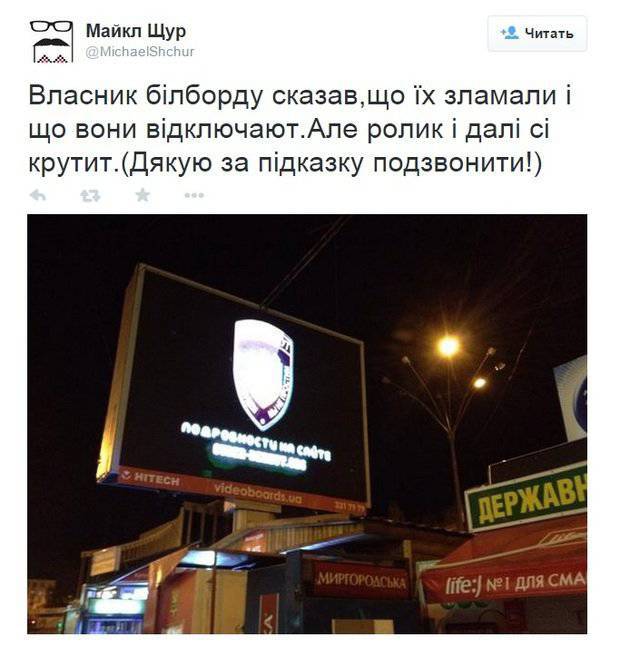 CyberBerkut
:
We, the CyberBerkut, intend to use every opportunity to protect the interests of the citizens of Ukraine from the arbitrariness of marginal nationalists and the oligarchic elite.
(...) we used dozens of advertising billboards in Kiev to remind the people of Ukraine of the futility of farcical elections.
On billboards, residents of Kiev saw what the central Ukrainian TV channels did not show, namely the victims of the shelling of the cities of Novorossia by Ukrainian punishers and images of representatives of the authorities with the signature "War criminal".
The alarm was beaten in the Kiev administration. The official responsible for urban advertising, Artem Bidenko said:
All street screens in Kiev tonight were hacked by unknown hackers - each screen separately, with the replacement of passwords and blocking access. The rotation was put terrible, disgusting shots, signatures - in Russian. All our specialists left the city, physically disconnecting the screens from the power grid.
"Terrible, disgusting shots ..." And you look at what the Pitmen and the Luhansk residents saw every day - and did not see them on the screens. Bidenko is especially outraged by the fact that the inscriptions "in Russian". Well, next time CyberBerkut will do both in Ukrainian and in English ...
Mr. Bidenko quotes the Ukrainian portal "
Columnist
":
I hope this is the worst provocation that awaits us before the parliamentary elections. I am sure that the SBU controls the situation and protects our peace.
Nalyvaychenko protects ...