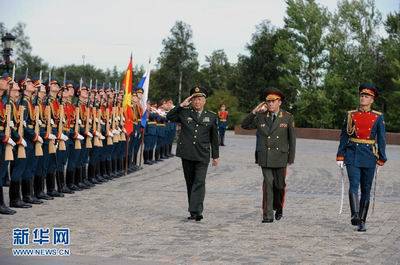 China and Russia are planning jointly to deepen inter-army relations, which will help raise the level of Chinese-Russian strategic all-round partnership and interaction. This was announced on August 4 by a member of the Central Military Committee of the People's Republic of China, the head of the PLA General Staff Chen Bingde during a meeting with Russian Defense Minister Anatoly Serdyukov.
Chen Bingde said that in recent years, the favorable development of relations between the armed forces of China and Russia has contributed to strengthening the construction of the armed forces of the two countries, helping to ensure peace and stability both in the region and throughout the world.
He recalled that in June of this year, during the visit of President Hu Jintao to Russia, the leaders of the two countries declared their readiness to strengthen the development of relations of comprehensive strategic interaction and partnership in the spirit of equality, trust, mutual support, common prosperity and friendship. Thus, they were able to choose and establish a common direction for the development of bilateral relations in the coming decade.
In turn, A. Serdyukov warmly welcomed Chen Binde's visit to Russia and praised the relationship between the PLA and the Russian Armed Forces. The sides also exchanged views on a number of areas of cooperation between the defense ministries and armies, and reached agreement on a wide range of issues.
Chen Bingde also inspected the guard of honor and laid a wreath at the Tomb of the Unknown Soldier. Participation in the above-mentioned events was attended by the Ambassador of the People's Republic of China to the Russian Federation, Li Hui, Assistant Chief of the General Staff of the PLA, Chen Yong, Deputy Commander of the Nanking Military District Wang Jiaocheng.