Municipal authorities intend to lobby in Moscow for the interests of defense enterprises located in Novosibirsk, the city's mayor Anatoly Lokot told reporters. About this agency writes
RBC
.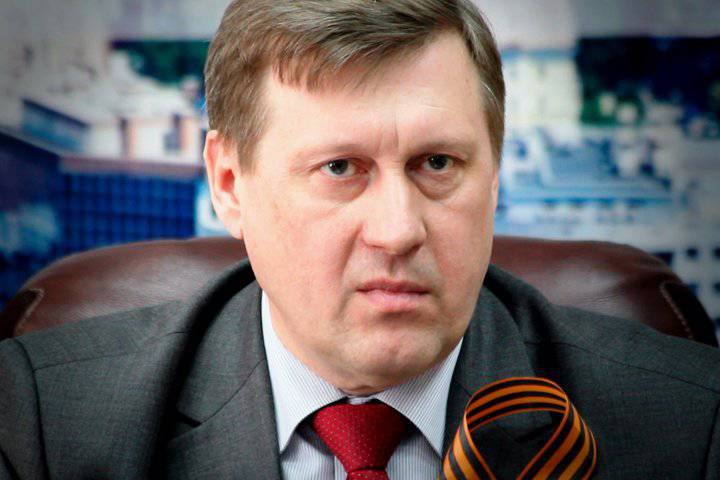 "It is planned that the expenditures on the defense complex will be increased by 20% in the country. Order 3-x trillion rubles will be used to finance these programs next year. Novosibirsk, which has a developed network of defense enterprises, is interested in part of this state order being placed here, "said the mayor at a meeting with media representatives.
"I am ready to meet with the Deputy Prime Minister of the Russian Federation, Dmitry Rogozin, to use my resource to protect the interests of Novosibirsk defense enterprises. Here we have a direct interest: orders, taxes, employment, social climate, etc. We are preparing such a step, "said Anatoly Lokot, and added that" it is necessary to lobby our interests at the federal level, to use all the opportunities. "
According to the mayor, the struggle for state defense orders to be tough. "The structure of the defense industry is characterized by a high percentage of monopoly. The one who makes, for example, the BUK anti-aircraft missile system, cannot be replaced by anyone else. But the structure of the Novosibirsk defense enterprises is such that various components are mainly produced here. And in this area competition is increasing more and more. Given the course on import substitution, Novosibirsk enterprises have something to fight for, "he said.
Speaking at a meeting of the regional government in September, Anatoly Vandakurov, general director of NMZ Iskra, noted that "a weak contractual system on the part of the Ministry of Defense in terms of long-term cooperation is a negative factor for the development of the military-industrial complex."
"It is important to see the prospect of cooperation in order to calculate its technical development strategy and resource endowment. Here such a positive example is NAZ them. Chkalov, who has a contract for the supply of aircraft to the year 2025, "said the head.
He is sure that today we need an accelerated modernization of production facilities located in the region for their mastering new technologies.
"In my opinion, the most important now is the provision of resources for the process of updating the fixed production assets of defense enterprises. So far, only one resource is effectively used - federal targeted programs. In the Novosibirsk region, the financing of technical re-equipment of defense enterprises is carried out at the level of 1,8 billion rubles a year under federal programs. These funds are not enough, "said Vandakurov.
According to the regional ministry of industry, in 2013, the volume of production of defense enterprises of the Novosibirsk region amounted to 130% compared to 2012. Over five years, the volume of output increased by 2 times.
The leaders of the defense industry in the region are "Scientific Research Institute of Measuring Instruments - Novosibirsk Plant named after Comintern ", Novosibirsk aircraft plant them. Chkalov, Novosibirsk Cartridge Plant, FKP "Anosite", etc.