The Prime Minister of the Donetsk People's Republic, Alexander Zakharchenko, said that they were not going to return the territory occupied by Ukrainian troops by force.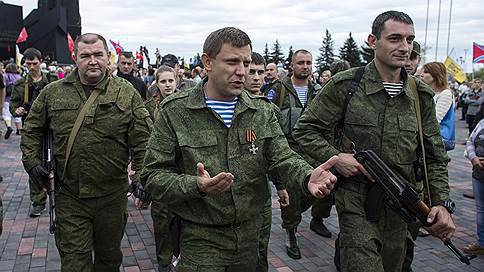 "I did not say that we will go with
weapons
in the hands of pick up tomorrow or the day after tomorrow. This territory is illegally occupied and should return to us sooner or later, "the newspaper quotes Zakharchenko
Kommersant
.
The Prime Minister stressed that they want to resolve this issue "in the context of peaceful negotiations, and not by forceful confrontation," however, "provocation by the Ukrainian authorities is possible in the near future, as they are having elections."
"The territory that we have occupied and illegally occupied, we consider ours to this day, and in any case, we must take both Slavyansk, Mariupol, and Kramatorsk. This is the territory of our land that belongs to us. We will not leave them in any case, "the Prime Minister stressed.
Alexander Zakharchenko commented on the representative of the Security Council of Ukraine Andrei Lysenko.
"As for the statement of the leaders of the gangs about the new seizure of Ukrainian cities, we have a beautiful expression in Ukraine:" May God grant a wolf to our calf "(another option is" May God give our calf and understand the wolf "). Let them try, "he said.