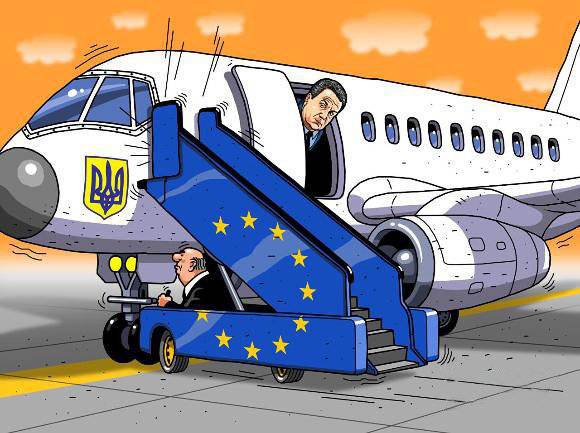 Within the framework of the "Readers Club" project, the VIEW newspaper presents the text of Sergey Savchuk about how he represents the "civilized divorce" of Donbass and Kiev.
Recently, a Ukrainian documentary has appeared on the Web, forgive, Lord, journalist Mustafa Nayem "Contact. Whoever doesn't know, Hire is a lad who pretends to be a journalist, for years has been writing custom-made Bandera oligarchs for articles and shooting ideologically correct videos.
It was he who rushed screaming along the Maidan, handed out bottles with an incendiary mixture, photographed and shot white-hot "Novo-Europeans" jumping in black tire smoke and burning policemen. It was he who voluptuously moaned behind the scenes, removing the agonizing fighter "Berkut", which before this civilized Ukrainians had gouged out an eye.
For the filming of the new opus, a fireproof, however, pretty much spent by moth and whirling mothballs — Madame Lyzhichko — was pulled out of nothingness. Taking advantage of the powerful authority of General V. Ruban, who is well known and trusted by the militia, this warm company set off to shoot the next propaganda "masterpiece". I will not retell the plot, just watch the video.
But what struck me, this is how despicable and Jesuitly Hiring tries to lead the residents of Donetsk, whom they are shooting, to the necessary, as it turned out, thought to him.
And as soon as his question "so what do we do now?" Sounds the answer he needs from a simple puzatenky miner: "Yes, it was necessary to divorce like a human being!", Our creature joyfully rubs his hands.
And immediately after this, in Kiev, citizen Lyzhichko begins to talk on the air that, as it turns out, peaceful people are killed in the Donbass, and the army is bombing not ordinary Russian troops, but (oh, a miracle) ordinary Ukrainians.
Evil tongues in Ukraine say that the film Hire was blinded by the order of his breadwinner - the owner of the Privat group - and that the main purpose of the film is to dig under the current president of Ukraine. It was not at all that I was jarred on - let them drown each other as much as they wanted, but how great patriots of Ukraine see this "divorce".
After the killing of thousands of residents of Lugansk and Donetsk, the bombing
aviation
peaceful cities, phosphorus bombs, Tochka strikes, hundreds of disappeared and tortured in the dungeons of the Right Sector, destruction of the region's infrastructure and industry. And where did such sentiments come from wildly aggressive parishioners of the "Bandera sect"?
Not after the data on the number of those killed in the Ilovaisk "boiler" were kept secret, and hundreds of "unknown" soldiers were buried in the pits in Poltava? So, how do I see a "civilized divorce" and everything that preceded it, based on Ukrainian realities.
Silence in the hall. Shine! Curtain up.
Lives a family. He, she and a mature enough son. They got married more than twenty years ago in the dim stagnation and at the time of their own youthful stupidity, being students of a vocational school. He is a native of Donbass, a simple guy, kind, big and simple. A simple hard worker, accustomed to straining from dawn to dusk in his native mine, and also trades in various "sabers" for the sake of earning an extra penny to buy new beads and earrings for his wife, because they are so much for her.
The line of his eyelashes is boldly lined up with a black border. This is not mascara, but coal dust that has eaten forever. He speaks in a surzhik, mixing together Russian and Ukrainian, joking, singing about "dark mounds" and smoking Belomor standing in sneakers on the porch of a bleached hut and breathing in the smell of apricot. He is rude in treatment, but kind to his friends, broad in his working spirit and ready to die for the sake of his family and children.
She is a native of central or western Ukraine. Beautiful bright beauty, stately, but not far from us, which is often actively trying to compensate for the village cunning and bazaar rudeness. Her husband loves her and forgives her the nearness and frequent hysteria, because she cooks for him such amazing borscht, they live in the world, they have a handsome son, and they are used to each other over the years.
The family often goes to visit relatives, then to the west, then to the east, and everywhere they are met with warmth and cordiality, toasts sound to the morning and the glasses with amber pepper vodka ring. Then one day the family sky clouded the clouds.
On one not so beautiful day ten years ago, the wife begins to disappear from home. They see her as a reeling drunk in the taverns with various dull personalities. She comes home in the morning, pretty hungover and rumpled. At her husband's silent look, she begins to shriekly scream about how he got her, earns little, and that now she has found true love.
And that if he wants to continue to live with her, then he must give up her relatives, stop working, and begin to drink more often and take an example from her new "friends" with whom she spends the night outside the house, for they know how to live beautifully and correctly.
In addition, her relatives are sending warlike telegrams, threatening him with reprisal if he wants to prevent their dear daughter from learning new horizons. The neighbors shake their heads in dismay, seeing the drunken spree of the wife and quietly sympathizing with the muzhik.
The man and son are waiting patiently for a long time, when their wife and mother will come to their senses and remember their maternal and marital debt. It takes some time and everything seems to subside, returns to the usual course. The muzhik, after a dark silence, decides that a thin world is better than a good quarrel, that it is more important to keep the family and as a result everything returns to normal.
But just recently a new misfortune happens. My wife leaves home again, and this time everything is much worse. With the loud approval of her relatives, she openly drinks and walks with other men, literally disappears for days in dirty dens.
They see her with a Negro, then with a German, then with an Estonian. She stops to follow the house, to feed the family, to clean the hut. Falls lower and lower. Her beautiful face is now constantly wearing traces of a hangover, and under the eye is an eternal lantern. The clothes that her husband used to buy with love for her were frayed, dirty and soaked with cheap shot glasses.
She, having completely lost her shame, takes her multi-colored lovers home and indulges in pleasures directly on the once-sacred marital bed. Ophonous from all this, the husband simply fell into a stupor and is silently silent.
The first son can not stand. Collects things and, tightly hugging his father, leaves the house to his father's mother. At the screams of a downy shaggy alcoholic who had just recently been his mother, he frowns painfully, turns away and tries to quickly forget about who she was to him just yesterday.
The next morning, a drunken mob bursts into the room of a husband who has long been separated from the door by his ex-wife. Ahead, waving with a dirty kitchen knife and stinking fumes, her former mistress paces with an unsteady gait. Her numerous lovers and drinking companions tumble into the room behind her, they trample snow-white bench hammers with kersey boots and spit on the walls.
Then numerous relatives fill the room, and the whole dance begins frantically jumping around the house, turning over furniture, breaking dishes, tearing portraits of the peasant's family from the walls, hooting to dance on them, singing bawdy songs and threatening to put his mother and father on the knives.
Former wife in a drunken stupor pokes a man with a knife, trying to hit the most vulnerable places. Someone turns over the workbench with the tool, thanks to which only the family has been living the last time, interrupting casual earnings.
In the center of this drunken rampant is a man. Spattered with blood oozing from numerous cuts, gazing wildly at how a crowd of drunken scum smashes the house that his grandfather had built, desecrate the memory of his family and destroy that fragile hope for the future that was still warm in his heart.
And suddenly he squeezes the moslem kulakschis and, with all the dope on a scale, hits the teeth first with his insane wife, and in a split second he arrives at the first relative who came to hand. Slippers of the former wife, racked in the mud and whitewash, fly into the air, and she, cutting through the clouds of heavy fume and pogrom dust, crashes into the sideboard with a terrifying roar.
Crystal fragments, splinters of shelves broken into dust, broken teeth on the floor, squeal to the sides. A relative of his wife lies in a dirty kul in the corner and, rolling her eyes, blows up bubbles. The participants in the pogrom, unharmed, instantly sober up and take off like a bullet into the street, from where they are hoarsely threatening to take revenge on the peasant and burn the house.
In a pile of broken boards and broken glass, his wife turns around, goggles, smears bloody mucus on the face and, whimpering, mumbles with a half-hearted mouth: "Well, why did you, Vanya, just have to get a cultural divorce."
Soffits go out. A curtain.