Today, thousands of Russian textbooks for secondary schools have been delivered to Donetsk. It is reported by the Minister of Education of the Donetsk People's Republic Igor Kostenok. Minister of Education of the DPR quotes publication
"Donbass News"
:
Today we received three tons of textbooks. I understand that textbooks are not the kind of thing that can be measured in kilograms, but I can say that they are thousands of books that tomorrow will fall on the desks of Donetsk schoolchildren
.
At the same time, the head of the educational department of the people's republic reports that mainly textbooks on exact sciences came from Russia to Donetsk, textbooks on sciences of a humanitarian nature are less represented.
Igor Kostenok expressed the hope that this is far from the only batch of textbooks from Russia, and that the new parties will help to fully provide school textbooks not only in Donetsk, but also in other localities in the DPR.
The material on the delivery of school textbooks to Novorossia was set to comment on the Ukrainian media. Perhaps, the UNIAN news agency decided to go further than others, issuing the following:
Earlier, terrorists have already delivered a batch of Russian textbooks in Lugansk
And here is the title of the material more than two weeks old, which is referenced by UNIAN: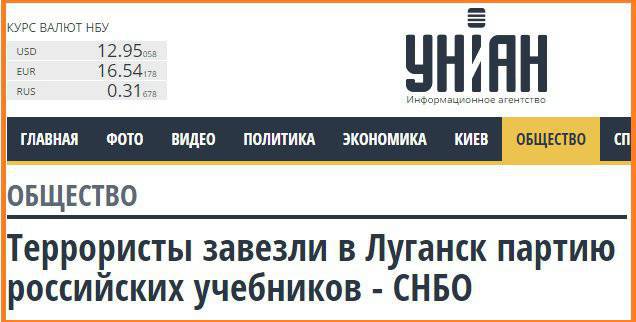 "Terrorists", bringing textbooks to schools ... That's the terrorists! UkroSMI update their own record of info-marasmus.