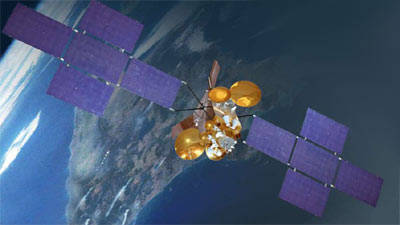 Today at 19 hours 09 minutes Moscow time from the Baikonur cosmodrome, the Proton-M rocket carrier was successfully launched, which launched a new heavy-class Russian telecommunications satellite Express-AM6 into near-earth orbit. The Ministry of Communications and Mass Communications of the Russian Federation reports that the satellite must take an orbit in the position of 53 degrees east longitude. On the morning of October 22, the satellite is expected to separate from the Briz-M upper stage in the target orbit. After that, about two months will continue the withdrawal of the satellite to a given position. From this position, Express-AM6 will provide coverage for the European part of Russia, the Urals and Western Siberia, as well as countries of the Middle East, Europe and Africa, reports
Ministry of Telecom and Mass Communications of the Russian Federation (Ministry of Communications and Mass Media)
.
The Express-AM6 satellite will make it possible to create additional infrastructure to provide the population of the western regions of the country with affordable multi-program digital television and radio broadcasting, including high-definition television.
The spacecraft Express-AM6, manufactured by JSC "ISS them. Academician M.F. Reshetneva, together with the Canadian company MDA and the FSUE NIIR, on request of the FSUE "Satellite Communications", is equipped with 72 transponders in the C-, Ku-, Ka- and L-bands. The total transponder resource is more than 2700 MHz. The lifetime of the spacecraft for the intended purpose is 15 years.
It is expected that in the first quarter of 2015 after the completion of flight tests and verification of all on-board systems, the Express-AM6 satellite will be put into operation in the orbital position 53 degrees east longitude.
The Ministry of Communications and Mass Media of Russia pays great attention to the development of satellite constellation, which is necessary for organizing digital television broadcasting and covering communication services in remote regions of the country where optical communication channels are too expensive and sometimes technically impossible.
As part of this 26 activity in December 2013, the successful launch into orbit of the satellite Express-AM5 took place, with which the ministry launched the most ambitious
stories
Russian satellite satellite group update. Also 17 March 2014, two more Russian communications satellites - Express-AT1 and Express-AT2 - were put into orbit.
Recall 3 December 2013, the Government of the Russian Federation decided to create the "United Rocket and Space Corporation" (ORKK) and deep reform of the entire satellite industry. As part of this order, the Ministry of Communications and Mass Media of Russia is developing a "single-channel" scheme for financing the entire cycle of works on the creation, launch and use of spacecraft. The "single-channel" scheme assumes the priority of Russian engineers, enterprises, spacecraft and launches over foreign ones, as well as Russia's expansion into the top five world leaders in the proportion of satellite communications and broadcasting services.