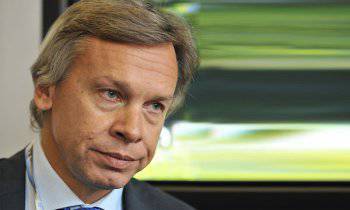 A very active role in the anti-Russian campaign in the West is played by the Russian ultra-liberals, who are obsessed with one desire, one dream - to topple Vladimir Putin. Their paranoia arose from impotence.
A very active role in the anti-Russian campaign in the West is played by the Russian ultra-liberals, who are obsessed with one desire, one dream - to topple Vladimir Putin. In this they completely merge with many of their eldest Western comrades.
One journalist the other day called them "crystal clear clinical paranoids." But paranoia, as you know, is not taken from nowhere. As a rule, it arises from a feeling of powerlessness.
If today there is a political movement in Russia, which in fact is almost absent, it is anti-Putin liberals. And it is not by chance that all attempts to create their own political party, no matter how you call it - a civil platform or something else, end in failure.
All efforts are spent on internal divisions and a sharp fight for leadership over a nonexistent movement. The only thing that unites them is to curry favor with the West and hatred of Putin. After all, according to them, while Putin is in power in Moscow, the Russian society will be closed to Western influence, and Russia itself will be in a state of permanent confrontation with the so-called civilized world.
The fall of Putin is their only dream. They are trying to convince themselves that it is very close, and do not spare the forces in the liberal war declared by the Russian president.
So Garry Kasparov, not having heard enough of Obama, says that the president of Russia is today the most dangerous person in the world and represents a much greater threat to the US than the terrorist Islamic State.
Mania's obsession with Putin actually reflects one thing - the inability of the West and its liberal allies within Russia itself to turn it into something convenient for themselves, into something semi-colonial - that is, a country that serves, adapts and recognizes the priority interests of the United States and the West over their own interests.
The reluctance to put up with a not such Russia leads to inadequate assessments. All the years after Yeltsin's departure, experts and Russian liberals vied with each other to prove that Putin's rule cannot be durable and is about to collapse.
Say, McFaul, the recent unsuccessful US ambassador to Russia, even before his appointment to Moscow in distant 2008, diligently argued in the pages of Foreign Affairs magazine that Putin's stability is nothing more than a myth that under Putin's economy was stalled and that the country's There are no prospects for development.
And under Yeltsin, according to him, we had a dynamic economic development and vibrant democracy reigned. Almost seven years have passed: McFaul visited Moscow, failed as an ambassador, returned to the United States and again proves that Putin is about to collapse. As they say, comments are superfluous.
Obsession is the result of inability to subjugate Russia. After all, Putin did not close Russia to Western influence. He is now talking about readiness for interaction with the West. But this influence did not give us the shoots that the West needed, and the values ​​that weren't too close to us did not take root.
And the now faded superstar Barack Obama did not find the way to the hearts of Russian citizens. He himself felt it even in 2009, during his only visit to Moscow, somehow cringed, wilted and dimmed. And he didn't come to us again: Russia for him since then is an unpleasant, alien, hostile country.
After all, those hundreds of thousands of crowds that Obama gathered in the squares of European capitals were the result not so much of his personal charisma as of the most powerful propaganda wave that hit the same Berlin or Prague long before Barack Obama arrived there. This wave did not reach Moscow. More precisely, we did not accept it. Obama's phenomenon in Russia did not work.
And yet: not Putin creates a state of confrontation between Russia and the West. Economic and personal sanctions, the cessation of all negotiations, the threat to place NATO troops on the border with Russia and, in general, where the West doesn't want - all this comes from the United States and other Western capitals. Russia does not close the door to the West; it is the West that closes itself before Russia.
And it closes because it does not want the Russia that we want. And the majority that we want to see in the West, we mostly rejected when we rejected Boris Yeltsin, his constant concessions to the United States, his policies that led to the default, his dominance of the oligarchy and his anthem that did not take root in the country.
Yeltsin, our liberals extolled, Western leaders patted him on the shoulder. With today's Russia it is unbearably difficult for them. Hence their obsession with Vladimir Putin.