As a starter for today's article I want to use, perhaps, the video already known to readers:
Describing the situation in Ukraine, my colleagues and I mostly talk about losses, missed opportunities, etc. However, not everything is so bad. The current Ukraine is not only loss and deprivation, it is also a find. Including such that no one even wanted to find. Over the past year, Ukraine has lost a lot, but now it has a national idea. So what if this idea is hate?
Cozy hatred
Human thinking and memory are often eidetic - it is more convenient to store and operate it in the form of images, a set of associations and stereotypes that our brain pushes to any concept or phenomenon. Approximately as Google search in pictures. And even better - the search is personalized. Unfortunately, for the speed and visibility you have to pay with accuracy.
Hatred is not always clenched jaws, skewed oval of the face, crazy bulging eyes. Hatred is so cozy and sweet that when looking at such a plot I want to say only: "Stop, for a moment!". And just thinking, you know: stop, but this is hatred. Want such a plot?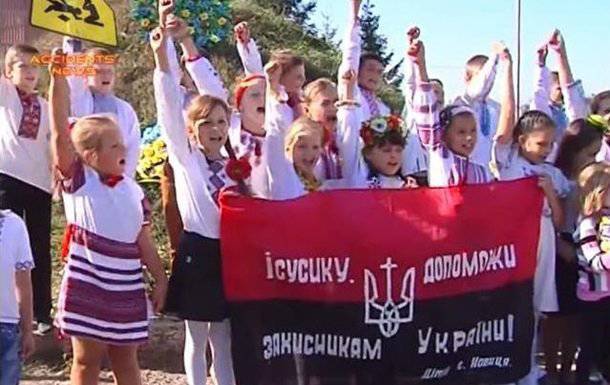 Actually, why not? If it is possible to kill civilians and not even consider those killed (Help: some Ukrainian media are counting the dead, starting it from euromaidan. So, the dead residents of Donbass are absent in these lists), then why not cover their hatred with the most holy - children and faith in God ? Moreover, there is nothing new in this practice.
Committees for the education of "good Christians"
I think many readers should be familiar with the word "ODESSA". This is the name of the organization of the former members of the SS, which helped them relocate to the Middle East and Latin America, and then took up their legal, political and
historical
rehabilitation. Less well known is the role of individual representatives of the Catholic Church in facilitating this relocation: forged documents, organizing routes, and providing long-term shelters. Of course, the Vatican never directly supported either ODESSA itself or the activities of the so-called "Rat paths" used by former members of the SS (or similar structures in the Allies of the Reich). However, there is ample evidence that the Holy See did not object to such assistance and even, if possible, covered over-lit priests. The tacit approval is also indicated by the participation in this dubious volunteering of bishops and even cardinals of the church.
Why was this done? Motivation has not changed much since before the war. For the Vatican, they were first and foremost good Catholics, and most importantly, ardent anti-Communists.
The clergy of the Ukrainian Greek Catholic Church (originated after the Brest Union of 1596) on this issue seems to fully share the methods and goals of their "elder sister". First, under the Jesuit explanations of the need to be among his flock, euromaidan was consecrated by them. Then in their sermons sounded "... the noise of the forest - the noise of strangleholds, on which the communists will hang," and a bill appeared: "For each of our dozens will lie down." And now it came to the children. But why should the church raise hatred?
How today forms tomorrow
The answer will not be too complicated if we remember that euromaidan is a project that was originally anti-imperial and anti-Russian (as, in fact, at one time, the UGCC), and it is to these architects that it is valuable. At all times, recruiting young people was the easiest thing to appeal to honesty, fairness and kindness. Today's Ukrainian youth of all ages under the sauce of patriotism, participation in volunteer organizations, assistance to soldiers of the Armed Forces of Ukraine and militants of the National Guard, gradually, gradually inculcate hatred. The coziest hatred with which we started this article. From which it is time to be pricked and let out a tear until you remember what kind of help Jesus is asking for in children in embroidered shirts. It will take more familiar forms later, when the current toadstools of 10 years grow up and enroll in the SNA, "White Hammer" or another organization of "warriors of light, warriors of good". Then dear Jesus could be changed to a more appropriate and adult "Gott mit uns".
In addition to the willingness to march where they will send and do there for the "glory of Ukraine" everything they say, such a generation will have another advantage. It will know for sure who is to blame for the fact that it is getting harder and harder to live in Ukraine (of course, Russia). And they will never ask themselves why the number of flags and flag fences painted in flag colors increases proportionally to the gap in incomes with the closest neighbors - Belarus and Russia.
Sowing these seeds of hatred today, Ukrainian elitist and oligarchy ensure the stability of their tomorrow. However, youth education is only half the battle. As long as there is a project of economic and political reintegration of the post-Soviet republics, until then the threat to their world order will remain. That is why the second step of these saints is the export of the rushnikov patrio-affection, including to Russia. You can't call him too successful, but there are certain results. Yes, and how not to be, if the Ukrainian and Russian Russophobes have a national idea actually one for two?