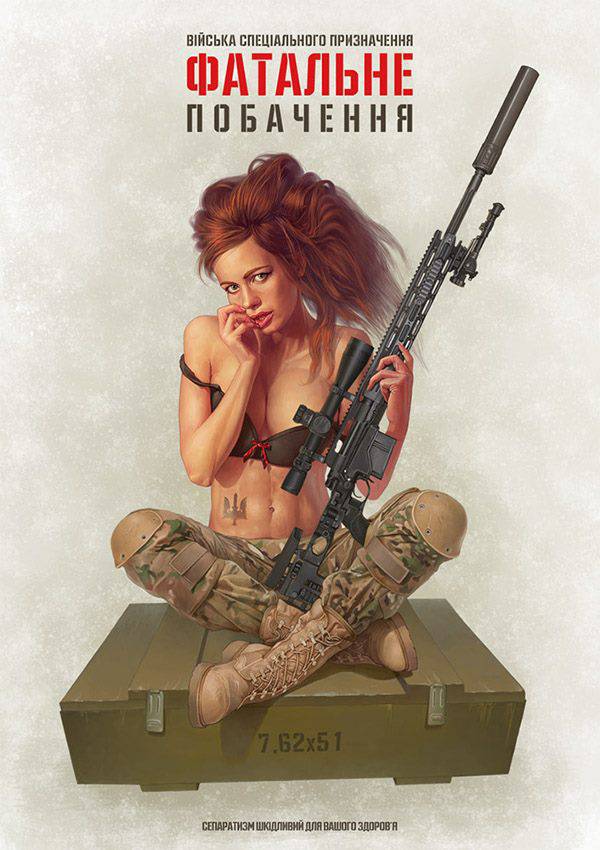 The situation around Ukraine has never been transparent. Yes, and in the Kremlin, too, has never been too clean. Actually clean water in politics does not happen. Even in the times of the Soviet Union nothing crystal was observed in big politics, it was just that our people were presented with well-filtered information, so it seemed that everything was clear and clear - there are enemies, friends here, rotting west there, developed socialism, and the dog is man's best friend . And so on.
Now, when the information is not only not filtered, but vice versa is diligently colored according to the color given to journalists and personal taste preferences, everything is messed up and mixed up. Horses, people ...
This one seems to be red, this black - how do they get along with each other? And it turns out they can - red on black is obtained. Or vice versa. This white, this red is white with red. Well, it's still here and there. And this is generally not clear what ...
When all colors are mixed in equal proportions - turns gray. When some colors are not enough - it turns brown mass.
New Russia began as something white with red. But now you can not figure it out. In Kiev, dominated by brown tones. In Moscow, I will not even bother to determine the color. Either it is simply splashed with dirt, or this is the protective gray, mouse.
Communists, monarchists, democrats, nationalists of several varieties, as well as non-partisan liberals in large numbers. Everywhere. Or almost everywhere.
Yes, it seems that there is a gray color. Because what else could be the color of the liberals? White? No, white is for monarchists, and for liberals is mouse. On the gray dirt is not so noticeable.
But it was the lyrics. Now essentially.
The situation of mixing different political views and trends in Ukraine and in Novorossia did not arise by chance.
This is the result of the action of many forces, each of which has its own goals and interests. About this has already been written repeatedly. Washington, Moscow, Brussels, Kiev, Donetsk, nationalists, oligarchs - all have their own interests.
And the fact that Kiev is subordinate to Washington does not mean that people in Kiev do not have their goals and objectives. They simply, by making an obedient view and signing the necessary papers, are also trying to grab something for themselves. Everybody wants to live. Puppet also cares about her ass. Only Washington blinked - Poroshenko under the table made some kind of manipulation. And about the rest, who are not under the gaze of the State Department, and can not speak. And all of them are fighting among themselves for a place under the sun, for cash flows, for places, for the opportunity to serve the State Department in the end.
In Donetsk, the situation is similar, there Moscow is trying to control the political process. The method of control is the supply, without which it will be extremely difficult for Novorossia to survive the winter, and militia units without "humanitarian supplies" may even find themselves in a situation "either plunder or disperse" is not the most pleasant choice for a defender.
But Moscow's control of Donetsk is not much better than Washington's Kiev. And the reasons are not only in personal interests and numerous field commanders of varying degrees of controllability. The reasons are that the pressure levers are clearly not enough for precise coordination of actions.
Procurement is good, this is an argument. But the fact is that Moscow cannot completely deprive Donbass of humanitarian supplies, because it will cause a new flow of refugees and a lot of questions within Russian society. And the picture on the TV screen will be quite uncomfortable. And Donetsk understands this. And the supply of weapons is already not observed. In July, under guarantees of supplies of equipment and ammunition, Donetsk agreed to replace commanders (mainly Strelkov) and the appointment of Zakharchenko (a Kremlin man) as head of the republic. Similar changes took place in Lugansk. But it is already in the past. Moscow has already paid for it
weapons
and ammunition, as well as permission for the August offensive. And Donetsk has already paid off with personnel changes and agreement to stop the attack on the designated borders. How to pay for loyalty now? If you again pay with arms, the brave militiamen will go on a new offensive, but Moscow does not need it. It turns out a management impasse.
Washington has its impasse. At first, the US held a stranglehold on Kiev at the expense of promises of credits and military aid. Maybe something else was. But after half a year has passed, and credits and military assistance did not follow in any significant amount, in Kiev (and not only in Poroshenko's headquarters) they understood perfectly that their function was approaching the functions of toilet paper — they would use and wash away. But Poroshenko and the rest - they are not fighting for the idea to put their careers, and especially life on the American altar. He wants to live. Happily long, rich and safe. And this is their desire to gradually cease to be combined with the prospects of working for Washington. Is it because Poroshenko went to contact with Moscow? Maybe the prospect of Yanukovych has already begun to seem like a good option in reserve? Who will protect him from the third Maidan, if this Maidan is staged against him with the blessing of Washington? Who will save and take in Rostov?
Donetsk and Kiev gradually cease to obey senior management from Moscow and Washington.
It starts from the level of field commanders, who do not get supplies and bonuses from above and who have nothing to lose, but they have political and commanding ambitions, fighters (and this is a resource) and the task in some way to maintain their units. This applies to both the militia and the Ukrainian battalions of TO and NG.
Submission or incomplete submission (free interpretation of orders, sabotage or, on the contrary, excess initiative) begins with small units and gradually spreads to the top.
As a result, insubordination spreads from the bottom up, and at the top there is a conflict of interests between the fulfillment of the instructions of Moscow / Washington and their own interests (the fulfillment of promises made to comrades, subordinates and voters that on the eve of the elections is not an empty sound).
And still need to remember about the factor of the oligarchs. For whom plays Kolomoisky? For Washington? For Kiev? Of course not. Kolomoisky plays for himself. Similarly, Akhmetov. And Firtash. It's just Akhmetov, Firtash and others - the players are weaker and less visible. Or maybe just carefully hidden. But they are anyway. And to assert that no one in Kiev and Donetsk executes direct orders of capital - I would not.
The result of all this intricacies of interests is the murky water that we see.
Political views and beliefs in this water (primarily in Donetsk, everything is more or less clear with Kiev) fade into the background, dissolve, mix and it becomes unclear who is red and who is white, who is black, and who is completely liberal .
Between Kiev and Donetsk, the ideological division is of course preserved - some nationalists, others anti-fascists, one for the United Ukraine, others for independence. This is all clear. But if you start to understand inside ...
Very often, the militia and political leadership of Novorossia are reproached for the lack of an ideology and program of action. On the one hand, the reproaches are fair - an ideology and a program is needed. On the other hand, it is not there for the simple reason that it could not have occurred in the leapfrog of the events that we have the honor to observe.
Ideas and political programs are not written on the knee under the machine gun bursts.
Usually they arise in the quiet of offices as a result of long work of ideologues, while many works are sent to the library shelves to sink into oblivion, and some, once "in the air", become the basis for large political trends, as happened with the works of Karl Marx. Not the last role in the development and implementation of ideas is played by the special services, which choose from a multitude of theories most convenient for solving their problems and give money for implementation.
Remember where the Bolshevik movement came from. Lenin and his comrades-in-arms had been engaged in ideological work for many years, in recent years before the revolution — abroad, his return to Russia at the right time was not at all accidental. In the very revolution of 1917, there was an element of spontaneity, but this revolution turned red for a reason, not in five minutes. Another thing is that the Brest peace, which Germany so hoped for, did not save it and the Bolsheviks quickly got out of control, moved on their own way, but this does not cancel the participation of foreign services in the 1917 events in Russia.
By the way, one should not forget that in the year 1917 there was also a mass of political trends in Russia. Both the Mensheviks and the Social Revolutionaries, and the most influential for a long time were the anarchists, popular among sailors, whom Lenin was very much afraid of and therefore established cooperation. The unconditional victory of the Bolsheviks, which was allegedly dictated
history
and by the will of the masses - this is a kind of myth, created later by Soviet propaganda. In fact, over the course of 1917, everything was not so obvious, and then no one could definitely say which of the political forces would win.
But the main thing is different - by the beginning of 1917, communism in general, and the Bolshevik movement in particular, had already been sufficiently developed. They have received the space and resources for implementation in advance at the right time.
Ideology is like a spoon for dinner, if it is not there, you will have to take a bite than you have to. Late planing the spoon when the soup is already served.
Cartridges for machine guns are not made in a trench, they are made at the factory. Similarly, political programs - they are not made at the moment of revolution, at the moment of revolution they take ready and adjust to the specifics of the moment.
And here we come to the question, was the uprising in Donetsk planned or spontaneous? Was it prepared beforehand or not?
Look at the Maidan - Ukrainian nationalism approached it fully armed - with flags, slogans, torch processions, portraits of Stepan Bandera.
Yes, Stepan Bandera is a historical person, he appeared a long time ago and not at all for the sake of Maidan. But his portraits were taken out of the chests at the last minute. They were already cooked, with them already went in Lviv. The symbolism of the OUN UPA, UNA UNSO and other nationalist organizations was not printed at the last moment. The right sector with its flags, business cards Yarosh, other attributes, also prepared in advance. Experienced designers created a logo, selected a font for the name, created handouts - it was all done not along the maidan, everything was already at hand. And we even know who financed this training for how many years.
And who was preparing the uprising in Donetsk and Lugansk?
Where are the movements of communists, anti-fascists, Russian patriots who would propose an ideological basis, a foundation, symbolism, a political program that would become ideologists and leaders of resistance?
They were not there!
Gubarev? Tsarev? These are the people's delegates with their political views, but there was nothing like a serious movement behind them. Nikachek partyek, structures, newspapers, TV channels, not to mention political programs.
St. George ribbon is a historical symbol. The flags of the DPR and Novorossia were also raised from the archives already during the uprising. Initially, there was not even a single option.
At the first rallies, there was no DNR flag, and the people came out with Russian tricolors. There was no consensus even on independence or accession to Russia. They came to the option of independence later, when it became clear that Russia was not in a hurry to take over Donbass.
What is it all about?
The uprising in the Donbas was spontaneous.
Nobody really cooked it. It was a real "collective farm" - a mass of people who came out to protest with different views and beliefs. With the development of protest and the transition to armed confrontation, people naturally began to unite in groups. Flags appeared, detachments, commanders, symbols appeared. But they appeared inconsistent. As a result, white, red, communists, Orthodox, Cossacks and so on were formed.
All this suggests that from the very beginning Moscow had no plan and no unambiguous policy in the south-east of Ukraine. As well as in general in Ukraine. Because if plans and policies existed, in March and April in Donetsk we would see not a collective farm (no insult to the insurgents would be said), but a single movement, with a coordinated position, idea, symbolism. And everything would develop very quickly. And the whole southeast would rise in unison. And New Russia would arise in a matter of days.
Organized movement is the same flags, headbands, vests, tents, even rows of dry closets.
And when people gather who is ready for anything - with axes, cutoffs, cucumber banks, sandwiches, in the old army uniform, in which he left the reserve a decade ago - this is element.
And even when a spontaneous uprising arose, even then Moscow didn't have any plan, no ideology to quickly give them to Donetsk, so that New Russia was formed not in trenches with a single idea of ​​independence, but in cabinets, with some coherent development program.
Even Moscow and Russia as a whole could not even share their own idea. For the simple reason that Russia does not have it today.
In Russia today there is no idea other than the idea of ​​consumption and personal enrichment.
Today, ideas of liberalism are often criticized in Russia, but they are still the dominant ones. There are simply no other ideas shared by the majority in Russian society today.
Modern Russia continues to live by Western ideas of democracy and liberal values.
We are trying to abandon the vicious ideas adopted at the time of the collapse of the Union, but so far we have not been able to do this. And to help the New Russia with the idea, we also could not.
Russia turned out to be ideologically and politically unprepared for war. There were no ready-made ideas either for Novorossia or Ukraine, there are no ideas even for themselves.
Russia does not even know whether it wants to return Ukraine to its sphere of influence or to finally disengage from it. Numerous discussions of this issue over and over again divide the audience in half.
Russia does not know whether it wants confrontation with the West or peace at any cost.
Hence, the whole mess in Novorossia. From here disputes "merged or not merged", from here Strelkov who first occupies Slavyansk, and then is compelled to leave it. Hence the support, which is, it is not. Hence the offensive, which stops midway and is replaced by an illogical truce.
Russia has not decided whether it wants to be part of the Western world, which the last 23 of the year tried to integrate into, whether it wants to participate in the global capitalist world order or whether it wants to return to its own way, to defend its interests in battle and, if necessary, in a fight with the strongest.
Do you have a ready answer to this question?
Do not hurry. I believe that you have this answer. Russia does not have this answer as a whole. Russia as a state. He does not have the current Russian government. He does not have the President. He does not have the Kremlin.
From here that mess which we observe in New Russia.
From here all this muddy water.