In Kazan, the fourth prototype of the new Mi-38 multi-purpose helicopter took off. Its creator is the Kazan Helicopter Plant (KVZ), part of the holding "Russian Helicopters", reports
Interfax-AVN
with reference to the press service of the company.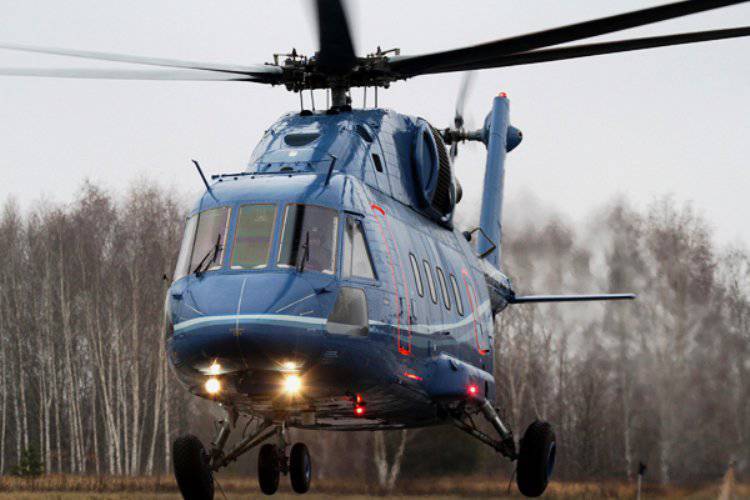 "The program to create the Mi-38 helicopter is successfully developing. Today, for the first time, the fourth prototype helicopter took off, which will soon join the certification testing program. Above the fuselage of the first production machine is already working on the assembly production. Mi-38 in practice proved the uniqueness of its capabilities. I am sure that the helicopter will be in demand both in Russia and the CIS countries, and in our traditional markets - in the countries of Africa, Southeast Asia and Latin America. "
, - leads the press service of the words of the general director of the KVZ Vadim Leigh.
The report notes that "the flight took place on October 16 and continued 10 minutes, after which the helicopter was sent to the flight test base of the Moscow ML Helicopter Plant. Mile to prepare for certification testing ".
The commander of the rotary-wing machine, Vladimir Kutanin, in turn, said:
"The first flight of the fourth prototype Mi-38 was successful. The helicopter is well managed, all systems worked perfectly during the flight. The Mi-38 is very popular with pilots, and shows excellent flight performance, which should provide this car with bright prospects. "
.
"The Mi-38 helicopter of the fourth prototype model design (OP-4) differs from the third prototype (OP-3) with a shock-resistant fuel system and increased apertures of portholes. Like the OP-3, the fourth prototype of the Mi-38 is equipped with two TV7-117В turboshaft engines manufactured by Klimov. The engines have power output ahead and are located behind the main gearbox, which significantly reduces the noise level in the helicopter cabin, "the press release says.
According to experts, "the carrying capacity and volume of a cargo-passenger cabin, combined with high speed and comfort indicators, will allow the helicopter to become one of the most popular machines for the regional
aviation
».
The press service notes that "low noise level, short deadlines for preparation for flight, a spacious passenger cabin, adherence to new flight safety standards - these qualities open up wide possibilities for using Mi-38, including corporate and VIP flights".
In comparison with small aircraft, a helicopter has a higher level of profitability due to its engine efficiency, high resource, independence from the expensive airfield infrastructure, and a number of other indicators.