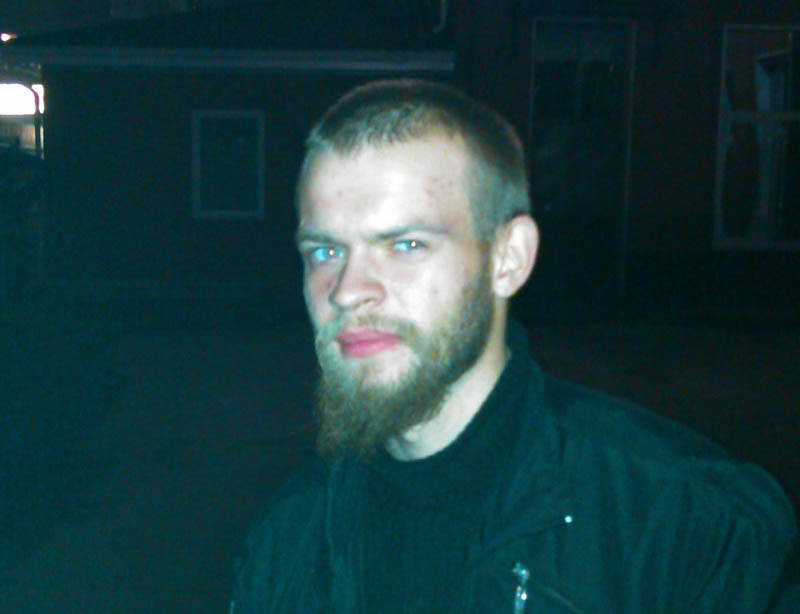 We are all watching what is happening in New Russia. We observe the heroes of our days. Someone, like Motorola, is known to everyone, some not. Since I was lucky to communicate with many people from there, I decided to start a series of stories about those who met and who are not known to the general public. I think it will be interesting.
My first hero made a somewhat shocking impression on me. He came to me at the request of my friends Hammer and Khabir, who fought on the side of the DPR throughout the summer. They asked him to supply Michael with several necessary items and send him to Rostov.
We met in the evening in the city. Quickly bought him unloading and original utilitarki, and sat down to talk. Winter insulated berets of its size did not appear, but the problem was solved quickly, since we have the same size. Gave your own.
It turned out that Mikhail "Doctor Kruger" from the city of Barnaul is in the Alexander Nevsky battalion, which has recently been part of the Ghost Brigade. That is quite "ours". And he is not a simple fighter, but a nurse. Doc
That day, buses did not go to Rostov, nor to Lugansk. But with the help of the cashier at the bus station, we solved this problem. She called us a person who contacted someone on the phone and offered to deliver Doc to the bus for a small fee over and above the cost of the ticket. Service…
Since we had a little time left before departure, I decided to rub it a little with questions.
- Where did you get such knowledge in medicine? (Even in the store, when we dressed him, he made a strong impression on everyone when he showed the method of extracting mortar debris with the help of two bayonet knives. Some really felt sick, because he is a good storyteller.)
- Everything that I know, my father taught me. Field Surgeon. He taught me from the age of seven, and now I learned it.
- Why from such an early age? For service prepared?
- Not. I have hemophilia, albeit in a mild degree, but still ... He prepared me for any surprise. Here, now I use. And I use others. At twenty years old I know everything that a graduate of the medical institute should be able to do, and even more. And my practice is such that anyone can envy.
- As far as I know, hemophilia and an active lifestyle are not very compatible ... Am I wrong?
- Not really. In general, there are drugs that make life much easier. They are expensive, but they help. Look, I have two scars - this is from a mortar. One hundred years ago I would have Khan arrived, but now nothing, as you see. Although, when the first received, it was not for myself. But now I know that it is not for nothing that I swallow.
- Tell me honestly, are you crazy? Or just thrills a little in life? After all, a serious injury - that's all. Do not depart.
- Well, if it's crazy, then lightly. About thrills ... Well, actually, Barnaul is something else a swamp. We are too far away from everything that is happening, so 99% is not there at all. I happened to meet with the Altai volunteers, they said that it's bad there with the doctors. And I decided to go. First, just see, work as a doctor. And then tightened. Here, healed, again food. Tools at the same time picked up.
- What can you tell about your battalion?
- We are the most frostbitten infantry in New Russia. And we are proud of it. Under Popasny, we are a company with two "Cliffs" and two AGS-17 attacked a battalion of ukrov with armored vehicles. Ukry lost only killed 32 person. And we are one. Yes, we had more than twenty people injured, but we drove them away and captured another tank. He is now in the second company.
- Why not you?
- Well, the authorities decided. In the second company there are guns, and BMP. And we have nothing. But we cope. Just a little technique that spray.
- Tell me, what struck you most while you were there?
- Well, I got the strongest impression when in the captured tank in things we found such a normal-sized battery-powered dildo, and in the dugout, pink men's underpants of size 58 with two button-widths ... We weren't just stunned, it was really a shock. And then they died a week from this.
- And what was the most difficult case from the point of view of medicine?
- Yes, I was so, well - I do not dream. We stood near Debaltsev. There was a mess at first, then I darned four hours for the guys. Went to hang up, fell, only fell asleep - they wake up. And about six people yell out loud. Where is Doc, look faster. And I'm already off. Well, they turned it on, with a berets on the ribs a little like that ... I ask, what happened? And they scream everything, as if they were cutting, that there is a birth! I sent everyone with such the newsbut no one calmed down.

In short, they grab me and drag me. There is a car at the roadblock, and in it ... In short, I woke up right there. A woman from some village, in my opinion, from Gorodishche, went with a relative to the hospital, and here we have a batch. Waited, waited, and waited ... The process has begun.

Everything was delirious. I read in books, of course, but did not pay much attention. Nothing, in general. Clean material they had, thank God, a couple of sheets. Well, we had some vodka. Water from the people gathered in flasks, tied with wire and heated. There the truck was burning down just ...

In short, accepted. I stand so full of blood, but the idea in my head is absolutely idiotic: you have to weigh it. Well, the boy took on one hand, the other Kalash. Three and a half kilos, I say. I gave my mother a child, gave Kalash, walked a few steps, and that was all. I don't remember anything else, I passed out.

Then our city escorted the car to this. At the checkpoint, they say, there was a general show. There, the guys were just stunned, a bright "Bogdan" was riding, covered in blood, the front salon was also in it, the distraught aunt was driving and our back was shouting "Let us urgently need the hospital!" The circus in the night ...
Unfortunately, our conversation was interrupted by a call from the carrier who was to take Doc to the bus. We agreed that if he was lucky, he would visit me. Will tell.
A day later, the message fell: "Everything is in order, I have my own."
I will wait. I hope that you will be lucky to talk once again with the most crazy of all the doctors I have seen. Dr. Kruger from the Alexander Nevsky battalion.