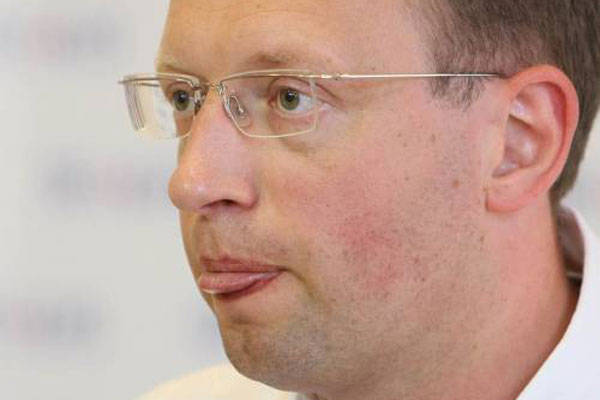 Personally, I am amused either by the Ukrainian, or by the Jewish, or by the Jewish-Ukrainian "stubbornness" of Pan Yatsenyuk, who considers himself the most brilliant prime minister of Ukraine of all time.
Despite everything, Senya sternly promises not to recognize any defaults. Whatever happens, there will be no default! And the point! And the sparkle is severely lenses.
Housewives in the ah ... "they are crazy." Here is a man!
And it reminds me of the "stubbornness" of "Freedom". Despite the fact that the 14 number of the entire area in front of the Rada was studded with "Svobodovskimi" flag bearers, however, "Freedom" was not there! And the National Guard under its militants did not beat and did not blow up! For so said the nib!
Avakov already said that the "handsome man in a green t-shirt" who beat the police under the Verkhovna Rada with a chain was detained half an hour ago. He is the son of a majoritarian from Liberty.
But "FREEDOMS" UNDER THE JOY WAS NOT, AND SHE NEVER EVALUATED! Tse provocation FSB!
Similarly, Yatsenyuk behaves.
Ukraine's national debt is already $ 69,5 billion. By the end of this year, according to experts, it will increase from 45% to 60% of GDP. The main creditor of Ukraine The International Monetary Fund predicts the growth of Ukraine's foreign debt on the basis of 2014 of the year to 102,2% of GDP and the continuation of this trend in 2015 of the year. And the international rating agency Moody's has already managed to express its concern on this issue, hinting that the default is not just approaching, but it is in fact inevitable.
But Senya - adamant. Do not believe your eyes! Financial indicators do not matter! Tse provocation FSB! The main thing is the indomitable will of the leader of the "Popular Front", whose strength will keep the states from bankruptcy ...
Well, handsome because! You look at Senya, and you know - man!