The third ship of the project 21631 "Buyan-M" - "Great Ustyug" - is being mastered by the Caspian sailors
flotilla
. This is a small missile ship, which belongs to the class of "river-sea". "Great Ustyug" was built at the enterprise "Zelenodolsk plant named after Gorky" (Republic of Tatarstan).
"Russian newspaper"
reports that the crew of the ISC "Velikiy Ustyug" is fully formed. At the same time, the crew members underwent special training in Zelenodolsk, where they received important information about the efficient operation of the ship from the leading employees of the shipyard.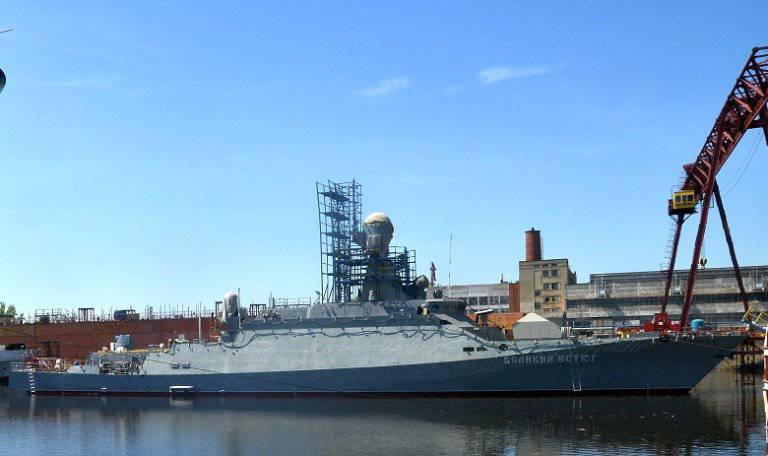 Now the crew of Veliky Ustyug and the transfer team of the Gorky plant are conducting sea trials of a small rocket ship in the Caspian Sea.
IRA "Veliky Ustyug" - the third ship of the specified project. Before him, all the necessary tests went through two other ships of the Buyan-M project. These are "Grad Sviyazhsk" and "Uglich".
Until October 19, several ships of the Caspian Flotilla will be in the Azerbaijani capital with an unofficial visit. During this visit to Baku, a meeting of the command of the Caspian Flotilla with senior representatives of the Azerbaijani Navy is scheduled. Reports about it
site of Zelenodolsk plant named after Gorky
.
For reference.
Armament of the 21631: 8 cruise missiles (defeat range up to 500 km), the Bending P launchers, the 100-mm A-190M gun, the 12 Duo automatic artillery mount of the 30 caliber mm. In addition, in service with the MRK - machine guns caliber 14,5 and 7,62.