BDK "Novocherkassk" of the Black Sea
fleet
The Russian Federation arrived in the area of ​​the Russian Navy's exercises in the Mediterranean. It is reported that Admiral Alexander Vitko, commander of the Black Sea Fleet of the Russian Federation, is also on board the Novocherkassk BDK.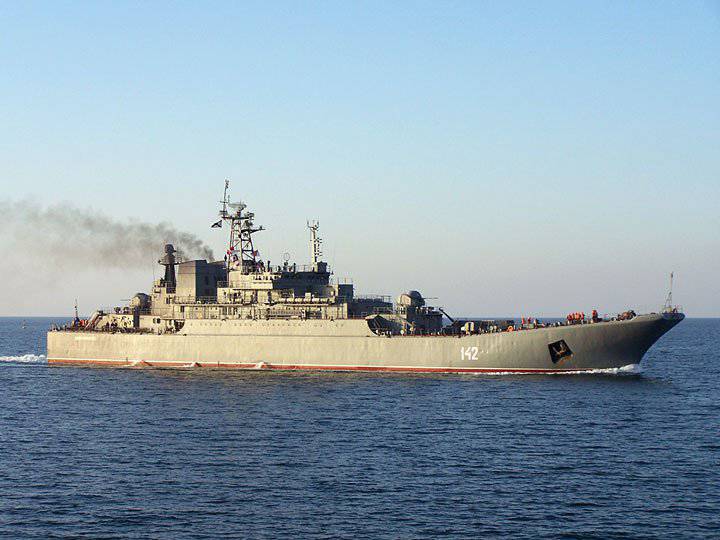 Agency
Interfax-AVN
publishes information according to which the ship arrived in the zone where the assigned missions are carried out by ships of a permanent operational connection of the Russian Navy. It is reported that during the exercise (they will be held in the waters of the Aegean Sea), actions will be worked out to protect sea lanes, as well as sea convoys. The agency quotes Vyacheslav Trukhachev, Captain of 1, head of the information department of the Black Sea Fleet of the Russian Federation:
In the Aegean Sea, the fleet commander and officers of the marching headquarters went aboard the Vice-Admiral Kulakov, the flagship of the large antisubmarine ship of the Northern Fleet.
During the exercises, firing will be held in which the formation ships assigned to the three fleets of the Russian Federation: the Black Sea, the Northern and the Baltic will take part.
About conducting exercises
TASS
The official representative of the Federation Council of the Russian Federation Vadim Serga told:
It is planned that during the transition BOD "Vice-Admiral Kulakov" and BDK "Novocherkassk" will work out joint maneuvering, rebuilding a marching warrant into various types, conduct exercises on organizing communications with signaling in accordance with international standards for radio traffic, on warship detachment .
For reference: the formation of the Mediterranean group of the Russian Navy began in the spring of 2013. The permanent operational compound of the Russian Navy in the Mediterranean (rotationally) includes ships of the Northern, Baltic and Black Sea fleets. The ships of the Pacific Fleet of the Russian Federation also took part in the rotational activities of the Mediterranean squadron.