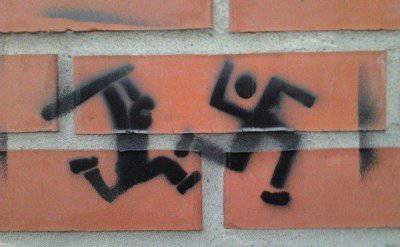 This appeal Valery F. Galchenko - Director of the Institute of Microbiology. SN Vinogradsky RAS, Corresponding Member of the Russian Academy of Sciences, living and working in Moscow - published 26 on May 2014. But it does not lose relevance ...
My dear Ukrainian relatives are Ukrainians.
For more than six decades, I have been watching what is happening in Russia and Ukraine with all my gut.
Living in Russia, I still allow myself to compare the revolutionary-political events that have occurred over the last period of a quarter century in the territory (and in jurisprudence) of Russia and Ukraine.
What's happening?
What happens to us, our relatives, comrades, neighbors, random oncoming people (on the street, in a trolleybus, on a train, on a sea or polar expedition).
Many people ask themselves this question and either quickly, or not immediately, depending on whether they are mentality, national-political views, are answered.
Often unequivocally or categorically.
Wait! Is this hasty justification in judgment?
In this regard, I recall a poem by Alexander Pushkin, "On the topic of the day," written almost two (2) centuries ago!
"What are you making a noise about folk?
What angered you? The unrest of Lithuania?
……
Who will stand in an unequal dispute:
Puffy Lyakh, il true Ross?
Slavic streams merge in Russian?
Will it run out? Here is the question. "
Whether the sea of ​​relations between peoples, their friendship, enmity (and it is present) will dry up.
How to find the answer? Agree? Agree? But how?
I am afraid of an answer - we will NEVER agree.
Biological predestination.
But after all, mankind has become mankind above the animal species when some groups managed to reach an agreement.
Often this is just a twisting of the arms.
Who is stronger, he twists these hands.
Yes, the economy, living space or the desire of those in power often determine the actions of people.
Ultimately, this also applies to people living.
People understand this, feel it, often envy those who twist their arms. No wonder the persecution of the haves (and who is to blame for this?) As in
stories
, and in the present is very common in times of change.
What to do?
Ukraine is not lucky with all the heads, i.e. with presidents.
The very first rushed in Belarus with a question about the status of the Crimea (our first also screwed up, and how!), And the last Ukrainian reached the golden loaf (if so? However, many other non-questionable facts show).
Who did you choose? Who did you choose today ???
Yes, and Yushchenko is not far away.
Isn't Saakashvili's example chewing your tie enough? Moreover, it is also in the advisers of the Ukrainian president?!.
Emotions are emotions, but sometimes you have to turn your head on!
And the most important thing! The national question!
States, powers that have reached the perception (penetration, implantation) of different religions, cultures in general, different nationalities, can only be such.
Otherwise - profanation.
In the world today there are only two powers. USA and Russia.
But these are drastically different.
The USA is a collection of people of all nationalities whose roots are in their homeland.
Russia - protects the seedlings with their roots in their native land, without taking them from their homeland. Yes, they were not very humane for the modern perception of the actions of the defenders.
But not until the blankets are contagiously infected (in North America)!
However, any accepted does not mean indiscriminately.
Humanistic relationships have not been canceled.
For humanity has become humanity on the basis of humanistic rules, to whom we would not attribute them!
But not every "Moskal who does not jump." This is primitive! Times many millennia ago, when small groups could not behave differently in order to survive, they passed.
And what about us now, those who are both?
I can list my colleagues, comrades, friends.
Who can I go to intelligence.
My father in 1943 from
tank
pulled out a tatar; two months later his father buried him.
My uncle machine gunner near Smolensk, too, was excavated by a Tatar after the bombing.
They will object - this is war, special conditions. No - these are not special conditions! This perception is yours and those around you!
I have friends: Komi, Jews, Yakuts, Russian Yakuts, Ukrainian Uzbeks, and Ukrainian Azerbaijanis, not to mention Russians. How do I treat my best friend from the USA after six Antarctic expeditions? When we rescued and cared each other.
I'm going to fly with him to Mars in one direction! I myself do not know who I am.
Born in Feodosia in 1948, he lived and grew up starting from Donetsk, Sakhalin and ending with Kaluga. He studied in Gorky, worked in Pushchino (Academgorodok), then in Moscow. My father is a Ukrainian from Zhytomyr region. From 1953 to death (1989), lived in Kaluga.
What do i do? How to live in this national mixture?
And in the distant past, this confusion was very, very common. And what about the future? How to be, what to navigate?
For myself, I chose two rules - (1) do not lie and (2) nothing can justify the mockery (physical or moral) of another person.
I read the open letter of Yevgeny Grishkovets regarding the 2 events of May 2014 in Odessa.
I felt the same indignation, rejection, shock and I still do not know what happened in the shower after TV and Internet information. Fascism is Fascism. And when my acquaintances in Kiev and Dnepropetrovsk justified these atrocities with some ignorance of young people, the third generation after Bandera, which is not even fascists, but misguided, I deleted their address from my phone book.
I do not understand how you can be a natural scientist, and following the political situation and the information received to justify the fascist nationalist community?
You can not slave for centuries!
You can not even sit between two, and many chairs!
Yes, we rescued the Crimea.
And what will happen to Novorossia? Very hard!
But they are fighting for their own and our future! Many of you are amazed at the emotional pressure resulting from metered and targeted information.
Wake up!
Answer only one question - DO YOU READY TO KILL A BROTHER, A FRIEND, A NEIGHBOR, N E N A C O M O G O just because he does not agree with you. I do not agree with the machine at your temple, but at least in the kitchen with a bottle of beer with you, eh? Slavs, do not start Slavs! All of us will be worse!
My dear brothers crest!
Crest is not an insult.
I sometimes even flaunt this nickname (for my part, Katsap) in Russia.
But these are my brothers and sisters !!! And they respect me.
We love each other. Every year we meet at the graves of our relatives. I know OWN Ukraine and OWN Russia well, not bad foreign countries - I visited more than 50 countries, participated in almost 30 international expeditions, of which only in 6 were Antarctic.
I became acquainted and made friends with representatives of many, many nationalities, and therefore, I will never accept a thesis: my (yours, his, theirs) nation is above all.
NEVER!
Brothers and sisters, pay attention to how the warriors of Ukraine behave - most do not want to shoot at their relatives.
They are shot for this by the Nazis.
Fascism will not pass!