Exoskeleton from Raytheon Sarcos will be released soon.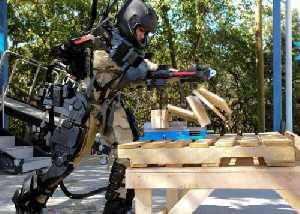 The XOS 2 exoskeleton, the second-generation robotic suit created by the Raytheon Sarcos group, which last year was named one of the 50 best inventions by Time magazine, will be mass-produced as planned by developers in just five years.
Wearable robotic suit is designed to increase the power of the user with the help of high-pressure hydraulic system, sensors, actuators, controllers. All these devices together take the whole mass of the owner "on themselves", allowing him to remain flexible enough to even kick a soccer ball.
The new exoskeleton is lighter, stronger, and more environmentally sustainable; in addition, it uses half the power of the company's first model, XOS 1, which was deployed in 2008 year. XOS 2 was named the Iron Man costume in honor of the high-tech and powerful costume that we all saw in comics and films.
Starting with building a prototype XOS 2 in 2010, engineers continue to tune the device in order to further improve its energy efficiency by reducing the weight of the suit and reorganizing the servo valves. The developers plan to reduce the power consumption of XOS 2 by more than 70 percent, which will reduce the required number of power supplies and, as a result, increase the payload.
Raytheon Sarcos, the robotics development group, an integrated unit of Raytheon Defense Systems, is developing its own exoskeleton to reduce the load and reduce the risk of injury to soldiers. The XOS 2 uses various sensors to determine the strength and position of the entire system. Sensors are connected via Ethernet to distributed computer processors located in each joint. At the same time, drives (mechanical devices that convert energy into motion) provide up to 200 kg of force per square centimeter using a high-pressure hydraulic system.
"In principle, a person moves as usual, and the exoskeleton keeps pace," says Smith, vice president of Raytheon Sarcos. "We do not use any calculations. Each joint has its own high performance, and the joints communicate with each other. " The updated robotic suit allows the wearer to lift up to 23 a kg of weight with each hand.
Ctrl Enter
Noticed a mistake Highlight text and press. Ctrl + Enter