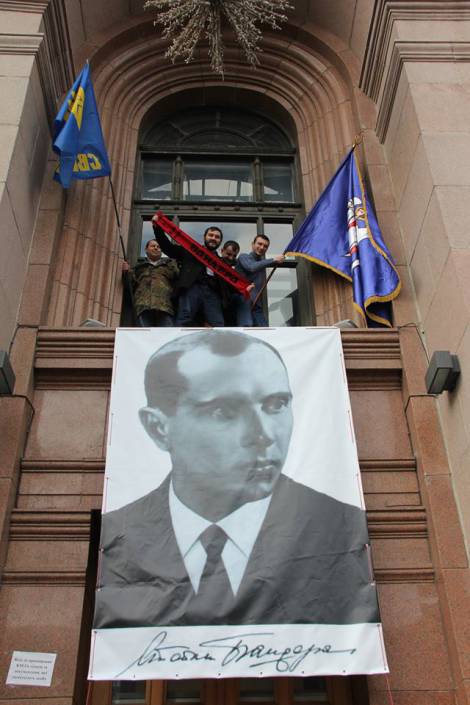 Yesterday, in fact, the most serious challenge was thrown to both the Kiev provisional government and President Poroshenko during the entire period of his presidency.
Yesterday the most serious mobilization of the right forces took place under the walls of the Verkhovna Rada. From 8 to 25, thousands of people gathered there, and this critical mass would be enough to take the building of the Verkhovna Rada of Ukraine. (Recall that, until now, all the threats to make a new "Maidan" ended with the appearance there of a hundred or two dissatisfied marginals).
Saved the situation "Right Sector" and the party "Freedom".
Apparently, having agreed to the admonitions from Poroshenko and the interim government, the leaders of the Right Sector and Freedom took their people from under the walls of the Rada, otherwise the Rada would have taken the right. (They were told, they say, do not destroy our fragile national accord, it will be worse for everyone, and this time they listened to the voice of reason.)
Dmitry Yarosh seems to have appeared briefly at the Rada and urged his people to leave the confrontation site, after which, holding onto the shoulders of those who were ahead, his people moved away from the walls of the Rada.
Later, information appeared that it was not Yarosh himself, but that was no longer important, the Right Sector had withdrawn its. And then "Freedom" of the Freedom also refused to face the collision, although its flags were still hovering over the crowd, and it was the Faction, who introduced the UPA heroes of Ukraine to the agenda of the Rada.
The Freedom party was definitely preparing this performance. And his theme was clearly marked on pre-prepared banners and in chants "Bandera is our hero!".
They wanted to take another big step towards even greater nationalization of the Ukrainian state.
But Rada rested and by hook or by crook refused to take this step. Seven times voted in vain! Since the Rada was afraid to irritate Europe and America with such a clear leap into Nazism. Europe could refuse to help, that's what Rada was scared of. And the same argument ("Europe will turn its back on us!") Was heeded by the Right Sector and Freedom.
But this will not always be the case.
The rightists want more nationalization of the Ukrainian state, they are pushed onto this passion, the street and the logic of nationalism are pushing, the interim government eventually falls under their onslaught, and Poroshenko will fall with the interim government.
What is the point of talking with him, with this Poroshenko (he's almost a political corpse), the president of the Russian Federation?
There's no point.
Poroshenko is about to be accused of surrendering the Donbass "Russian terrorists" and thrown out of the presidents, and the interim government will be dispersed.
After all, they shout "Bandera is our hero!" And not "Poroshenko is our hero!"