The continuation of the implementation of the Russian-Ukrainian program "Dnepr" causes Russia material and political damage, the newspaper said
MIC
with reference to a high-ranking source in the rocket and space industry.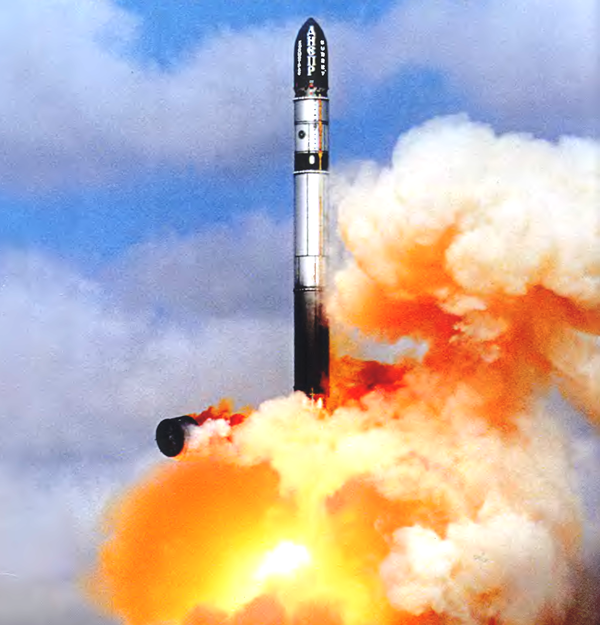 "Russia's economic, political and military interests are incompatible with the continuation of launches under the Russian-Ukrainian Dnepr program with the use of heavy intercontinental ballistic missiles (ICBM) RS-20 (according to the Western classification -" Satan ") removed from combat duty", - said the source of the publication.
According to him, "only Igor Kolomoisky (the governor of the Dnipropetrovsk region), who became this year the actual owner of the Dnepropetrovsk Yuzhmash, where the ICBMs were manufactured, are interested in continuing the launches.
The cost of launching Dnipro in 2011 (prior to the suspension of the program) was approximately 300 million rubles. About 50-million came from the company "Kosmotras" - provider of launch services. The rest was paid by the Russian budget. "What profit the Russian-Ukrainian-Kazakhstan international space company (MKK) Kosmotras received can only be guessed because the launch launch price is a commercial secret," the source said.
The political side of the problem became apparent after in May Yuzhmash signed a memorandum of cooperation with Kolomoisky.
"As for the military side, it's enough to look at the nature of the payloads launched with the help of Dnipro. At best, these are remote sensing satellites (Earth remote sensing), in fact, reconnaissance; at worst, experimental spacecraft with the help of which technologies are developed that can be used for military purposes, "the source said and added that" there will be no exception and the next launch of Dnipro, scheduled for October 30 - it should take the ASNARO Japanese remote sensing satellite into space. "
According to the interlocutor, Earlier, Russia "with the filing of the Ministry of Defense has repeatedly raised the issue of changing the financial conditions for the implementation of the Dnepr program." In connection with this launch of the "Dnieper" 2011 on 2013 year was not carried out. Renewing them in 2013 is a political decision designed to help the Yanukovich regime.
"But now the power in Ukraine has changed, and the further implementation of the Dnipro program is fraught for Russia with image losses," said the source.
Help newspaper:
MCC Kosmotras modernizes the RS-20 ICBM RS-1999 developed by the Yuzhnoye Design Bureau (Dnepropetrovsk) into the Dnepr conversion carrier rocket. Its launches are carried out from the Baikonur cosmodrome and from the position area of ​​the Yasnensky unit (Orenburg region) of the Strategic Missile Forces, where the same type of ICBMs are on combat duty. Since 20, 20 has successfully completed Dnepr launch vehicles. Booster "Dnepr" - a three-stage, liquid. Uses highly toxic components of the fuel: asymmetric dimethylhydrosine (heptyl) and nitrogen tetroxide. The first and second stages of the rocket are the standard stages of the ICBM RS-201. Starting weight "Dnepr" - XNUMX ton ".