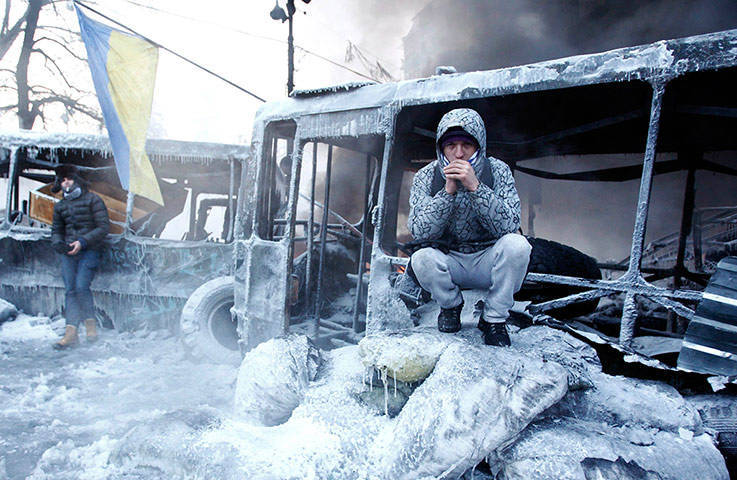 Honestly - already tired of the sofa critics. Emotionally, I don't like the Minsk agreements either. And I would like the army of Novorossia to dashing
tanks
I would have burst into Mariupol, Kharkov, and then Odessa (especially since there was a debt there for May 2, and I like to repay debts).
But actions in the offensive almost always require a significant numerical superiority (at least in the breakthrough area) and carry the threat of an increase in the number of losses. Personally, I do not have enough detailed information about the number and armament of the Novorossia militia (VSN) to judge whether they were enough for the assault on Mariupol (which I immediately thought was an adventure, to be honest) simultaneously with clearing the airport and freeing settlements in the north of the LC and the DPR. And since there is no information, then I sit and do not buzz.
However, this is not important. Why am I calm? Because in what is happening there is always its own internal logic. And if you don't see her, then it's not Putin's fault, but your unwillingness to think.
When I first came to Moscow in June, what did I write? "I need help, urgent!" And then I stopped writing this. Guess why.
And when everyone ran and panicked about the punitive attacks on Donetsk and Lugansk, I calmly sat and smiled quietly, anticipating the defeat of the "formidable Ukrop army" (and actively predicting it, by the way). And without any special insight, just analyzing the situation. It turned out even better than I expected.
Now the same alarmists are running and screaming about a new occasion. Here they like to panic, what will I do? I will not poke a finger, but who even receive fees for breeding panic.
Meanwhile, the logic of what is happening is again on the side of Novorossia and against the junta. And now I will show you some pieces of this logic.
Firstly, the intermediate state of the Minsk agreements does not suit anyone. The party of peace is unhappy that battles continue, and the radicals are dissatisfied, because "there are few Muscovites." As a result, there is confusion and vacillation in the junta's camp — this is amusing storms of Verkhovna Zrada by the dogs, but now there are meetings of conscripts mobilized with the demand for salaries and demobilization.
Regarding the Minsk agreements, I did not worry for a second - they simply could not be fulfilled, even if someone wanted to (long to explain, but many points are simply obvious - for example, the militia's desire to liberate their cities and the ideological Ukrainian Nazis's desire to continue the war, and US interests in the continuation and fanning of the conflict last but not least).
Secondly, the Ukrainian army has not been paid salaries for several months (and there is no place to take money, and the junta is not eager to spend on soldiers what can be successfully stolen), it is not ready for winter (there is no normal food, no uniform, with
weapons
and technology, too, problems), gradually to more and more people it becomes obvious that the junta is holding them for fools and for cannon fodder. Already a few terbats have gone over to the side of Novorossiya, and the dogs are brutal in trying to prevent new transitions, which only embitter conscripts and mobilized. Desertions of whole battalions speak for themselves.
In addition, after defeats in the east, Nazi ressentiment is demanding compensation, so they are deploying a company of terror against the Orthodox churches, pushing even more people away and once again will expose themselves to evil goblins in front of the entire planet. European politicians find it harder and harder to explain to their citizens, therefore they support the obvious neo-Nazi regime in Kiev.
Thirdly, gas negotiations are at an impasse (and it couldn't have happened otherwise, because the junta simply has no money, and those that were allocated to pay for gas are already rastiribaneny), the reverse from Norway gives 2% of the required and high price, with coal, too, complete crap. I generally keep quiet about finances, they simply do not exist, and the only means of overcoming the crisis, which the junta economists and experts repeat, is the mantra "the west will not abandon us".
What do you think, will they hold out for a long time on bare "patriotism", without heat, with problems with electricity and money (and possibly with fuel and lubricants) pampered Kiev hamsters? After all, they were promised not "harsh years" and hardships "for the sake of the Motherland", but a European freebie, where you can not work and receive eight thousand euros each.
Yes, every day people die. And my soul hurts for each of them. But time is working against the Kiev junta, because every day its position inevitably deteriorates in many ways, bringing the fall of the Reichstag closer.
Therefore, the junta will inevitably launch a new attack on Novorossia (while exposing itself as an aggressor to international institutions). I think that right after my elections, but before the elections in Novorossia, so between the October 26 and November 2. And after the failure of this offensive (and I have no doubt about its failure), when the junta loses almost all the reserves and denies the rear, it will be possible to talk about the capture of Mariupol and the approach of the VSN to Kharkov.
As the old joke, "we slowly descended the hill and otymeem whole herd."