President of Ukraine Petro Poroshenko introduced to the Verkhovna Rada the idea of ​​appointing Stepan Poltorak, commander of the National Guard, to the post of Minister of Defense, reports
Lenta.ru report
with reference to the message of the head of state posted on Twitter.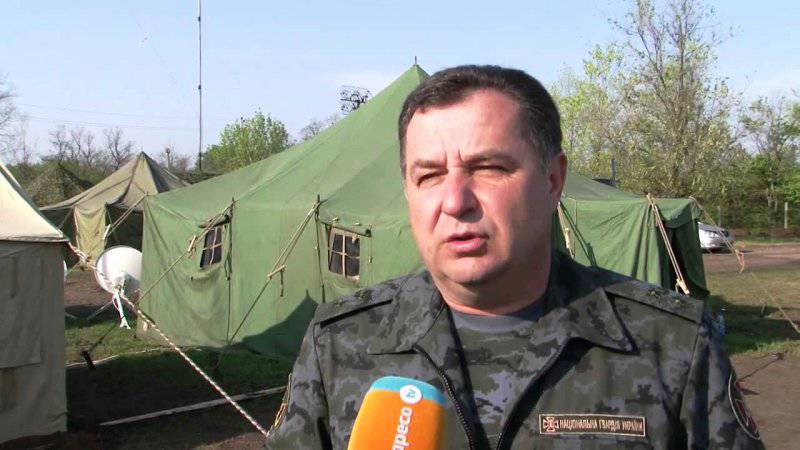 On the eve of Poroshenko signed a report on the resignation of the former Minister Valery Geletey. Advisor to President Lutsenko, commenting on this event, noted that Geletei had fulfilled the tasks assigned to him, and his assistant would have to carry out new ones. What tasks will be assigned to Poltorak, the adviser did not specify.
Recently, Geletei fell under a barrage of criticism in connection with the failure of the special operation in the east of Ukraine, and in particular, near Ilovaisk, where thousands of servicemen were killed.
However, speaking at a briefing today, the ex-minister said:
"The main tasks set by the president have been fulfilled by me. Now the president of Ukraine has defined other tasks that are no less important for me, but not in the position of the Minister of Defense. "
. Geletey was modestly silent about the new post, saying only that the president himself would soon say about his appointment.
RIA News
He notes that experts interviewed by him called Geletei's expected resignation, but the appointment of a new Minister of Defense, in their opinion, will not fundamentally change the situation in the army, as there are currently no decent candidates for this position in Ukraine.
Valery Geletei became the head of the Ministry of Defense in early July of this year. The peak of the hostilities in Novorossia came at the time of his leadership. The Ukrainian army, hoping to free Donbas from the militia by September, was stopped and thrown back.
Earlier, it was suggested that Geletei could go to the State Guard Department, where he had already served during the presidency of Viktor Yushchenko.
National Guard commander Stepan Poltorak has been in office since April 2014. Prior to that, he commanded the internal troops, on the basis of which in March the National Guard was formed.