Here we must honestly say that the populism of Navalny was at first liked by those who are tired of corruption, arbitrariness and rampant ethnic crime. No need to all en masse to write in the liberals and traitors - sincerely believing in the "honest hero of the Internet" is also enough.
Worked and the psychological effect. The effect of novelty - yes, yes, those same notorious "new faces". In addition, the showman Navalny did not just convey information, but by the American method he entertained the audience. The audience liked this. And the ideas of fighting the vices of society could not help but generate support. Many adults sincerely believed in modern Robin Hood, forgetting that they are not in a fairy tale.
And Navalny continued to conquer the minds of the Internet public because she obviously would like it. Take at least the nationalist part of his speeches or the proposal to legalize a short-barrels. And these thoughts went inseparably - one with the other, and Navalny gave them exactly like that.
Seeds fell on fertile soil. When you almost every day read that people from the Caucasus or Central Asia with impunity killed someone, raped or shot ... you know what thoughts arise. On these, of course, fair feelings Navalny and played.
Of course, he never said words like "shoot everyone, to hell" or something like that (he is too clever for that), but, of course, that is what was meant. Just watch his performances. And, God sees, many agreed with him in this part, because amid the admonitions of official officials about "multinationality" and "tolerance" tough guy Lesha offered a simple solution.
Another part of the image of Alexei Navalny is an uncompromising fighter against corruption and a rotten system. It got to the point that many on both sides of the barricades 2011 began to consider it as a real alternative to Putin. Now it even sounds funny. Nevertheless, corruption is really the scourge of the country and the exposes of Navalny hit the mark.
The third part of the image of Navalny is visual. Memorable appearance, athletic build, the right family: a beautiful wife and two beautiful children. Beautiful, clever, racially correct ... Now you understand that there was an image, a beautiful picture created using established technologies. How to create an image of a pop star or a candidate for the US Congress. And they worked on Navalny's image too: political technologists, stylists, psychologists. I am sure they even picked up the right color for his T-shirts so that the public remembered better ...
And yet something made me doubt Navalny. As Goebbels said, intellect is a terrible enemy of any propaganda, and the more I pondered everything, the more questions arose to Lyosha.
The first thing that unpleasantly surprised me was the proximity of Navalny to liberals like Nemtsov and Kasyanov. Any decent person did not let these "comrades" to himself and to a cannon shot, not what he would have performed with them on the same podium. And if the first time Navalny could somehow justify himself (they didn't know that they would be there), then for the second and third time the doubts had already disappeared - they have some kind of common cause.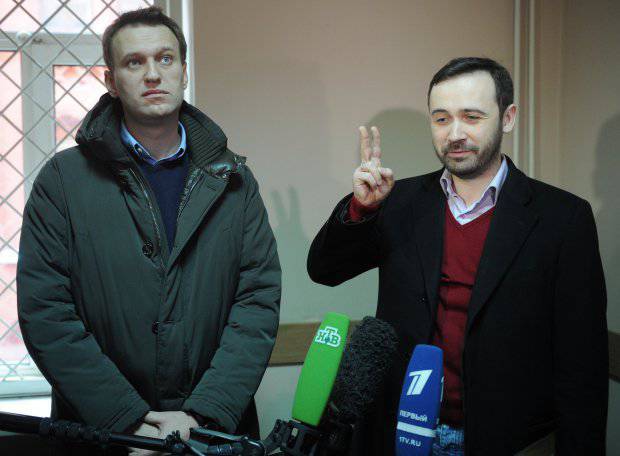 The second unusual detail concerned the actual exposure of Navalny. Yes, he brought out many corrupt officials to clear water, and this is commendable, but ... Navalny himself would never physically be able to dig out a similar amount of classified information. Here we need not just a team, but an organization. A very serious organization with very serious connections. Attention question: what kind of organization and for what purpose it provides Navalny this information?
Further strangeness only increased. For example, the slogan "Stop feeding the Caucasus!" And its content. Bulk proposes to solve the problem simply by giving the republics of the North Caucasus independence. Like, then the huge money in them will not go anymore and we will get rid of any criminal trash on our streets.
Stop, I thought, but this is complete nonsense. The republics of Transcaucasia and Central Asia separated and what did it give? Not only did the national criminal act only become more, Moscow also continues to generously finance local kings, buying their loyalty. If before, under the Union, there were ways to call local elites to order, now they have to curry favor with them, because everyone knows that Moscow will not decide on the deployment of troops. That is, instead of carrot and stick, there is only gingerbread, and it will corrupt anyone. Worse, the republics of the Caucasus, separated in a navalnovski manner, can instantly turn into a kind of Maskhadovsk Ichkeria, or an ordinary civil war can begin there.
Thus, the separation of the North Caucasus will not solve a single problem and will add new ones, which will only benefit the United States. What kind of nonsense, Lesha? You propose to create on the borders of the Russian Federation gangster-terrorist state, a la Chechnya 1996-2000, only several times larger. Are you out of your mind?
Another example is the dark deeds of Navalny in Montenegro. If you build your reputation on the image of an uncompromising fighter against corruption, then it, the reputation, should be as pure as a tear of a baby. Owning property abroad is not a crime if you are not a government official and if you honestly earned it. If everything in Montenegro was fair, then why not admit: yes, mine? They say that I saved up for ten years, ate one shredder, but all honestly, here are the receipts. Instead, we heard an indistinct bleating, like, whether mine or not. There is no need to have a big mind to understand - the business here is unclean.
These are just a few examples that made me think. In fact, Navalny began to bury his reputation long before the Crimean events. And by February 2014, he was in fact a marginal clown with no particular political perspectives. When he openly opposed the annexation of the Crimea, the last doubts disappeared altogether. It was just a political suicide and Navalny could not understand this. But, obviously, Alexey is so dependent on his masters from Washington that he could not do otherwise. It is terrible to imagine what such a figure could have done if he were in the chair of the President of the Russian Federation.
Do not be his American curators are so incompetent, this year Navalny could just make a huge political capital. He could show off with two hands the annexation of the Crimea, and then the uprising in the Donbas. Under the cries of "Putin betrayed Novorossia!", He would have picturesquely collected help for the DNR and the LC. Now for him, and this is impossible, and the Washington masters would not allow him that. Here is something to disconnect from Russia is yes! But to attach - a person who is on a salary at the US embassy can not even allow such a thought.
Bulk is now a political corpse, although, perhaps, some people will try to reanimate it. In the end, we have a lot of the living dead in politics. However, the very fact of exposing a liar and a traitor in him should not cast a shadow on quite sensible ideas of fighting corruption or ethnic crime, which quite clearly destroy our country. But let them fight with them without Navalny.