Kurdish units defending the Syrian city of Kobani repulsed another IG attack. Partially they were helped in this by air strikes against the attacking militants, inflicted by the forces of the anti-terrorist coalition,
TASS
with reference to local media.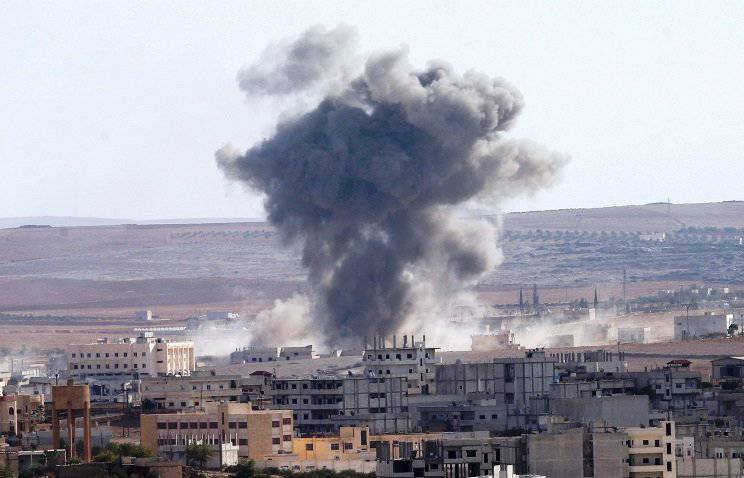 Representatives of the US Air Force reported that on weekends they inflicted 4 blows in the Kobani region, as a result of which several Islamist positions were destroyed. Took part in the raids
aviation
Saudi Arabia.
As noted in the UN, the fall of the city will lead to a mass slaughter of the civilian population, and also allow the group to control the 400 km of the border with Turkey.
Meanwhile, according to the channel
RT
Kobani may fall soon. The militia runs out of ammunition and food. In the districts of the city there is a terrible smell - "in the conditions of incessant street fighting, the bodies of the dead, including civilians, Kurdish fighters, and ISIS terrorists, are not taken away from the streets of Kobani".
One of the locals says:
"About ten thousand people gathered at the border. They want to go to Turkey to escape, but the Turkish military does not let them through. In fact, the Turkish government supports the Islamic State. "
.
Meanwhile, military instructors from Britain arrived in Iraq.
"A group of 12 specialists trains the Kurdish forces in their actions against ISIS in Iraq. Training includes a course on the use of British-made large-caliber machine guns, donated to the UK last year. British soldiers are expected to spend a week in the Kurdish-controlled city of Erbil in northern Iraq "
- quotes
RIA News
representative of the Ministry of Defense of Britain.
The group arrived in the framework of the previously announced program of assistance to Iraqis fighting with the IS grouping.