The withdrawal of Ukrainian units from the Donbass "is out of the question", according to the official website of Petro Poroshenko.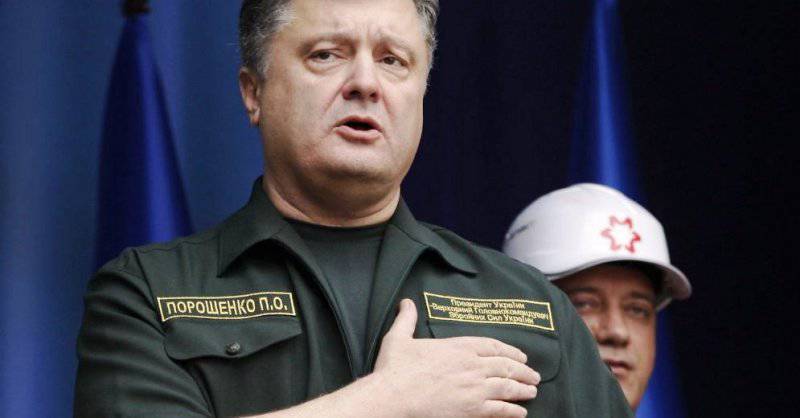 "We are also focused on preparing for the winter, because of the return of our troops from the ATO area to the place of permanent deployment is not yet possible," - quotes
TASS
statement of the Ukrainian president.
"Recently, the work of the enterprises of the military-industrial complex (MIC) of Ukraine has been dramatically intensified, for the first time in decades, they have been working in three shifts to develop a new and repaired equipment damaged in battle," Poroshenko said.
He claims that the enterprises have fulfilled the plan for the supply of new and reconditioned equipment on 80%.
"The modern samples of the new high-precision
weapons
, new means of reconnaissance, modern fire control systems, "the president said.
According to him, during the truce, Kiev was able to "partially rotate the military, heal wounds, repair the damaged and deliver new equipment to the area of ​​operation."
In addition, Poroshenko reported an increase in the number of European observers. "I appealed and received a positive response that the OSCE increased the number of observers to 1,500 people. Such a number will allow this respected European organization to fulfill its obligations to monitor the cease-fire, "the presidential website says.
On Saturday, Petro Poroshenko ordered the transfer to the Kharkiv region to strengthen state and administrative borders additional special forces. On the eve, the press service of the head of state said that "the president appealed to the chief of the General Staff, Colonel-General Viktor Muzhenko with a request to support Gennady Moskal if necessary and consider the possibility of permanently deploying two military brigades in Severodonetsk and Lisichansk."
A little earlier, Yury Lutsenko's advisor to the Ukrainian president informed the press about the delivery of several hundred armored vehicles to the Donbass: "I don't have the right to say the exact figure, but I can assure you: hundreds of armored vehicles have arrived at the front these days. And thousands of trained troops, much better prepared than in the first days, are now undergoing rotation. "
In addition, in the coming days Poroshenko expects to achieve a complete cease-fire in the east of the country. "We expect in the coming days to achieve a complete cease-fire. Once this happens, the creation of a buffer zone will begin. Both sides should divert heavy weapons at least 15 kilometers into controlled areas, "the president quotes.
RIA News
.
Also, according to him, the authorities continue to fight for the release of Ukrainian prisoners of war. "Already almost one and a half thousand of our prisoners, our people who were held hostage, managed to free the terrorists from the dungeons," Poroshenko said.