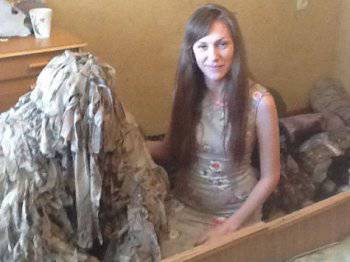 Truly said, to whom the war - and to whom the mother is native. This is about the Gubarev couple, Pasha and Kate. This couple has really done a lot in the open spaces of our great homeland in terms of supplying the population and the militia of Donbass. But it is precisely the last twist of Pasha that is especially indicative.
But I'll start from the beginning.
It is not a secret for people who know that I haven't elected anyone to plow the "people's governor". He himself was crowned. But - no one was particularly against it, because it seems like its own, and so on. And, naturally, our hero got into the dungeons of the SBU. His wife was instantly in Russia, began an active Internet struggle. And then, enlisting the support of certain circles, she began collecting humanitarian aid. And organized both a fundraising and a warehouse in Rostov-on-Don.
Warehouse earned. Indeed, they were brought from all over the country, sincerely and heartily. And, something really got to those who needed it. In the same Slavyansk.
Humanitarian aid went everywhere. And in the case, and without. For me, the story of the Ghosts signalman was indicative of the fact that they sat for a week on the left bank of the Don in Rostov and were brought in bags every day. And drawers.
At the same time, when I tried (without results) to get a report on where our first batch went. They promised ironic that everything will go to Slavyansk. But in the end it turned out that a part of them had been squeezed out by Bolotov, something had fallen to the Brain, and only a small part really ended up in Slavyansk. And that, video was laid out by someone from our readers.
The mess in the warehouses was terrible. Moreover, the warehouse workers did not deny themselves anything. Naturally, from the received cargo. Seen with my own eyes. Moreover, Katya didn't bother herself with appearances. When I came from there one person, tried to call her on an important issue. I could not. Zavsklad, hiding her eyes, said: "Yes, before Catherine 10 should not call" ... He noticed that it was like 11. And I took up the question of the Dormidontovsky camp, which brought us a lot of hemorrhoids and insults from the authorities.
Then it turned out that the people in Russia began to gradually penetrate the understanding that Gubareva had a mess. But since it seems to be their own, and certain structures supported it, no one began to shout, but alternative warehouses simply began to be organized. Kasada in Rostov, Cossack in Donetsk and others. And, oddly enough, it went.
And the case of the "Novorossiya humanitarian battalion" gradually fell into disrepair. In fact, it went on and on without shaky or knacking, the branches were separated, the leaders changed ... I tried to work with them, but then our friend on the Nina Zima website would better say on this subject. She started with them, only I drove all the loads.
And, apparently, the case really became bad. Yes, plus Pasha was also denied registration at the elections. And Pasha decided to take offense. And he began a campaign against those who collect humanitarian aid for the residents of Donbass all over Russia.
To begin with, he circulated an appeal to all networks, in which he called all those who collected money on behalf of the Novorossia battalion to be fraudsters, and called on the authorities to stop their activities.
Mr. Gubarev doesn't care about the fact that ordinary people find it easier to put 10, 50, 100 rubles in a box. On which the container and fuel for cars will be bought. Fortunately, there are still enough drivers ready to go for free. Money should go only to the account of Pasha and Kate. In Sevastopol, Voronezh, Lipetsk, Krasnodar. Every penny.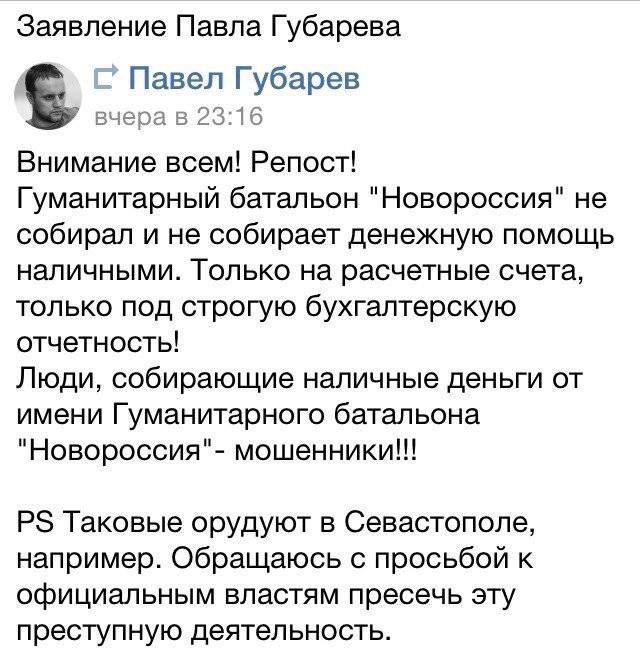 And if someone from the name and on behalf of Novorosii collects the cargo, then he is obliged to either organize a teleport with the help of a magic wand, or carry it for his own. Otherwise - a thief and a crook.
The mayor of the city of Lipetsk on Sunday personally checked how things are with the tents. It's good that he didn't get a "tricolor" one, but an alternative one, don't understand whose. But there will be more noise.
In Voronezh, the tents are not exposed. From sin away.
I am interested in the answer to the question: who benefits from those who collect help for the Donbass, simply dispersed and covered? And why so much negativity comes precisely from the DNI? In Lugansk, the people are more complicated, but with a great understanding of the situation. And does not harm. And here…
All this is strange. Although - naturally. Apparently, the Gubarev couple did not have enough of supplies and transfers. Own warehouses, about which legends are already running, apparently, are few. All is necessary. All the money and all the goods. And the Gubarevs will figure out what and to whom.
And people believe. And they continue to send help. And they believe that it will come. Not everyone has the opportunity to give directly. And, after some time, the already small trickle of spiritual help is clearly running out. It's a pity. For selfless help to one's neighbor is one of the greatest blessings. And a few kilograms of cereal and a couple of cans of stew - for someone just a mental impulse, but for someone - an opportunity to see tomorrow.
But some just do not care.
News
Early in the morning: Pavel Gubarev was attacked. According to the information received, he received two bullet wounds and is in serious condition in Rostov-on-Don.
The war continues.