7000-MU Navistar supply truck of the middle category by weight has also proven itself in Afghanistan
The need to transport military equipment and military supplies across the entire territory of the conflict areas proved to be a weighty reason, making it necessary to book supply vehicles against a variety of threats.
The unprecedented speed of the American invasion of Iraq in 2003 was greeted with eulogized or overwhelming horror depending on your point of view at that point in time.
Since the armored "lance" plunged deep into the country, having passed strong points and centers of resistance, many coalition suppliers (logisticians) found themselves behind everyone in a very difficult position due to the fact that they were dealing with an incredibly difficult task of supplying fuel, ammunition, food supplies and other stocks of rushing forward avant-garde.
Not only this, but also due to the fact that combat units rarely stopped to consolidate their positions or eliminate resistance, the logistic chain that followed was to break through difficult, sometimes stuffed with ambushes, areas with trucks or conveyors with poor protection or without it. with you only rifle
weapon
crews.
At present, it is common knowledge that after the initial invasion security in Iraq has weakened due to the fact that the front lines quickly disappeared along with neutral or safe areas in which relatively unprotected supply chains could function.
Supply columns in Afghanistan, of course, proved to be vulnerable in combat areas that did not have front lines. Also, the situation was further complicated due to the actual lack of a road network and extremely difficult terrain.
Most of the countries involved in operations at these theaters have begun programs to improve, modernize and reserve their existing fleets of supply vehicles or have started new procurement programs in order to obtain more specialized protected machines.
In the early stages of the operation in Iraq, non-standard upgrades were widespread, as the soldiers used everything they could get to protect their vehicles. As a result, trucks and multipurpose vehicles had a very strange appearance with reduced ground clearance, with hatches and hatches closed with improvised material, and welded armor plates removed from armored vehicles.
The US Army began using sheets of wounded or abandoned combat vehicles of the Iraqi army to create gun trucks from existing vehicles that could be used as mobile fire platforms to escort other means of transport.
The American Army Logistics Journal has even once described the practice of the 548 Battalion of Support to produce armored "cases" for its 5-ton trucks M939. These "cases" were obtained from armor plates from Russian vehicles found at the Iraqi supply base in Taji. The machines also installed 12,7-mm machine guns on the support ring, 40-mm Mk19 grenade launchers and other weapons in order to obtain full-fledged fire power.
Speaking in a more official language, a number of different approaches emerged due to the fact that, of course, upgrades are limited to the existing machine design, which does not allow for the necessary modification.
Particularly problematic are the structures with a forward-facing cabin above the engine, in which the crew and the engine are placed exactly above the front axle, where the greatest damage occurs caused by undermining of mines or improvised explosive devices (SVU). Nevertheless, some drivers reinforced cab attachment points and added seat belts so that they would not be thrown out of the cab during an explosion.
Regardless of mine protection, most machines in hot spots now in one form or another have ballistic protection from bullets, debris or fragments, while many are also protected against anti-tank grenade launchers.
The modernization of the tank truck with a capacity of 7000 liters MAN ERF British army rather focused on protecting the crew, not the contents of the tank
Logistics support for all levels
Where possible, logistic cargoes are shifted to an ever increasing number of protected patrol cars or MRAP-type machines (mine-resistant ambush-protected with enhanced mine protection), but some cargoes remain too bulky for transportation by such types and large vehicles, especially road tankers, still undoubtedly occupy their niche.
The UK offers an interesting solution for the supply of all echelons based on its new family of specialized protected combat vehicles TSV (Tactical Support Vehicle). These machines are available in TSV Light, Medium and Heavy variants (light, medium and heavy respectively) and can operate in the entire logistic range up to the front line, if one exists.
In fact, the light infantry nature of most operations in Afghanistan and the mass of equipment worn by dismounted personnel forced the UK to acquire a fleet of ATVs and trailers to escort patrols, which in turn can be supplied by new Springer 4X4 supply vehicles.
Springer is a modified version of the car TomCar, but, nevertheless, this is a new technique for the British army. The car has excellent off-road performance and surprisingly high tonnage of 1,2 tons. Although it is too small for heavy booking, it has ballistic armor panels to protect two crew members from small arms and a Minimi 5,56-mm machine gun mounted on the turret for self-defense.
TSV Light is a versatile version of the Supacat Jackal 6x6 machine, known as the Coyote, it has the same level of increased mobility and explosion protection as combat vehicles, but with a cargo platform equipped with NATO standard attachment points for 3 tons of cargo with armor protection installed. On the machine, you can install a combat module or support ring and machine gun for the second driver.
Next in class is the TSV Medium machine; This is a slightly larger version of the Husky machine called Navistar International's MXT 4x4. Unlike the Coyote, the MXT has a fully enclosed four-door cab as well as a cargo platform that can accept loads over 5350 pounds (2388 kg) or 1,5 tons.
Finally, TSV Heavy is a Wolfhound machine from Force Protection and NP Aerospace, which for the most part is a cargo version of the Cougar / Mastiff platform, which has a 4,5 ton carrying capacity with a very high level of protection against IEDs and small arms.
The TSV family was procured, including for the creation of a "bridge" of supply, since the support vehicles of the British army, like most European armies, were not designed in large numbers for operations on the front lines and, therefore, did not have any protection.
In 2007, the UK Arms and Defense Procurement Organization (DE&S) issued an urgent operational requirement to correct these deficiencies called "Fortress" in order to improve the protection of the new MAN SV (Support Vehicle) support vehicles, which were then deployed in Iraq.
In January of the following year, the DE&S general support vehicle development team awarded contracts to a number of companies. MAN (main contractor for the vehicle), NP Aerospace (booking solutions), General Dynamics UK (Bowman digital communications system) and Istec (secure weapon station) at the start of work on 280 Fortress vehicles.
The main focus of the program is on the survivability of the crew, and all the machines were equipped with electronic suppression tools to neutralize the VCA. Their cabs were equipped with hinged armor, which corresponds to Level II ballistic protection and Level 1 + explosion protection STANAG 4569 standard. Additionally, the front and side surfaces of the cabin have lattice armor to neutralize the RPG.
Istec's PWS (Protected Weapon Station) protected combat module mounted on the cab roof and armed with an 7,62-mm universal machine gun for self-defense allows for more active defense. PWS itself has a ballistic protection similar to that of a cabin.
All cars are painted in desert camouflage, they are equipped with infrared lights, taillights and night vision devices in order to secretly move in the dark. As a standard, anti-bullet tires are fitted with anti-bullet inserts.
In addition, all the machines were equipped with Bowman digital communication equipment in the VHF and HF range and an intercom system from General Dynamics UK to provide columns with communication with stationary supply bases and security units.
A small feature, for which all those serving in Afghanistan are grateful: the standard MAN MAN SV machines are equipped with a rooftop air conditioning system as standard.
The first upgraded machines were deployed in Iraq during the 4 months from the date of the issuance of the contract in January 2008, much of which has since been redeployed in Afghanistan. April 2008 of the year was determined as the official date of entry into service of the trucks, and in July there followed the EPLS variants (Enhanced Platform Loading System) and in August the ARV option, which replaced the Foden 6X6 evacuation vehicles.
Fortress machines are a very small part of the entire British fleet of MAN vehicles, which ultimately must make 7285 machines in 42 different versions in accordance with the contract originally issued in March of the 2005 year.
The 161 serial machine the first batch, delivered at the beginning of 2007, was to a certain extent a simplified version and was used for training. But, starting with the 162 machine, it is possible to install the hinged armor kit APK (Adaptive Protection Kit) on all SVs.
In addition to the MAN SV, the UK increased the number of other British SV cars in Iraq and Afghanistan.
For example, the cabs of the Oshkosh 1070F 8x8 Heavy Equipment Transporter (HET) heavy truck batch were equipped with lattice armor in accordance with another urgent requirement. More recently, on them, around the perimeter of the cabin, was installed a set of new fabric armor Tarian, but the latticed armor in front of the windows was left.
Tarian was developed by AmSafe Bridport and DSTL in just 16 months. To date, more than 20 truck kits have been shipped NO. Extensive tests have confirmed that the system provides the required levels of protection and is well resistant to intense wear and tear quite common in Afghanistan.
The exact details about Tarian's net protection are still classified as "secret", but it is described as a complex interweaving of fabrics and other materials that are not called in the protective outer layer. According to AmSafe, it is 85 percent lighter than steel lattice armor and twice as lighter than aluminum systems. It is mounted on each corner of the platform with quick-release fasteners, which allows for quick replacement of damaged panels.
German industry has taken a strong position in the secure truck market. In addition to the MAN trucks, which the British army prefers, Mercedes-Benz has several secured vehicles in its portfolio, easily replaceable armored cabs and booking kits for already existing vehicles.
MAN off-road trucks can also be equipped with a new all-welded steel armor cab developed by Krauss-Maffei Wegmann (KMW), which provides a very high level of protection. They can also be equipped with protection against weapons of mass destruction (WMD), an intercom system, a rear-view system and various weapon systems mounted on the roof for self-defense.
The latter can range from a single, secure weapon system with an 5,56-mm or 7,62-mm machine gun to a fully remotely controlled combat module armed with machine guns of 7,62 mm or 12,7 mm. This cab model has been supplied to several countries, including Denmark and Germany, for deployment in Afghanistan.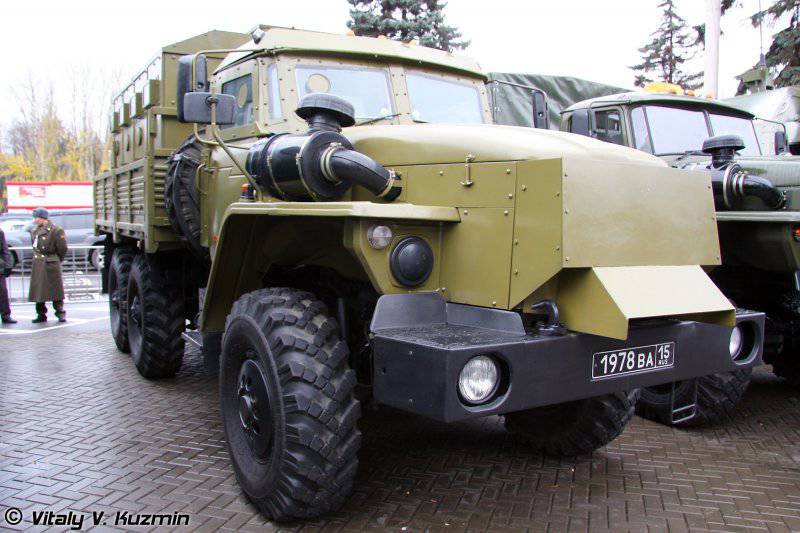 Russian truck Ural-4320 with a protected engine compartment, cabin and office for the landing
MAN off-road truck with a completely protected cab from Krauss-Maffei Wegmann and a mechanical lifting and transport system in the rear
One of the most interesting vehicles deployed in Afghanistan by the German army is the so-called TTC (Team Transport Container) transport personnel, which is installed in the back of the MAN 8xXNNXX off-road chassis with a protected cabin from KMW.
TTC was developed by EADS and is an air-conditioned, OMP-protected capsule for 18 soldiers with full gear. The container has a high level of protection from small arms fire, shell splinters, anti-tank mines and IEDs.
IBD Deisenroth has also supplied a large number of hinged armor kits for various trucks and specialized combat support equipment. For example, IVECO 6x6 trucks of the Belgian army were additionally armored with sets of this company AMAP-B (Advanced Modular Armor Protection - Ballistic, new type of modular reservation - ballistic) and AMAP-M (Advanced Modular Armor Protection System - Mine, new type of modular reservation - mine ), which already have other countries, such as Canada, Germany, the Netherlands and Norway.
Belgium also has 400 armored tactical trucks Astra M250.45WM 6x6 weighing 8 tons from IVECO Defense Vehicles, the last of which were delivered at the end of 2008 of the year. The company has adopted a phased approach to installing improved protection for its tactical trucks, including both new cabs and integrated booking solutions. All Belgian cars have a cabin above the engine with clamps for hinged armor; thus, it can be quickly installed using standard tools. Also, cabs have built-in mine protection as standard.
In total, 350 removable RPK (Removable Protection Kit) protection kits from IBD Deisenroth were also supplied to Belgium through IVECO, providing protection from small arms fire and shell fragments. Under a separate contract, a batch of sets of protection against weapons of mass destruction, which can be installed if necessary. Spain also received 150 RPK for its IVECO Defense Vehicles.
IVECO and KMW have developed and tested a fully protected cabin over the engine, which can be quickly installed on the tactical machines 4x4, 6xXNNUMX and 6x8 of the Trakker series. It provides protection from mines and IEDs, as well as ballistic threats, and leaves enough space for installing an air-conditioning system, communications equipment and IED silencers.
The German army received the Trakker 72x8 8 machine with a fully protected cabin, as well as Karcher disinfection equipment under the designation TEP90. She also received about 100 Trakker 8x8 machines with a protected cabin for a number of special tasks, including the tank truck option.
The United States adopted a typical holistic approach, deployed a number of machines with built-in protection, and also carried out programs for deep modernization.
For example, the 7000-MV middle class logistics truck and its Navistar 5000-MV heavy equipment transporter are standard unarmored. Approximately 800 5000-MV machines and more 8100 7000-MV machines operate in Iraq and Afghanistan.
As the representative of Navistar, the company put the bulletproof glass with metal mesh protection, bolted, to minimize the area of ​​vulnerable surfaces.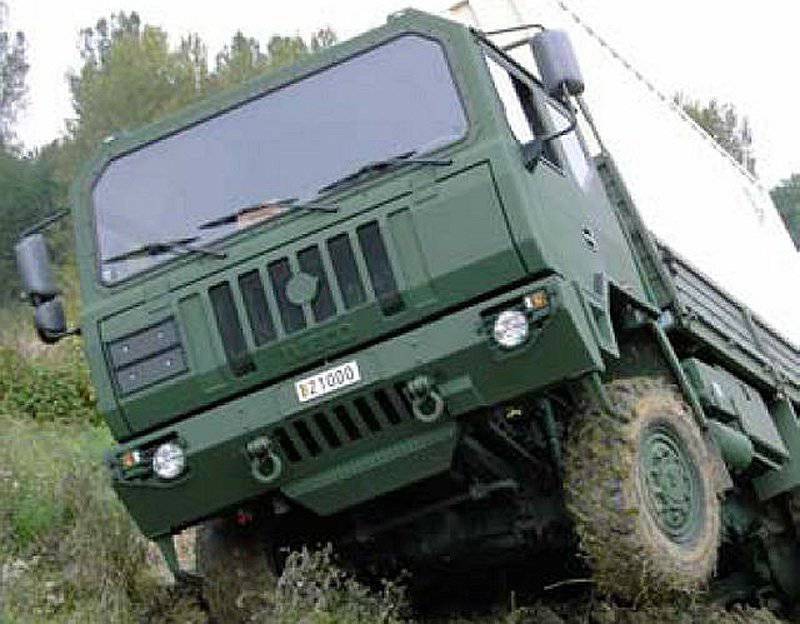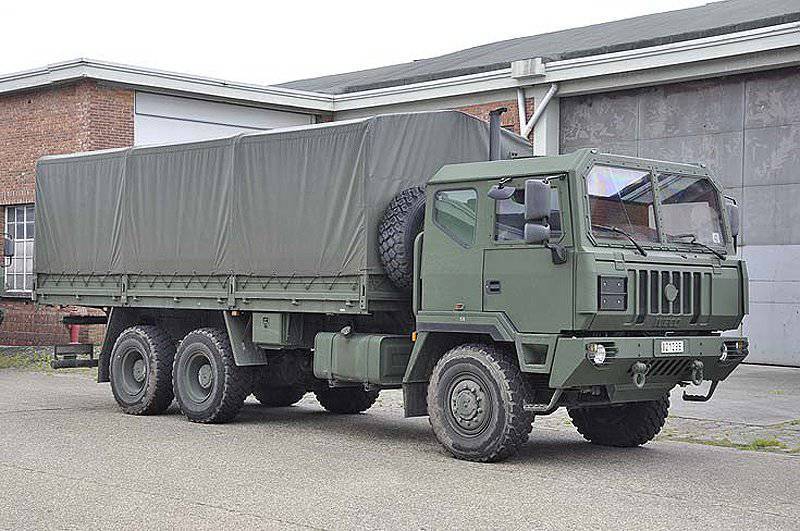 Armored IVECO M250 truck. Belgium and Germany are armed with IVECO vehicles with improved protectionGunPACS Expert Kit installed on MTVR. The kit was shown at an open demonstration at the US Department of Defense.
In addition, trucks have double booking windshields that fly out without fragments. If necessary, Navistar could continue to upgrade its vehicles with booking kits, but to date they have not received any requests.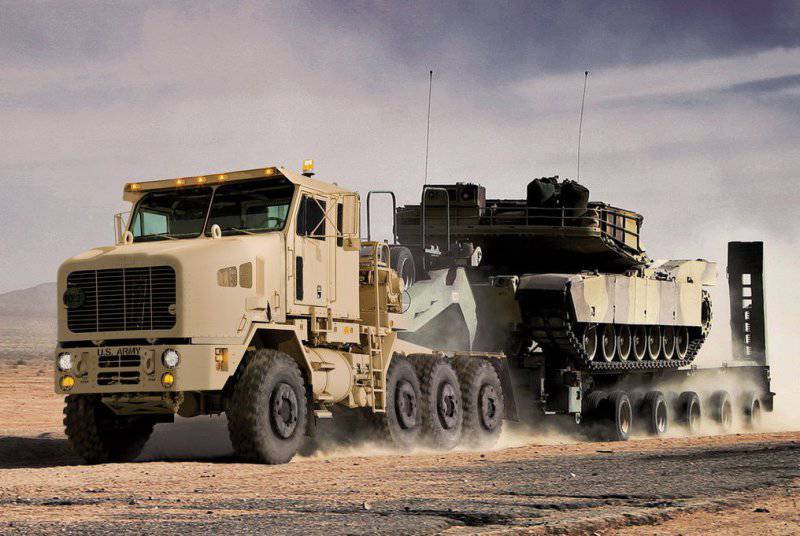 NO from Oshkosh is an eight-wheeled tractor used to transport M1A1 MBT, armored combat vehicles, armored vehicles, self-propelled howitzers and overall construction equipment
American booking strategy
At the beginning of 2005, the Combat Training and Doctrine Development Command (TRADOC) published an informational report that identified new threats to logistics vehicles. Requirements to minimize these threats provide for the army fleet of military wheeled vehicles to introduce a new reservation strategy, including work on the modernization and production of new vehicles.
Soon after, the army applied its Long-Term Armor Strategy (LTAS) long-term booking strategy — a modular booking solution that allows for heavier protection for tasks with higher threat levels. LTAS includes a ready for booking, the so-called A-cab, which itself has a basic level of integrated protection, in particular the bottom. Also included are upgraded invoice armor kits or B-kits (B-kit), which can be installed if necessary in field conditions on top of the A-kit.
Installing the B-kit usually requires removing the doors of the car, as well as bullet-proof glass inserts. Due to the fact that the cabins with the A-kit are made specifically for the possibility of installing B-kits, there is no need to drill or replace the panels, as is often the case with the installation of hinged armor.
The army has incorporated these "modular" armor kits A and B into newer versions of heavy-duty four-axle heavy-duty trucks HEMTT (Heavy Expanded Mobility Tactical Trucks) and intends to upgrade a number of existing machines to higher levels of protection with their help.
HEMTT machines are used as cargo trailers, fuel tankers and truck tractors.
Taking into account the requirements for booking LTAS, a number of older HEMTT models are being reworked. Additional reservations of old HEMTT models, such as the A0 and A2 variants, require a lot of work due to removing the cab from the truck and adding heavy armor panels; at the same time mobility worsens. However, the trucks initially have a high location of the body, which contributes to the improvement of their mine protection.
The army asked Oshkosh to design a newest version of its logistics truck, HEMTT A4, compatible with the LTAS standard, so that all of them have an armored floor installed in the cab during assembly. That is, in the event that combat missions require increased protection, the addition of B-kits will turn into a simple procedure performed in the field.
The first LTAS-compliant HEMTT A4 machine was manufactured in 2008, Oshkosh has since manufactured around 5000 of such platforms for the army. The company also converted more 1700 legacy HEMTT trucks to A4 configuration compatible with LTAS.
The contracts for these machines are structured so that the cabs with kit A come as standard, but at the same time ready to install kit B, which can be purchased later.
"We have a fleet of several hundred HEMTT A4 trucks that are currently serving in Afghanistan, and we receive [non-systematic] reports from the field that the defense works very well," said Oshkosh Army Program Manager Mike Ivey.
"When we started the HEMTT A4 project, we started with the idea of ​​unifying the cab with PLS [Palletized Load System, a palletized palletized cargo system]," he added.
The new five-axle PLS A1 from Oshkosh is the newest version of the army 16-ton truck, which first appeared at the beginning of the 90-s, and has the same LTAS cab design as the HEMTT A4. The first serial PLS A1 was made in mid-April 2010. Oshkosh has not sold a single vehicle to the army, but is still waiting.
Ivey could not say anything definite about the B-kit for reasons of secrecy, but said that he closes "every plane of the cabin" and has armor panels of various thicknesses and includes bullet-proof glass. Ivey also said that the "kit adds to the mass of the cabin 2000 pounds (over 900 kg)".
Considering the increase in mass, the HP 445 engines. from Detroit Diesel, these machines were replaced with Caterpillar C-15 EPA engines with 500 horsepower; also both trucks have been upgraded front suspension.
PLS received an independent TAK-4 suspension, and air suspension systems were installed on the HEMTT.
In the meantime, the NO car was operated with an additional reservation kit, as supply trucks were primarily provided with additional protection. These four-axle four-wheel drive tractors have a six-seater cab and are used for transportation
tanks
M1A1 and other bulky and heavy property.
Work is underway to re-arrange the machines to the A1 NO configuration, which includes some changes to the cabin, but does not include the B-kit enhanced booking kit. "The army wanted to continue to use its existing set of additional reservations on the NO platform due to the fact that the crew is quite far from the ground. Moreover, the built-in protection of the NO is rather weak and this disadvantage is partially compensated only by accommodating the crew. "
Even in this case, the upgrade was necessary because the mounted armor on HET vehicles, along with the additional armor on vehicles that HET often tow, form a significantly larger mass compared to the mass for which the truck was originally designed.
As a result, A1 NO will have a powerful spring suspension in front and an air suspension for its rear axle. The trucks will also be equipped with a more powerful power unit with a CAT C-18 hp 700 engine.
Next, we follow in the direction of reducing the size and carrying capacity. According to the LTAS plan, the widespread family of FMTV (Family of Medium Tactical Vehicles) vehicles of the US Army, according to the LTAS plan, also receives an additional cabin reservation by installing the A-kit kit, but apparently it does not require any improvement in the mobility of the vehicle. According to the army, for the "most part" of its almost 50000 FMTV trucks, installation of an A-kit cab is required, and B-kit kits will be installed in accordance with optional contract terms.
FMTV trucks are based on a common chassis, engine, wheels and cab, which gives a level of uniformity of parts of more than 80 percent. The LMTV 4x4 (Light Medium Tactical Vehicle is a light military vehicle of the middle class) has a tonnage of 2,5 tons, and the MTV 6x6 tonnage of 5 tons.
These machines perform many functions, including transportation of goods, long-haul transport, tow truck and dump truck, and serve as platforms for the highly mobile High Mobility Artillery Rocket System (HIMARS) and Patriot missile systems. Oshkosh began working on FMTV in February 2010 of the year after winning a competition and in court, in which the legality of issuing a contract was challenged. By decision of this court, the FMTV program was taken from BAE Systems and transferred to Oshkosh.
As for the PLS A1 and HEMTT A4 cars, the new FMTV cabs are made with mounting points, on which the B-kit hinged armored panels are bolted. Oshkosh manufactures and installs sets of armor panels that are bolted onto the cab of the "omnipresent" 7-tonne MTVR Marine Corps (Medium Tactical Vehicle Replacement) truck. These additional kits appeared in 2005, and in 2008, Oshkosh launched MTVR production of "height reduction booking kits" to meet the requirements of marines for overall height when transporting vehicles on transport ships. With such a kit, the upper part of the cabin is removed and placed on the platform of the truck so that it can maneuver in the underdeck space.
In addition to additional armor, most of the kits, which the US aircraft install on logistic machines (logistics), provide places for mounting bolts on the roof of a turret weapon system. But more and more often, remotely controlled combat modules are being installed on them. The Marine Corps took another conceptual step by starting work on such experimental systems for vehicles of transport columns, such as network remotely controlled combat modules, mapping, and technology for determining the location of the shot.
To this end, the US Marine Corps is collaborating with the Army Technical Directorate to create a shooter kit in order to improve the safety of GunPACS (Gun-slinger Package for Advanced Convoy Security) transport convoys. The system is designed to provide improved situational awareness, instant threat detection and joint actions of combat and logistics components to detect and destroy targets.
Marine Corps Colonel Patrick Kelleher, program director of the Pentagon Advanced Technology Management, said the kits were deployed in about 12 months in response to discussions about how to expand and improve the capabilities of MTVR.
Four GunPACS prototypes passed annual trials in Afghanistan at the 1 Division of the Marine Corps.
This MTVR kit includes a Boomerang acoustic threat detection system and a CROWS II universal remotely controlled combat module. It connects into a single network the systems of other machines in the convoy and the tactical operations center. In this case, the commander decides to transfer the target to one or more arrows in the column. As soon as the shooter receives the target designation data, its combat module automatically rotates in the direction of the target.
Russia has also developed a series of trucks with a protected cab and in some cases a protected troop compartment in the rear.
One example is the Ural 4320-0710-31 6x6 off-road truck, which is equipped with a KDZ reservation kit, consisting of engine compartment protection, armored cab with multiple embrasures for firing, and an armored body-container in the rear.
The latter has seats for 24 soldiers who land at the back door. Bulletproof and splinterproof windows with circular firing openings allow some shooters to fire their weapons from the container, but if they have a regular number of servicemen inside, it becomes very crowded. The car left the side of the arc and they can pull the canvas canopy.
The Ural Automobile Plant and other Russian manufacturers also offer a number of protective kits, some of them must be installed during manufacture, while others may be installed at the unit level. Currently, KAMAZ offers a new family of trucks 4x4, 6x6 and 8x8 with a standardly installed new protected cab with a bonnet layout.
Ahead of your time. Secure Logistics Machines South Africa
The South African experience of guerrilla warfare in mined-dotted Angola and in the north of Namibia forced the country to become the first to deploy a full line of secure logistics vehicles at the end of the 70s.
The presence of armored, mini-protected cabs, and in some cases corps, allows the logistics units of the South African army to operate on roads and off-road, despite the "annoying" mining, small arms fire and ambush with the use of RPGs.
Zebra was the first mine-proof logistics vehicle of the South African security forces, which was mainly a mini-cabin installed on a standard Bedford four-ton truck. It was used mainly by police units, complementing the Bedford-based mini-armored BTR.
The police later acquired the Casspir minesteam-protected BTR with a monocoque body and a Blesbok truck, a Duiker diesel tanker and an evacuation version of Gemsbok. All of these cars had a hull protected from the mines along the entire length, an armored cabin and shock absorbing seats with seat belts. The former Southwest African police, following this example, acquired Wolf armored personnel carriers and Strandwolf trucks. Also on her arms there was a recovery-evacuation version of the 6x6.
The army took a different path by developing armored and mini-protected cabs for its standard 2, 5 and 10-ton trucks 4xXNNXX and 4x6 of the Samil series, originally based on the German Magirus chassis.
As a rule, they are equipped with an all-welded front steel armor box that protects the engine and crew from small arms fire, shell fragments and anti-tank mines. Some evacuation vehicles also received five-seater armored, mini-protected cabs; the army also had buses and several horse-drawn vans for the transport of horses with mine protection along the entire length of the hull.
Were also developed mini-cabins for heavy trucks Aljaba 8x8 and bridgework Leguan 10x10. The police followed suit and installed protected cabs on their heavy support vehicles, namely the Albatross 10-ton truck, diesel tanker and trailer / tractor.
Many of these machines are still in operation, but the army plans to upgrade its fleet with new-generation logistics vehicles with the 6x6 and 8x8 wheel formulas, acquired using the deferred Vistula project. Approximately 70 percent of 8x8 trucks and approximately 10 percent of the 6x6 variant should be equipped with mini-protected, armored cabs. This combination is partly based on their likely use away from hazardous areas, and partly due to the limitations imposed by installing a heavy armored cab on a single front axle.
The first cars will be equipped with two-door / double cabs with the possibility of installing a heavy machine gun on a turret mounted above the second driver; radio stations will also be installed in them. Studies have begun to improve protection against IEDs, which could lead to a different cab design on subsequent machines.
Specialized versions of the new trucks will be purchased later, some of them will be equipped with four-door / five-seater cabins or special bodies with protection along the entire length.
Meanwhile, Land Mobility Technologies (LMT), a specialized vehicle design company, in accordance with the first phase of the Vistula project (also adopted by the Canadian army), developed an armored, mini-protected cab for the Daimler Actros 8xNNXX truck as part of the offer for the South African army.
LMT has since developed two more protected cabins for Daimler: one installed on the Actros AHSVS and is undergoing evaluation tests in the German army; the other is intended for the Zetros truck family in the 6x6 configuration and has a lower level of protection in order to maintain weight in a predictable framework for this type of machine. She was tested in the Australian army in accordance with the project Overlander.
LMT has also developed an armored, mine-proof module for transporting personnel for Actros and similar trucks. He was acquired by the Canadian army, which placed additional orders on him. The module has the same ballistic and mine protection as the cabin; it is fully autonomous, has an auxiliary power unit, air conditioning system and communications equipment of the NATO standard, as well as water tanks. Its dimensions are standard and comply with ISO, it can be stacked like any other container. It can be configured to transport a different number of people (14-22 seats) or converted to a sanitary module or command center.
Materials used:
www.janes.com
www.dvidshub.net
www.oshkosh.com
www.vitalykuzmin.net
www.navistar.com
www.rheinmetall-defence.com