On the streets of the American city of St. Louis (Missouri) civil protests against police brutality do not subside. The protests are related to the murder of a black young man by a police officer. According to the police, an 18-year-old boy named Wonderry Myers opened fire on a law enforcement officer when he tried to detain a young man on suspicion of an offense. Reports about it
Russia Today
.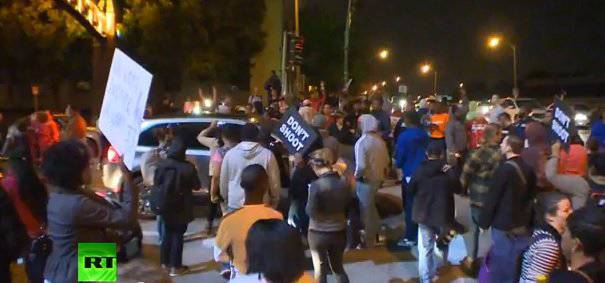 This version is completely refuted by eyewitnesses to the tragedy. According to them, the only thing Myers could "shoot" a policeman with was a hamburger, which he held in his hand. The policeman fired Myers 17 once. This confirmed the examination.
Protest actions against police brutality resumed on Friday after memorable events dedicated to the victims of the American police. Only this time it turned out that the shot at an African American was not even a policeman, but an employee of a private security company, dressed in police uniform. Reports about it
«Radio Svoboda»
.
Police used tear gas against demonstrators in St. Louis.