At Donuzlav, the operation to lift a large anti-submarine ship "Ochakov" was completed, which, during the "Crimean Spring", completed its last and very important combat mission, writes
Rossiyskaya Gazeta
.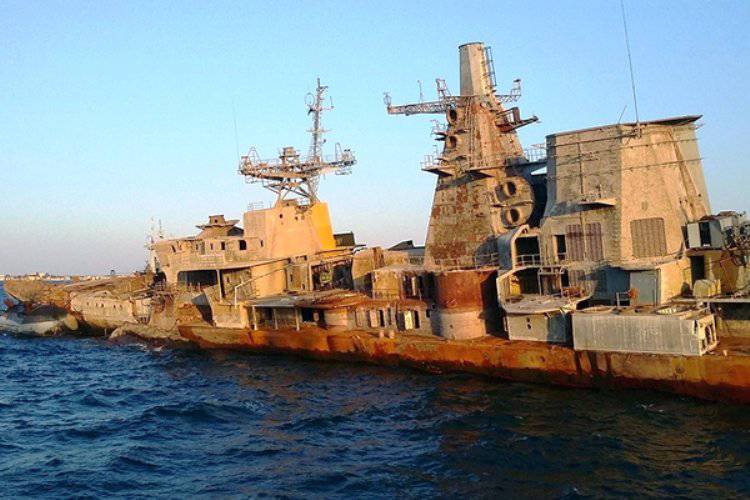 The ship was scuttled at night on March 6 in order to block the ships of the Southern Naval Base of the Ukrainian Navy on Lake Donuzlav. 180-meter "Ochakov" tightly blocked the exit from the lake to six Ukrainian ships, including the large landing ship "Kostyantin Olshansky." For the flooding of Ochakov it took just 80 minutes, and in order to raise it, several months.
The project to lift the vessel was developed in St. Petersburg at the Scientific Research Institute of Underwater Technologies of the Navy, and the work itself was carried out by the crews of the ship-lifting ships and divers of the rescue teams of the Black Sea Fleet, as well as by the specialists of the ship repair plant and the Sevzapkanat enterprise.
The work was carried out in three shifts, about 100 specialists were involved every day. Especially for the operation 23 tons of ropes were made, which were delivered by airplanes, and then by KamAZ trucks. A 100-ton crane moved along the side of the ship. To seal the "Ochakov" was installed around 400 patches, and powerful pumps were pumped out of the compartments, with a total capacity of 6,5 thousand cubic meters / hour.
"About 20 years in the Black Sea navy no similar large-scale operation to lift the ship
, - says Vasily Bekh, engineer of the rescue team of the Black Sea Fleet of the Russian Federation. -
But it was not only crowned with success, but also enabled the younger generation to gain invaluable solidary experience in operations of a similar level. "
.
Currently, the ship (displacement - 8,5 thousand tons, length - about 180 m) is raised and towed to the Donuzlav pier.
Help "RG": "Great anti-submarine ship" Ochakov "was a masterpiece of design ideas 1970-s and during his service he passed hundreds of thousands of nautical miles, participated in nine military campaigns. In August, 2011, the flag of the Navy was lowered on it, and the ship went to rest. But in the spring of 2014, he was again useful to the fatherland.
In the summer in the village of Novoozerny, a monument to warships, sunk during the events of the "Crimean Spring" 2014, was opened for the sake of the reunification of the Crimea with Russia. "