Ukrainian security forces continue to shell Donetsk from artillery, the city is partially lacking water supply.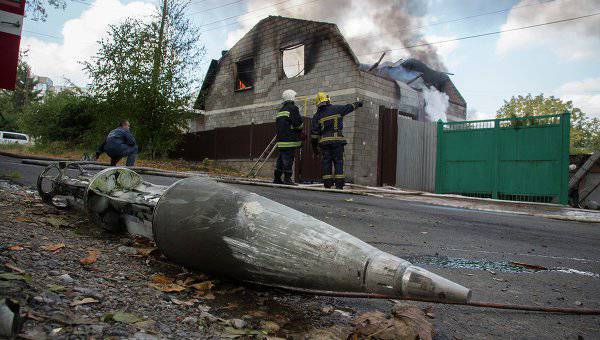 "As of 18.00 (19.00 Moscow time), the city is restless. Extremely tense situation in the Kuibyshev and Kiev districts. At 13.20 (14.20 Moscow time), as a result of the shelling, the Northern water supply unit of the KP "Donetskgorvodokanal" was again left without tension. Due to ongoing hostilities, specialists have no access to facilities. The water supply of the Kiev region was again stopped until the damage was repaired, "- the message of the City Council of RIA
"News"
.
The spokesman for the DPR army, Eduard Basurin, said that the Ukrainian security forces accuse some third force of the shelling.
"They say: We are not shooting," Basurin said. - What is happening with them ... We record shootings between them, it happens, for up to an hour. It even happens that they even use mortar and artillery systems among themselves. Therefore, probably, the third force exists among them - the force that does not want a truce here, "he quotes.
LifeNews
.
Basurin said that over the past day, Donetsk and its environs have been subjected to repeated shelling. As a result, 15 people died: 4 military personnel and 11 civilians.
In addition, on Wednesday, DPR Prime Minister Alexander Zakharchenko said that during the shelling of the Kuibyshevsky district of Donetsk, shells hit the Amstor supermarket, a sports club and a restaurant.
"A shell just fell right into the trading floor of the Amstor supermarket. Nine wounded, including two supermarket employees. Old people, wounded. The shell hit right into the trading floor. Now I will go there, "he said.