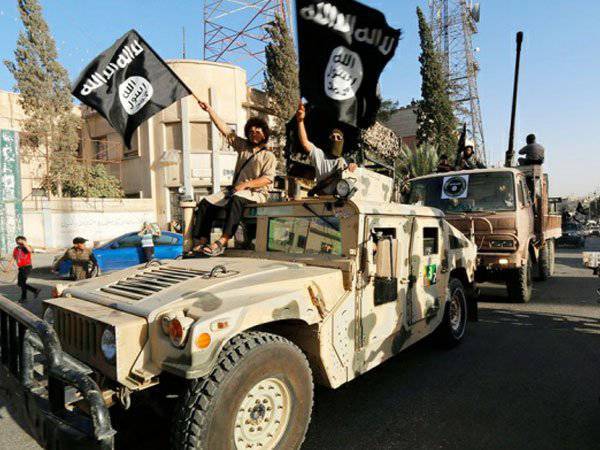 The lightning offensive of the "Islamic State" in the northern and western parts of Iraq surprised and shocked the world community. In an incomprehensible way, the jihadist grouping, to which the majority did not attach much importance, invaded Iraq from Syria and occupied the largest city after Moskul after Baghdad, forcing government troops to flee, leaving the fine American weapons to the militants. No one can unambiguously explain the reason for such success — either the surprise factor played, or the combat experience gained in Syria, and the tactics used by ISIS fighters could have been developed by the disgraced officers of Saddam Hussein, many of whom were trained in the traditions of the Soviet military school. . It is interesting that it is very problematic even to know approximately what forces the militants possess and what they are armed with - the information comes in rather contradictory and inaccurate. The same applies, for example, to the Kurdish self-defense forces.
1. Total population
According to Arab sources such as Al Jazeera, from 80 to 100 there are thousands of people, of which up to 50 thousands are in Syria, and the rest are in Iraq. CIA data is more modest: according to American intelligence, the strength of ISIL ranges from 20 to 31 to thousands.
2. Rifle and portable anti-tank weapon
Presented mainly by the Soviet Kalashnikovs and the RPG-7 anti-tank grenade launchers, but there are also some American assault rifles M-16А4 captured at the defeated bases of the Iraqi government forces. In addition, the militants have anti-tank guided missiles "Konkurs" (firing range 4 km), "Fagot" (firing range 3 km) and, probably, Chinese HJ-8 ATGMs (3 km) captured from the Syrian army. An interesting fact is that the militants of the Yugoslav anti-tank grenade launchers M79 "Osa", inexplicably got into the conflict zone.
3. Light armored vehicles and trucks
"Gantracs" used by jihadists turned out to be very effective - pickups and jeeps with large-caliber machine guns and anti-aircraft gun ZU-23 mounted on them. Unlike armored vehicles, these machines have minimal fuel consumption, with very high mobility, which allows them to deliver quick and unexpected strikes in different directions. Later, after the defeat of the Iraqi army, a significant number of trophies were captured at several military bases: American Humvee jeeps, armored MRAP trucks and M113 armored personnel carriers, Soviet BTR-80 and BMP-1 / 2 armored vehicles. Some Soviet light armored vehicles were captured in Syria. The total number of only captured vehicles most likely exceeded 200 units.
4. Heavy armored vehicles
ISIS is armed with about 30 old Soviet
tanks
The T-55s, most likely, were repelled back in Syria, from 5 to 10 more modern T-72s, in addition, there are rumors that militants seized two or three American M1A1 Abrams tanks.
5. Artillery
The photographs from the scene of the events "lit up" with guns of different origin and calibers: the Soviet 130-mm M-46 cannon (maximum firing range of 27 km) and its Chinese copy of Type 59-1 (purchased by the army of Iraq), 122-mm howitzer D- 30 (sighting range 15 km), 155-mm American howitzer M198 (maximum range 22 km) and the well-known volley fire system "Grad". Self-made tools and mortars are widely used. There is a photograph of the Scud-B missile system captured in Syria (300 km range), but the missile's combat capability is questionable, as there is no evidence of its use yet.
6. Air Defense Means
The militants have a certain number of Strela and Igla MANPADS, there have also been rumors about the capture of a certain number of American Stingers, but so far this information has not been confirmed. With the help of MANPADS, jihadists have already shot down an 2 Russian Mi-35M helicopter, recently delivered to the Iraqi army. ISIS also makes extensive use of anti-aircraft guns of the ZU-23 type, but more often as a means against ground targets.
7. Aviation
There were reports of the capture of a number of US helicopters UH60 Black Hawk and Bell-IA-407 in Iraq, as well as several MiG-21 fighters in Syria, but their use in the conditions of active intervention by the NATO air forces is not possible. As you can see, the main forces of ISIS are light and mobile equipment. As a result, at the moment, the air strikes of the NATO Air Forces for the most part go to the "milk" and so far have not led to any crucial success.
Most likely, it will not be possible to repel the "Sunni" third of Iraq, controlled by ISIL, by air support alone and by the actions of Iraqi government forces.