The DPR militia established custody of the girl Diana P., who miraculously survived after an artillery shell hit the car in which her entire family was driving, passes the channel
LifeNews
.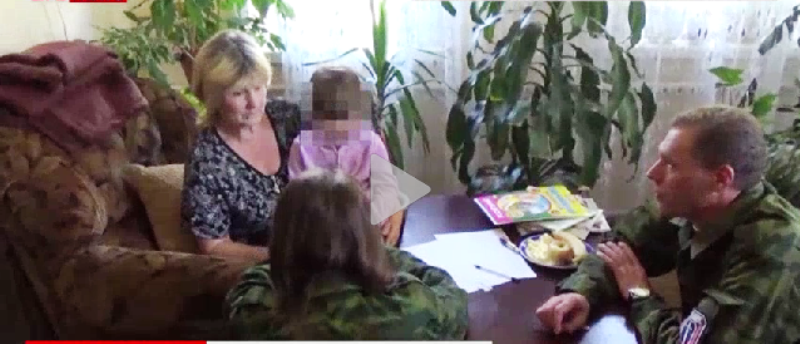 After hitting the shell in the car, the girl's parents managed to get out. Her father did not live long - a fragment broke through his lung, and the mortally wounded mother covered Diana with her body, which ultimately saved her. Later, doctors discovered her only one bullet wound in the arm. Now the girl lives with her grandmother Lyubov Nikitichna in Khartsyzsk.
"Diana later told me herself that she saw a big boat on the road, but her mother told her that it was a tank. Mom often dreams about her, and recently she dreamed that she was walking along the road with her mother, they were going to meet them Tanks, and she herself, as the character of her beloved cartoon, "froze" all the bad uncles "
- Love told Nikitichna.
The wounded militiaman witnessed the shooting of the car. Under the fire, he got to the car and asked the woman to band her wounds. But she refused and constantly repeated: "Save Dianka." She reported the address of the grandmother and the fighter took the girl with him. For a long time they hid in a field near the road.
"This soldier later told me that Tatiana (the girl's mother), looking at her husband's murdered husband and eldest daughter, simply did not want to live
- Grandma shares. -
At night, Dianka became ill, she had a fever. The fighter saw that an armored personnel carrier was standing somewhere in the field, and soldiers were sitting near him near the fire. He said to the girl: "Go to them," because he himself had neither food, nor water, nor medicine. But the granddaughter took two steps and came back, crying, she said she wanted to see her mother. "
The next day, the militant and the girl were discovered by the militia. They sent Diana to the hospital. Then, on September 1, a relative of Lyubov Nikitichna informed her that she had found a photo of Diana on the Internet and information about her whereabouts. Later, the fighter who saved her contacted the girl's grandmother.
Now nothing threatens the health of the child, the militia help Diana with food and drugs that have become necessary for her because of the exacerbation of a chronic illness that has arisen against the background of her experience. Since Lyubov Nikitichna is not officially the guardian of the girl, she does not receive any social benefits for Diana. At the headquarters of the militia promised to solve this problem in the near future.