Moscow was taken aback by the recent statements by French Defense Minister Jean-Yves Le Drian, in which he linked the supply of Russian Mistral helicopter carriers to the situation in Ukraine.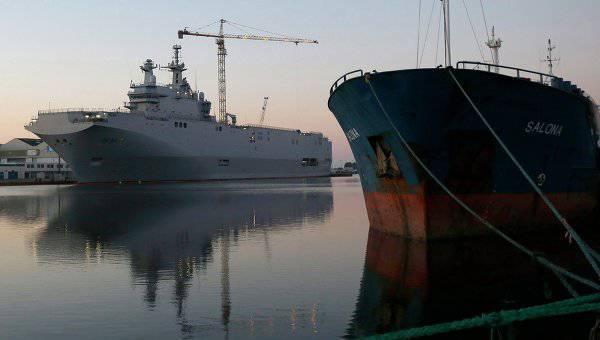 "The reasoning of the minister, in one heap of the collapse of the cease-fire in eastern Ukraine, the beginning of the political process in this country, the creation of a buffer zone and the supply of helicopter carriers, cause at least bewilderment," a high-ranking military and political source said
"News"
.
Last Sunday, the head of the French Defense Ministry said in an interview with the RTL television channel that Mistral supplies to the Russian Federation are closely related to events in Ukraine.
"The issue of Ukraine is not limited to the issue of delivery of helicopter carriers. The question (on the supply of "Mistral") will be resolved early next month. There is a ceasefire agreement, there is a vision of a political way out, but there is some uncertainty. You need to be confident for the president (Francois Hollande) to make a decision, "the minister said.
In turn, the agency interlocutor noted that "maybe the French minister thinks that Mistrals are able to enter the buffer zone" or they can be used "to suppress the firing points of the Ukrainian army that continues to fire at the peaceful quarters of Donetsk".
"I must admit that Le Drian is not the first Western politician who, apparently, is not at odds with geography," he stressed.
According to the source, the statements of the head of the French Ministry of Defense are closely related to pressure on Paris from outside.
"One gets the impression that they cannot tell the truth in Paris - which external forces and for some far from Ukrainian problems put pressure on the French in the Mistral issue, but also seem to lose such a profitable contract," he noted.