To make the peninsula a place of their dreams, Crimeans themselves will have to work hard
I met the velvet season there, where I had dreamed of returning for twenty years - in the Crimea. Moreover, this season is special, the first Russian holiday season for many years. I was greeted by the Crimea, as befits a hospitable host, beautiful weather, azure skies, warm sea, clean beaches. There were plenty of pleasant surprises - great landscapes, juicy fruits and sweet wine - but I wanted to get to know the people of the region, their hopes, problems and views.
One of my first impressions is the lack of people. This is noticeable not only on half-empty beaches and bored waiters of coastal cafes, but also on low prices for lodging everywhere and everywhere, and for services of an unobtrusive beach service. A suite room costs from 700 rubles, a total massage - 500 rubles, a one-hour boat trip on a boat - 200 rubles, a glass of house wine - 50 rubles ... Crimean residents, especially coastal resort towns and villages, focused on the flow of tourists, this season suffered significant damages.
Do not go themselves, do not let us
Compared to last year, when over five million people rested in the Crimea, this half of the number of guests in the peninsula was half that figure. One of the symbols of the problem is the Feodosia railway station. Located in the very center of the city, in a picturesque place, now it is practically empty. Opposite the train schedule, according to which only from Moscow, up to three trains per day went here, one inscription prevails - "canceled". One of the largest cargo-passenger ports on the peninsula is also empty. Empty piers and moorings testify to its hidden power. Only at night he comes to life in order to receive several ships with heavy-duty wagons arrived from Novorossiysk. The reason for such an outflow of vacationers lies on the surface: a confrontation with Ukraine, whose inhabitants do not go here themselves, they are afraid and they are not allowed to let the Russians.
Five minutes as the Russians
Crimea still continues to live in the "Russian spring", reunification with Russia. And this is noticeable not only by street graffiti and tricolor fluttering everywhere. This season fashion squeak in the Crimea - T-shirts with portraits of Putin, "polite people" and various variations on the subject of our response to Obama and his sanctions. I sincerely rejoiced, looking at T-shirts and t-shirts with a patriotic content on the souvenir debris, because I have not seen such goods for a long time. Such sentiments were confirmed by the elections to the Crimean parliament and local authorities that took place in early September, for which turnout broke all records, and it is not hard to guess which political forces were supported.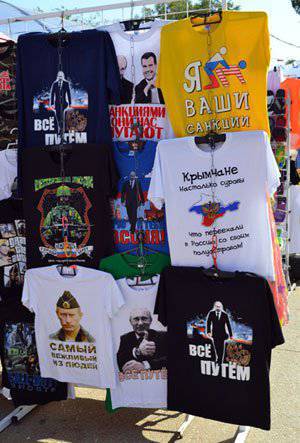 At the same time, communicating with the inhabitants of the peninsula, you understand the responsibility that Russia assumed upon itself, having decided to annex the Crimea. The economy of the republic has come into complete decline, and Crimeans expect from us almost an economic miracle that should happen in the shortest possible time. This confuses. Russia, of course, is a country of unlimited possibilities, like the American magazine National Geographic, a little more than 100 years ago, with envy noted, but this does not mean that they are limitless, and we ourselves are still far from prosperity. Delicately it was necessary to correct new fellow citizens, that it is not worth waiting for fleeting miracles. And it makes no sense to draw parallels with the Caucasian republics, which have long been "hanging" on the balance sheet, not hurrying to return a lot of billions of budget funds invested in them. Moreover, the Crimea, although it did not develop all the "Ukrainian" years, but there was no counter-terrorist operation here, and the industrial and economic base, climatic conditions, not to mention the excellent opportunities for tourism development, were created by nature itself to attract capital. But without the labor of local residents, without their participation and the activity of early prosperity, it is not worth waiting.
The increase in salaries and pensions increased the standard of living and purchasing power of the Crimeans, but not for long. And if housing and utilities tariffs here are indicatively low, then fuel prices are all-Russian with all the ensuing consequences. It is clear that the Crimea does not need subsidies, but jobs. And they seem to be there. Looking at the many-kilometer-long vineyards stretching along the routes, orchards that require care and warmth of human hands, it is hard to believe that there are unemployed people in Crimea. But as often happens in our full of paradoxes of life, they are. People in the peninsula, especially young people, are in no hurry to get employed in labor-intensive and low-paid work. However, the situation is similar with many other regions of Russia, including the North Caucasus. This suggests, for example, that the locals are completely "Russified", have become more civilized, more European-discerning.
"Ukrainian autumn" after the "Russian spring"
The Crimea has not yet parted with its former metropolis, and Ukraine's presence is felt not only in views and faces, but also in the names of "vulyts" and license plates of cars, street signs and advertisements, road signs and Ukrainian cellular operators, as well as in the very present the abundance of Ukrainian goods in the same stores, which sometimes belong to businessmen from Kiev and Dnepropetrovsk. By making purchases at such outlets, you unwittingly sympathize with the residents of Crimea: if you suddenly get anti-Ukrainian sanctions to the fullest, then filling the stalls with Russian and local goods will be very difficult. So far, the most popular Russian brand here is Kuban dairy products, which are significantly more expensive than Ukrainian ones. And this is understandable: it is expensive to import milk through a capricious ferry vans, and there are practically no other ways to transport goods.
But most depressing is the presence of Ukraine on TV. When you turn on satellite TV, you involuntarily become hostage to the Ukrainian TV program: approximately 30 percent of the available 70 channels are being broadcast due to the neighbor's "hill". Russia is modestly represented only by the top five main socio-political channels. The remaining broadcast was shared by the countries of Transcaucasia and Kazakhstan. This unscheduled brainwashing significantly aggravates the information war on the "Crimean front," where Russia's complete victory is still very far away. Comparing our and Ukrainian TV programs, you understand that Ukraine is seriously preparing to take revenge, and not only on television. Taking into account the fact that on all Ukrainian channels, including children's, sports and entertainment, patriotic calls are regularly heard to protect the Motherland, which is threatened by the thief - Russia, you experience certain internal discomfort and anxiety. And you can not get rid of them, wearing only a beautiful T-shirt with a portrait of "the most polite of people." The diversity of Russian print media on the Crimean market cannot be said either. In the newsstands of the same Theodosia, in addition to the gloss of glamor, there are only a few crossword and entertainment collections and local newspapers, which are rather dull in content, filled with TV programs and sales announcements. Of the more or less serious editions, only yesterday's Komsomolskaya Pravda and Rossiyskaya Gazeta are offered. Not much for a subject that has just been accepted into Russia. Are the conclusions not drawn and we are again stepping on the rake of the information war?
Not conducive to complacent contemplation of the Crimean splendor and numerous refugees from war-affected areas of Ukraine. Their presence is noticeable everywhere - give out eyes, which read hopelessness and anxiety. Many of these people understood what we still have to understand. They constantly "hang" on their phones, recognizing the latest
news
from the abandoned Motherland: who else has returned home, what are the food prices in Makiivka, Gorlovka or Krasnodon, have they stopped shooting? Their fate is in our hands today. I do not know how anyone, but I understand this gives strength. When you see people who are really affected by the war and speak the same language with you, you internally mobilize, preparing for the hardships that are inevitable. Understanding this does not paralyze, but rather helps to gather the will and strength into a fist.