In Germany, the scandal is becoming more and more intense due to the unsatisfactory state of the material and technical base of the army. This situation was the result of unreasonable cost savings, reports
ITAR-TASS
with reference to the Frankfurter Allgemeine Zeitung.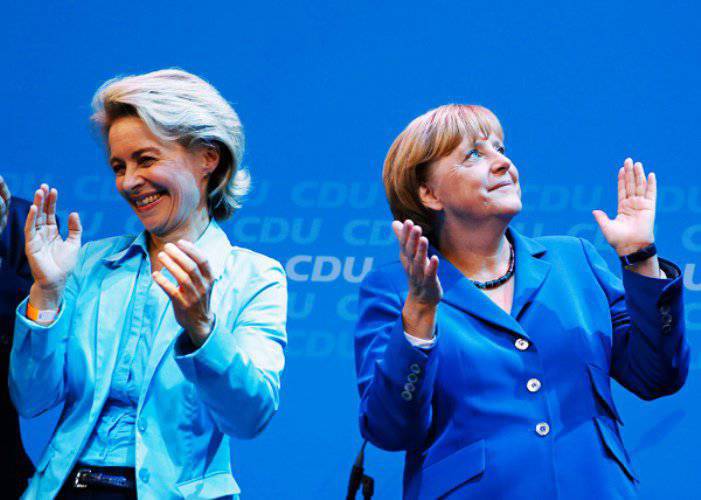 "This year 4,4 billion euros was pledged in the budget of the Federal Republic for defense, but of this amount 400 million are not expected to be spent. Last year, the amount of funds released was even more impressive - 1,6 billion euros"
- the newspaper writes.
Under heavy pressure from the deplorable state of technology, the head of the Ministry of Defense, Ursula von der Lyayen, was forced last week to request the government to increase spending on the needs of the armed forces.
Meanwhile, at the end of September, German publications quoted the Minister of Defense as saying that the Bundeswehr was unable to fulfill a number of obligations to NATO. Among them - the allocation for the needs of the 60 alliance fighter "Eurofighter-Typhoon."
According to a report on the state of military equipment published by the 25 media of September, "from the 406 infantry combat vehicles Marder (Marder) on the move now only 280, from the 180 GTK Boxer armored personnel carriers - 70, and from the 31 helicopter" Tiger "(Eurocopter Tiger) can only fly 10".
In addition, factory defects were revealed in Typhoon fighters. It turned out that "manufacturers (BAE Systems, Airbus, and Italian Alenia Aermacchi) made mistakes when drilling many holes on the back of the fuselage," the Defense Ministry said.
The German Air Force is armed with the 109 "Typhoon", but only 42 vehicles are in combat readiness.