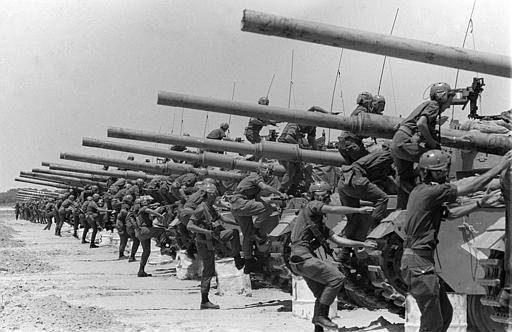 October 6 in the Middle East is a special day. Why no one remembered this is not very clear. Egypt and Syria simultaneously attacked Israel from two sides during the Jewish holiday of Yom Kippur.
This is the fourth Arab-Israeli war, and this is a military conflict between a number of Arab countries on the one hand and Israel on the other. This is one of the worst wars of Israel. The United States acted on the side of Israel, the USSR acted on the side of Egypt. Anwar Sadat began the war unexpectedly, deciding to punish Israel. The beginning of the war was for Israel almost the same as 22 June 1941 for the USSR.
The war was prepared for a long time and carefully, and began with a sudden attack. 6 October 1973 Egyptian and Syrian troops crossed the ceasefire lines in the Sinai Peninsula and the Golan Heights, and began advancing deep into Israel.
The goal of Egypt and Syria was to reclaim territories that were lost in 1967 during the 6-day war. (During the Six-Day War in 1967, Israel seized the Sinai Peninsula right up to the Suez Canal, and about half the Golan Heights formerly wholly owned by Syria, as well as the West Bank and Gaza Strip.)
The ratio of forces is 2: 1. Arab states: 1162000 people, 63 brigades (25 infantry, 15 mechanized, 20 armored, 3 airborne)
tanks
, 5585 guns and mortars, 932 ATGMs, 1011 aircraft, 197 helicopters, 186 air defense systems, 125 ships and boats. Israel: 415000 people, 33 brigades (18 infantry, 3 mechanized, 10 armored, 2 airborne), 1700 tanks, 2520 guns and mortars, 240 ATGMs, 561 aircraft, 84 helicopters, 20 air defense systems, 38 ships and boats.
It would seem that with such a balance of forces, with the suddenness of the attack, the war on two fronts and the not-so-large theater of military operations, the victory should have been behind the coalition of Arab states. But it ended differently.
There are many reasons for the defeat of the Arabs. And in my opinion, this war did not teach them anything. The Arabs are still divided, moreover, they are fighting terrorist methods against each other. Perhaps the only way to unite the Arabs and force them to fight not with each other, but with the only local enemy (Israel) is to force them to this by military means, which ISIS is doing now.
Let the readers not condemn me for such a conclusion, I am not a supporter of ISIS. But after all, the Arabs do not live according to European or Asian rules ...