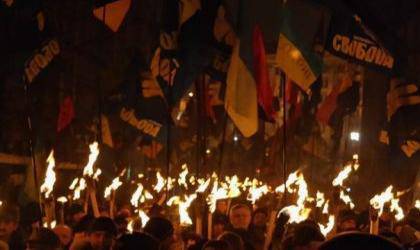 Last summer, on the Seliger Lake, President Putin said words that gave hope to us, living in Kiev, - to those who bitterly observe the mental and moral confusion of their fellow citizens, who feel themselves uninfected among the sick. The meaning of the words spoken by the Russian president is simple: the people of Russia and Ukraine are, in essence, one people. At this point, Putin's speech was interrupted by applause ...
The non-freedom of the people of Kiev (the figure of a resident of Kiev is typical for the population of central and western Ukraine) lies primarily in the field of ideas. More precisely, one idea - through false, but today dominant, taking power over people in all walks of life, from a soldier to a prime minister. An ideocracy was established in Kiev, and the idea on which power was built was Ukrainian Nazism.
Being in the grip of this idea, a Kiev resident is able to vote for a pervert and a murderer, since he fits into the "idea". Loyalty to the "idea" and the fear of not complying with it are driven by the president of Ukraine, who approves of the war, because the war is ideologically justified (try not to approve - they will tear their "ideological" apart). Fear of not complying with the idea, which includes hatred of Russia and everything Russian, drives a famous Kiev composer, more recently, under Yanukovych, who was outraged by the infringement of Russian culture, to dubious "patriotic" gatherings and makes "ideologically correct" speeches. In the youth environment it becomes inconvenient and even dangerous to keep silent when shouting "Glory to Ukraine!" And not to glorify the heroes. In the community of Kiev directors, actors, the majority of TV people, journalists, show business stars, just people belonging to the educated class, the anti-Russian attitude (when people can spend hours talking about the aggressiveness of Russians and the nastiness of their leader) »Unites, gives the illusion of security, and with the deterioration of the economic situation - and some oblivion, like alcohol: he scolded Russia and forgot that there are cold batteries at home and there is no hot water.
In psychiatry, such a dominance of an obsession is considered a disease. For Christians, there is another definition for him - charm, seduction by the spirits of darkness, service not to God, but to His adversary. Ukrainian Nazism is an outward manifestation of deeper destructive processes in people's souls.
A society with a Nazi ideological superstructure is becoming a grim reality in Ukraine. Those who do not live in Ukraine, in most cases, cannot understand what is happening here. On the land of Little and Chervonnaya Rus came a special trouble. The Bible mentions "star wormwood." So, the bitter and gloomy star, which has clouded minds and souls, has fallen on the ground of Ukraine. What we thought was right, beautiful, what is dear to us — the culture of Kievan Rus, victories, sacrifices and heroism in the Great Patriotic War, the Orthodox faith and its shrines — are all declared today in Ukraine as a subject of false enemy propaganda,
history
, "Stolen" from the Ukrainians. A whole layer of the culture of the times of the Ukrainian SSR, the achievements of that time in science, industry, town planning, medicine, and music (Mayboroda's and Bilash's songs dear to all of us) are crossed out. All this is silenced only because it was created by one people. Millions exposed to defamation are taught that all this is ridiculous, insignificant, suspicious, criminal and must either be corrected or thrown out of life forever and cursed. And, unfortunately, they absorb this lie, they believe it.
Recently Sergius of Radonezh was declared the enemy of Ukrainian statehood. And this wild statement was made by an official on the territory of the Pechersk Lavra. And in the midst of all this distorted world, children live and form. Still children. Today they see on the Internet a kind of Kiev parliamentary candidate, who has walked by the fireplace by the fireplace (shlo bulo garneau and chic). And they get used to it - this is normal, our government will be "cool". They see the desecrated bust of A.S.Pushkin, fucked up for being delivered to a Russian. Every day they (I do not exaggerate) hear at school that we, Ukrainians, have become the victim of Russian aggression. And they are returning home, and with childish fervor, they inform their parents that, if I grow up, I will go to avenge the Muscovites. And this is not a joke, this is the likely future of a part of the united Russian people. Our people.
Finally, absolutely seriously, again after the chaos of 90's in Kiev, they urge to take away from Orthodox churches. And these are not only appeals. Near Kiev dissenters-philaret already seize the temples of the Moscow Patriarchate. The parishioners of our parish are already discussing how to defend themselves if they come to select our church (and the schismatics come with armed bandits). There is no one to resist the force of the law of this orgy in the capital of Ukraine. Police, court, force on the side of the robbers.
Recently I came across a list of candidates running for elections to the parliament in Kiev. Age is about 30. Place of birth - all as one, either Lviv, or Ternopil with Ivano-Frankivsk. Who will these young leaders protect? There is no doubt. And this also threatens to become a Russian future ...
Kiev, with its months-long frenzy after the February revolution, turned into a symbol of the misery and madness to which Little Russia came, cut off from Russia. Yes, there used to be a dirty spot of quasiculture on the Russian once city and Russian culture, made up of an illiterate but vicious farm galitsizma and Kiev provincial, bourgeois fake "for Europe". In isolation from Russia, all the most rabid and unscrupulous got into the political media scene. What throws people into the trash cans under the hooting crowd, paints a yellow-blakytny paint on everything - fences, faces, sirloin parts, and threatens to sweep Poroshenko and his clique all over the thousands of people, and after planting his Führer-ataman, start looting and penalty.
All this is the truth of our present life. Let us ask ourselves: how many sons does Russia lose at this moment when they are being forged into Ukrainians and made enemies of their own people?
Little Russia without Russia turns into a ruin, and in the same way a Russian person, if he did not let him make a mankurt, does not think of Russia without Little Russia and New Russia. Let us remember all the same once again about the millions of Little Russians who built a single country who fought for it. Let us recall Field Marshal Paskevich and the Razumovsky brothers, Feofan Prokopovich and Chancellor Bezborodko, the builders of Great Russia. Let us recall the prayers and works of Jonah and Theophilus of Kiev, Alexei Goloseevsky, the martyr Vladimir, the Metropolitan of Kiev and Galitsky, who was killed in 1918 before the gates of the laurel ... Soul, now brazenly deceived, but still alive.
... Left to the mercy of fate in the occupation and in the ruins, Ukrainians beg for gas and loans, of course, will. But they will also hate, poisoned by propaganda. And they will blame Russia not for their misfortunes, but they will blame Russia - if you leave them in an independent stagnation, under the rule of the occupational regime, methodically, persistently growing hatred of Russia and the whole of Russian in the 40 millionth mass ...
What to do? Free the people and the land! As in 45, to liberate from fascism. It is impossible to agree with fascism. It can only be destroyed.