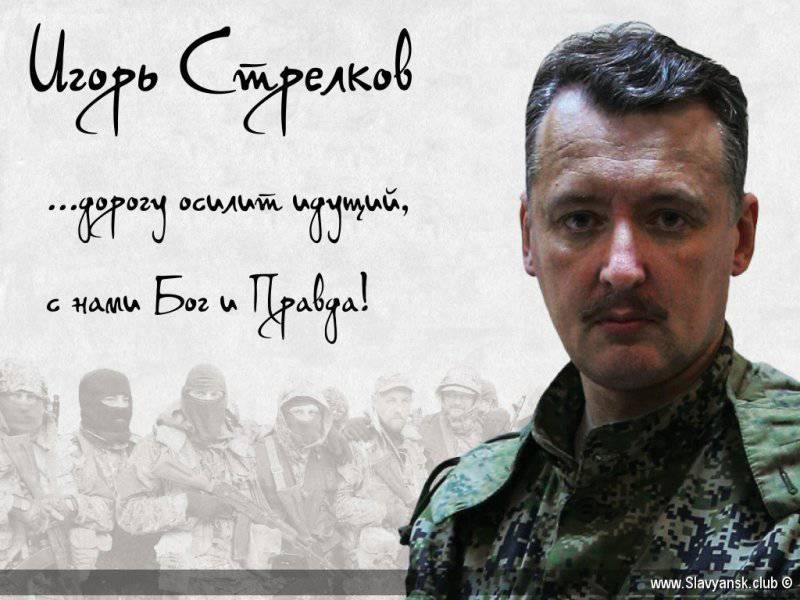 About Brain
"Alexey Mozgovoy is practically the only large commander remaining on the territory of Novorossia, whom I certainly trust. I don't consider the level of battalions or companies now - there certainly are enough normal commanders whom I know and respect. Brainstones are the person with whom we acted hand in hand when he was in Lysychansk, and I in Slavyansk, who are disciplined, constantly aiming at the fulfillment of my military duty, have no dark and dubious cases behind him. I'm convinced by 100% that this will be a positive event that is needed at the moment. And I think that all the field commanders of Novorossia need to get together to determine their position. The enemy threat has not been removed, and the fact that resistance remains extremely fragmented, uncoordinated is a huge threat. No matter how this military council ends, in any case it will not be useless.
Indeed, in the situation that has developed, it is absolutely necessary to begin to act. Unfortunately, I have no opportunity to return to the territory of New Russia, because no one will let me go there. They didn't remove me from there to return it again in some capacity. Therefore, expecting that Strelkov will come - will bring order - unfortunately, should disappoint ... "
About New Russia
"New Russia today is a bastion of Russia. Donetsk, Lugansk, the whole Donbass, all of Novorossia across Odessa inclusive are part of Russia, the part that criminals and traitors in the 1991 have forcibly torn from her. To speak of New Russia as something separate from Russia, especially as about Ukrainian territory - generally unacceptable. Today, fighting for Novorossia, we are fighting for Russia. The war is in fact declared to Russia, and even if it had not started in the Donbass, it would have started elsewhere - would have begun in Crimea, elsewhere. Russia, protrusion in defense of their national interests, caused such a reaction of the so-called world community that a retreat was simply impossible. And it is very regrettable that the uprising of New Russia was not supported as well as it happened in the Crimea. For me personally, this is a great tragedy, because with my detachment in Slavyansk, I was counting on something completely different, not on such massive destruction and on such a disgraceful result that they are trying to fix today with a signed agreement in Minsk. And today there are concrete people and influential forces, which even this result is not considered final, and they strive simply to destroy Novorossia. But I know that today enough people with such aspirations will not resign, and are confident that this result is inconclusive ... "
On Elections
"I believe that the election is a very big mistake, which will lead to the maximum fragmentation of the insurgent people and territory in the face of a growing enemy. What kind of elections can we talk about when fighting goes almost without stopping? We are talking about a truce, but it exists Jurassic, truce does not exist de facto. There is a war, opposition war, there are continuous shelling ... In the rear area of ​​the army, and quite narrowly, holding any free elections will be fiction. Then how do you feel about the initiative to hold a military If we speak theoretically, then of course in wartime, especially in such a small rear area, there should be no talk of civil authority. Civil authority should be an appendage to the military is an axiom of military art. Let's say, in the German and Russian armies, during World War II, the control zone, where only military authorities acted, extended to 200 km for front, and all other bodies obeyed her. But today we have the depth of the rear of the army of Novorossiya - maximum 100-150 km, and in some areas 15-20 km ... What kind of civilian rule can we talk about in Donetsk, which is under artillery shelling every day? And from Lugansk to the front line in Happiness - nothing at all ... What kind of election can there be under these conditions, what kind of democracy? This is a fiction. The fiction that is created by political technicians on the order of certain people ... They create a beautiful picture, a fiction - that they are accustomed to create instead of real business. And to create the scenery of a peaceful life and to legitimize the people they seated in both republics - Zakharchenko, Plotnitsky and others - it is necessary to hold these elections to say that the people chose them ... From all points of view, it would be necessary not only to cancel these elections, but also to create a single government of Novorossia with responsible people at the head, with the prevalence of military command over civil. This will allow to maximize the military supply, and to pacify the gangs that do not obey anyone, hang out on the borders of the republic and do not fight ... ".
***
From Dmitry Dzygovbrodsky
"Very capacious, correct interview of Igor Ivanovich Strelkov. Frank, calling everything by their proper names. I will comment on the interview of Igor Ivanovich on points.
1. I am glad that Igor Ivanovich spoke about the Military Council of the commanders of the Militia and supported this initiative of Aleksei Brain. About ten days ago I made the announcement of this Military Council, for which I received a bunch of "flattering" reviews - even accusations of treason and provocation. :) The members of the same organization especially raged, whose guru once shamefully escaped from Donetsk, just not to meet face to face with Igor Strelkov. The organization can be understood. The owner of this structure does not like the idea that order will be established in Novorossia and everything will be ruled by commanders and elected officials who serve the people and only the people. The Military Council of Commanders is vital for New Russia to become stronger and successfully opposed the Nazi United Ukraine.
2. Many thanks to Igor Ivanovich for the fact that he frankly and sharply speaks the truth — both about the capital of our common homeland, and about Yalta, and about those adventurers who are planning to "master" the millions, taking advantage of the plight of the tormented New Russia.
3. About the election. My good acquaintance, a man with a huge military and life experience, regarding the elections in the DPR and LNR, expressed unequivocally: "... what are the choices for elections? Now who has the power? They don't need to create legitimacy, they give legitimacy
weapon
, they need to create a Council of Labor and Defense. Organ mobilization of forces for survival in war. With the current development of printing in the West, when part of the territory is captured by the Nazis, the elections will easily split the society additionally. They need emergency authorities in emergency conditions. Let Kiev hold elections, this is Kiev interested ... "And I completely agree with my acquaintance. Let Kiev play democracy and elections, finishing off the economy with a single Ukraine. And Novorossia needs to survive. Only hard control, only full control, so that any adventurers, those who had resorted to humanitarian and military budgets, could no longer rob the population of New Russia.
4. Now, the same persons, who all summer performed in expensive jackets and glasses on Moscow television and held obscure conferences, round tables and other budget-related events, massively rushed to Lugansk and Donetsk to "save" Novorossia, "create" civilian administrations, "manage" humanitarian in streams. And to arrange the other budget initiatives. In Moscow, ended the media budget. Began the humanitarian budget era in New Russia. Now the most intelligent and intelligent, shoving elbows, rush to "save." Do you know how to distinguish the real advocates and assistants of Novorossia from the "wise men" -authorists? It's simple. The real defenders of Novorossiya helped with business, drugs, food and other humanitarian goods from the very beginning, all summer. And they did not rush to celebrate in the New Russia in the autumn, hoping to settle down to humanitarian flows. Weathervanes. Benefit from such weathervanes of New Russia will not.
5. And most importantly ... New Russia to be! "