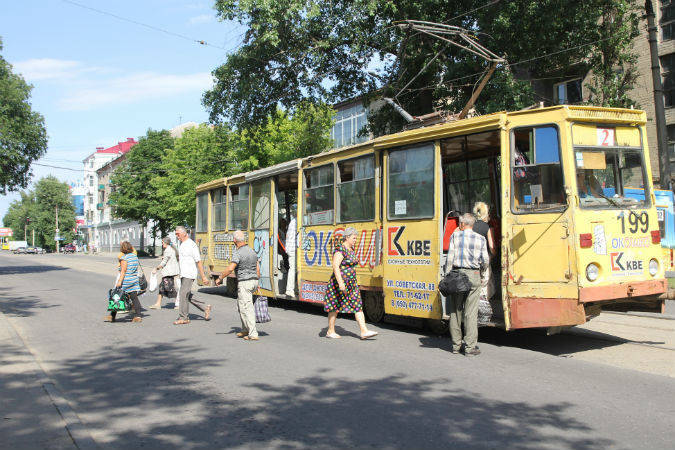 Transport
Transportation around the city officially goes to five. There are free buses, there are regular bus, at pre-war prices. A month ago there were very few machines, now quite a lot. Finally, drivers began to get used to traffic lights, and when the first traffic lights in the center were connected, no one paid any attention to them, and they rushed at tremendous speed.
The bus station began work, buses travel around the region and into Ukrainian territory, buy a ticket from the driver.
Отопление
Heating is the number one problem. Who can, it is heated by gas, but modern boilers, with electronics, do not work without light. Some include electric heaters, the leadership of the republic convincingly asks not to do this, because it cuts down entire neighborhoods. From this weekend they start rolling blackouts around the city for this very reason.
October 15 promise to give heating in kindergartens and schools, as well as in those houses that will be fully glazed, and this is also a problem. There are no glasses, they are recording everyone, but for the time being they cannot do anything, they offer to glass the windows themselves, and the republic compensates later.
Light and communication
Light promise - well, frankly, the normal light will be when Mr. Happiness is ours. Now the city is given only a quarter of the required capacity. They are trying to establish something bypassing Happiness, but the happiness station fed the whole city and most of the region, so it is difficult to do without it. They say that on Monday they will launch a new line and will connect everyone within a week, but as it will, we will see.
Where the light appears, the Internet appears. Mail and banks do not work, but providers in their offices accept payment.
Mobile communication is still bad. There are days when no one can reach you anywhere, it happens - they can call us from Ukraine, we can call anyone around the city, and nowhere else. When, after several days of fruitless attempts and walking to all the cherished places where there is a connection, you can finally talk on the phone at home, this is such a beauty!
In early August, as a result of the bombing in Lugansk, electricity was lost, respectively - telephone and Internet. A few days later the mobile connection disappeared - it was possible to reach only from a certain place, not every day and not to any number. Now the situation has improved, but the norm is still far away.
The Internet, in principle, is, LPR prints in each issue
News
There is a password, free Wi-Fi in one place in the city, but it depends on mobile communications, and it is very unstable. If Luhansk residents did not have a phone or tablet, but a stationary computer, and they have no light, then they can't get in touch either.
We have no light for two months already, this is a private house in the area where the private sector is. Our area is quite heavily shelled, and there are many impulses. They promise us no one knows when - when everything is repaired.
First of all, they gave light to those multi-storey houses where there is no gas and it is necessary to cook on an electric stove. Literally within a week, this change took place - people cooked on fires near the entrances and sat in the dark, and after a few days there was light there, and these houses glowed alone in the whole city. They were turned off only during the storm last week, and there is light there all the time.
There is also light in kindergartens, schools and hospitals, but not all. There is no light in our school, they promise in 2 weeks. In some areas, light is given by the clock, like water.
Money
Hryvnia of course. Rubles, dollars, euros change, if someone rents. Ukraine stopped paying salaries in June, pensions and social benefits - in July. Some private owners pay their employees in cash, and they say that in the summer they paid wages on the railway. All the others live on old stocks. Humanitarian aid in Lugansk really helped to survive and feed itself.
The most important news of the last week - in the LNR they gave pensioners a pension. Issued in Cambodia from Monday, at the post office. There is no light, put the generators. They gave out 1800 hryvnias, it was necessary to come with a passport and a pension. The queues were huge, the crowds stood on the street. Today in our department there is already nobody - a soldier with a machine gun is standing, guarding, but there are no more people - they got it. They promise to start paying on Monday in other districts of Lugansk and in other cities.
Puppet show
On weekends a puppet theater gives free performances for children. Handwritten ads pasted around the city. Speakers on the street as there is no light. Photos from today's performance, play "Nechochuhi."
Moods
All summer, the 2 commuter train went from the Lugansk railway station - Lugansk-Sentyanovka and Lugansk-Manuilovka through Alchevsk. It was possible to get to all other directions only by this route, as well as to get to the city, so the trains were always packed like buses during rush hour. Lugansk residents and residents of the surrounding towns went there. Many were employed — there were enterprises that worked almost all the time, even without electricity and during bombings. Many traveled periodically to see the apartment - whether the housing is preserved. Some had to go to several places, if there was an opportunity - relatives and friends who had left Donbass left their keys and asked to come back in order to at least know if the shelter had survived. Here are these people who survived the bombing, who were going to the city, not knowing whether to return back, I listened once.
Elderly man riding a briefcase to work:
- We are told that when this is over, you need to bring the guns to all the big cities of Ukraine and bang once. No need to the city, in a pure field next to, just so they listened and understood how it is.
A woman who just said that relatives have bombed an apartment, corrects:
- And here I am angry at them. I would have banged more than once, but five times in a row, in order to make it better.
Medicine
Doctors who did not leave, worked all summer. Ambulances drove and drove, by candlelight did surgery in surgery. There are not enough doctors, some of them live in hospitals. They still have not been paid anything, except they skip the queue for humanitarian aid.
In each issue of the newspaper they write what other hospitals are opening. In our area, an adult clinic has opened, but there is no nursery. Our local doctor says that a bomb got there in July, and it is unknown when it opens. Even the room for psychological rehabilitation for adults and children has been opened.
3 city hospital, on Yakira, opened dentistry. They do x-rays and tear their teeth. And recently opened the first dentistry in the center. I sealed my tooth there at pre-war prices.
But in general, of course it is better not to hurt The largest queues are near pharmacies. The cheapest sedative - for 115 hryvnia, some miracle capsules (valerian before the war cost 2 hryvnia, now about three - where it is, that is, not in Lugansk).
Children LC
Dialogues of August or even July.
Masha, who is three and a half years old, says:
- Thunder.
Her older friends, who are five or six years old, look at each other and speak quietly to each other:
- This is not thunder.
When the plane flies, they seriously argue that this plane will bomb us, but we have a basement, we will hide in the basement.
Education
There are a lot of people on the streets. In July, it was possible not to see a single person in half a day, and now especially before lunch the streets are full. All administrative offices operate under natural light, that is, up to 12, up to a maximum of three. At this time, and people walk, and cars drive. There are young people, but much less than before. Although the city began to fill with students. Children also have a little too.
From October 1 begins the school year. LC promises schools and kindergartens to provide light and water in any case. It will not be centralized - they will bring generators. 1 September in the city opened 5 schools - on generators, water is brought up. October 1 will open everything except 7, which can not be restored. The whole city is hung with handwritten ads (no lights, printers do not work), where schools and kindergartens invite children. The most elite educational institutions, where there was a crazy competition and where mere mortals didn't hope to stumble, now they are inviting everyone who wants to come.
The school, where our son goes, survived. Cambod was badly hit by shelling, there are burnt and broken houses in the neighboring streets, on September 3 a little higher in our lane four people were killed, but the school is completely whole. She is in the zone of shelling from Happiness, like our entire neighborhood, and in Happiness Natsik still sit. No one has any illusions about the moral character of these people and the fact that they will not shoot at schools, so we hope only for their sense of self-preservation. The school opens on October 1.
The garden where our daughter goes, also survived. It was bombed, but, fortunately, it is subject to repair, and now it is being repaired. There, the main problem is broken glass, glass windows are not in all groups, so groups will be brought together, especially since children will not come as long as they were before the war. But there is already light! In the first-aid post the charging is switched on - and it is already clear that life goes on.
Lugansk technical schools and schools also glue ads - they accept children without external independent testing, the training is free. This year in Lugansk is everywhere, in all educational institutions education is free. Universities will also be opened - mash is already working, ped is working, honey and agricultural are opening, classes will begin on the 1 number.
Live nature
The garbage in the city is taken out and taken out all war. This is without exaggeration heroism in its purest form. So the city, if not destroyed, is not launched in this regard. There are many pigeons everywhere, many crows have appeared - much more than can be remembered from pre-war times. There are many dogs and cats on the streets. Dogs run even thoroughbred, unusual. Cats are found on 4-5 pieces and more. In the Park 1 May zoo survived.
Shops
In our area 2 store, both work. In one there is even a generator and it is light there, refrigerators work. Where there is no light, they work in natural light, with the doors open. The assortment of course has decreased, but there are essential products. Bread is brought in the morning, it is immediately taken apart, then there is no bread all day. If the store is wrong, the ad "Bread at any time" is on the door, that's cool.
Most stores work up to three. Some up to six. In the center there are supermarkets. They work without electricity, that is, they put a counter near the exit and lay out the goods, sellers stand there, and people come up from the street and buy. Most sell packaged and packaged - jars, packs, canned. Many sell candles and batteries, lanterns and charcoal.
The central market comes to life, and smaller markets, where they were, also work. Greens, vegetables carry from the surrounding villages. In some places there is the freshest biscuits - carried from Rodakovo and Kremennaya. There is no shortage of lollipop candies: "Dushes" and "Barberry" in the daytime with fire you can't find, I saw only in one place, almost 2 times more expensive than not in Lugansk.
There is no light in the passages in the center, but something has already opened there. The transition, which is near the Globus (pretentious bookstore, one of the oldest in the city), suffered during the bombings - the telephone kiosk, which was at the exit, was completely broken. Near this transition sell flowers.
Water gas
The light gradually appears. We have a lot of dangling wires in the area, the Ukrainian troops began to bomb Cambodod in June, and we are still in the zone of shelling from Happiness. In short, they promise us the last light. According to the authorities of the LC, the city is provided with light by one-fifth.
Water is also connected in different areas. We were given water this week, no need to go to the column. In June, already when the shelling began, the water utility on our street carried out repairs. Our water went as well as it didn't go through the 9 years we have been living there. And we had water all through the war. When we arrived in Lugansk, we could drink tea at least. 4 September we came home, the water was. We went to the business center, and when we returned, there was no water anymore - Ukrainian troops from Happiness bombed the substation. And the next day a truce was announced. So we almost waited. And now, 3 weeks later, the water was repaired, it goes clean, and the pressure is excellent.
We have gas now and it was all the time. Gas is not only where the pipeline is damaged. Specially gas does not turn off and will not turn off. Prices will not be raised either. We have a pipe directly from Russia, in the winter the LC and the DNI will be with gas.
We are now pleased to be unspeakable that 3 a year ago did not have enough money for a more advanced gas boiler, which only works from the power grid. If we have gas, it is warm. We are already drowning, and my home is wonderful.
Current
Humanitarian aid in Lugansk is issued once in 10 days. Issued on a passport for a child - on a birth certificate. For each person - 2 kilo of cereals, 3 cans of stew, half a kilo of sugar, a pack of tea. Also once every 10 days humanitarian aid for children - condensed milk or juice, diapers for babies, etc. Brought Russia. On coupons - printing LC.
For me, as for the majority here, the most important thing now is the generally significant things: so that they do not bomb, give light and water, transport go, and deliver the drugs. This should be a general equalization of living conditions, a nationwide return to peaceful life.