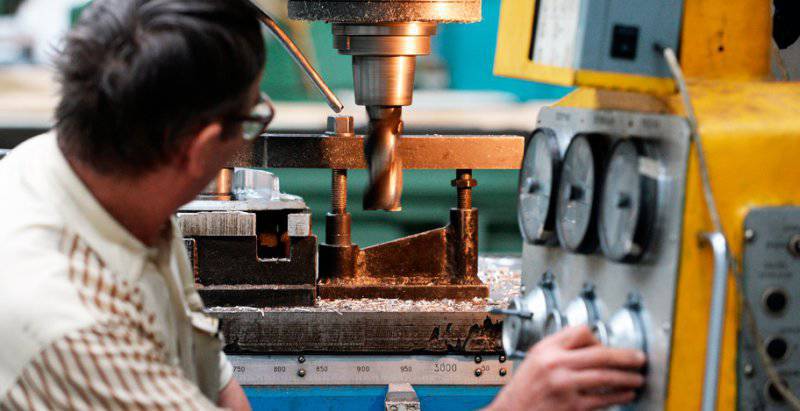 The practical session on import substitution, held yesterday by the holding company "Stankoprom" (included in Rostec) at the Savelovsky machine-building plant, may allow representatives of Russian defense enterprises to take a different look at the domestic machine-tool industry. The event was a landmark, because now Western defense sanctions are driving the Russian defense industry more and more into the corner, and in our machine-tool industry there are, in fact, new items that many people simply do not know about.
Earlier, in the production of weapons, defense companies sought (and still do not mind) to use foreign equipment if it has no analogues in Russia. Not to mention high-tech civilian products, in which imports account for up to 90% capacity. As defenders did not previously resist import substitution, now, due to the threat of stopping some industries, this has to be done at a forced pace from the wheels. According to open data, now in Russia annually procured equipment for all industries for one billion rubles, of which Russian enterprises get the entire 100 million rubles.
Why sad defense
"Everyone already thought that the machine-tool industry in Russia had stopped developing, but now the sanctions came out and now the defense capability of the country will depend on how quickly we can go to import substitution and import," the defense plant representatives said. Sergei Makarov, General Director of OJSC Stankoprom. "We understand that your task is to give the country high-quality and best weapons, but we will try to give you better equipment over time."
In this regard, he asked the session participants to review their plans for technical re-equipment in favor of Russian machine tool builders. In particular, this was done recently by the Savelovsky Machine-Building Plant (SMZ) LLC, which has recently become part of the Stankoprom holding, one of the largest machine-tool enterprises in Russia for the design and manufacture of equipment for various industries, including aviation and space.
"We started an active technical re-equipment program this year, as we also receive a large percentage of equipment and components from abroad, so we need your support in the form of demand for products," the situation explained. Ivan Androsov, CEO of the LPS.
It was noticeable that representatives of many defense enterprises examined the new machines without much enthusiasm, and some even with lean individuals.
"We already did this when the technical re-equipment program was launched," an expert from an ammunition manufacturing company told Expert Online. - We bought an optical grinding machine at the Leningrad plant. But they installed the router in such a way that there were jumps, as a result a large percentage of the marriage was formed and it was impossible to work at all. We can not supply the army defective ammunition, it is excluded. It was necessary to incur additional expenses, to buy equipment in Taiwan, which works quite normally. "
Leasing will help them
On the one hand, defense workers have nowhere to go, since it is "Stankoprom" that should be the government's decision to become a single engineering center of competence for the introduction of the latest Russian equipment into production. The holding has already established new orders. Starting this year, defense enterprises receiving budgetary funds should be equipped with domestic equipment by no less than 10%. By the 2020 year - already at 60%.
On the other hand, in Russia over the past four years, thanks to the state program "Development of machine tools and tool industry for 2011-2016 years", over one hundred samples of new machine tools and high-tech carbide tool collection have been created, which are fully ready for introduction into mass production.
"We conducted a large analytical review of the bases for the purchases and orders of equipment by our enterprises abroad and selected the groups and types of machines that are most popular among them, which are presented here," explained Sergey Makarov. - This is primarily grinding, threading machines, which are in short supply. Turning and milling, which will also focus on, are in great demand. Some are already represented here, some are in development or are being introduced into production. "
Another thing is that industrialists, especially those who burned themselves with domestic equipment, or those who decided to follow the path of maximum efficiency and immediately introduced the most advanced machines, do not really want to experiment and incur additional costs. As one of the defense industry experts said, it's like you are forced to replace a good new imported refrigerator with a Russian of the same quality.
"In principle, you can replace, you just have to spend money again, and the return from it will be the same, if not less. So here, we will replace it, but the accuracy in the metalworking will most likely be not two microns anymore, like on a European machine, but four. But once forced, it is necessary to switch to domestic, only productivity will be lower, "said a representative of the defense enterprise.
In order to reduce such pessimistic moods, according to the machine-tool development subprogramme, funds were allocated for the creation of new R & D, that is, the search for new technical solutions that can compete with Western ones. In addition, five billion rubles are being allocated from the budget (10 will have to attract it themselves, from partners or banks) for the technical re-equipment of machine-tool builders. Finally, a leasing program should be an incentive for import substitution of defense enterprises. According to Sergey Makarov, it is now being finalized and will be launched in October.
Demand will generate new supply
An excellent confirmation of the fact that state support can give good sprouts is SASTA OJSC (Sasovo, Ryazan Region), which successfully participated in the Minpromtorg program to support R & D and mastered the production of the most popular machines. As a result, high-precision milling machines, numerical control lathes (CNC) and flexible automatic lines SASTA now work in Europe, the USA, Africa, and Asia-Pacific countries, as well as at the largest enterprises of almost all branches of the heavy and oil industries in Russia. Now we are designing new high-precision machines and preparing them for mass production.
"In general, import substitution has given us solid advantages. We took analogues of the world's leading factories and tried to do better than them, says Alexey Peskov, Chairman of the Board of Directors of OJSC SASTA. - Now we are waiting for a new round of development thanks to the sanctions imposed against the Russian defense industry. The number of orders in June was 30% for enterprises in the defense industry, and by the end of September it was already 70%. These are three pluses - the technical re-equipment that we carried out, R & D and sanctions - gave a powerful breakthrough in development. "
Thanks to the program of technical re-equipment of the enterprises of the SASTA defense complex, the first turning machining center was launched in 2006, then it mastered the production of flexible production lines (robots), in 2010-m the first turning lathes with a digital operating system appeared, and in 2012 it was already started operation of an automatic line for processing Toyota body parts (Japan).
The increase in orders from the defense industry enterprises is also noted by other machine tool builders.
"Indeed, we have a growth in demand from the defense industry, so we hope that the sanctions will allow us to make another breakthrough in development," says Valery Zuev, Technical Director of the Ryazan Machine-Tool Plant.
This company is one of the few in Russia that can make both new universal metalworking equipment and individual machines for individual orders.
Optimism is also experienced by the head of the SP Donpressmash service department (CNC bending presses, flexible automation) Andrey Kosenko, which also notes an increase in orders from the Russian defense industry.
"However, it's hard to say that it is because of the sanctions that the demand for our equipment is growing, since we started producing new machines even earlier than we were seriously competing with the Japanese company AMADA (the world's largest manufacturer and supplier of equipment for cold sheet metal processing). Ed.). We have seriously strengthened our position in quality and service. "We also have counterparts of German machines, which are not inferior to them in quality and performance," says Andrei Kosenko. "The growing demand allows us to move forward, now we are developing a flexible production line: the robot itself will submit the sheet for bending and send the product to the warehouse."
No stuffing
However, machine tool builders are still far from euphoria: the complication of geopolitics may disrupt their plans for the production of certain types of equipment. Our machine tool builders are inferior to Western ones in the provision of their own components.
"We have to admit that we almost completely buy complex components in the West and abroad in general," says Alexey Peskov. - We do not have good bearings, CNC systems, no ball pairs and control swings, hydraulics and other things - we still have to buy a lot in the West. If sanctions are imposed, for example, on bearings, then we will stop a lot. Those that we use in our machines are not yet produced in Russia. If the government decides on new investment projects in these areas, the situation will improve. "
Therefore, the creation in Russia of joint ventures with leading manufacturers is still considered the most effective way to produce competitive equipment.
For example, the successful SP Donpressmash is a Russian-German joint venture established on the basis of OJSC Donpressmash with STS Pressentechnik GmbH.
"We haven't received any signals from our partners that they will have to stop cooperation with us because of sanctions, it's mutually beneficial," Kosenko said.
Moreover, for the production of flexible lines (robots), this company also intends to enter into cooperation with one of the European companies with the condition of localization of production in Russia. (However, it's not clear how things will go now).
Since there is little such cooperation, it is still more profitable for industrialists to buy some types of equipment abroad. Let's say the equipment of the world's leading machine builder DMG in Russia is now very few people will decide. But Valery Zuev believes that all is not lost.
"Yes, our company cannot compete with the same DMG right now, since the production of machine tools has not developed for almost 20 years in Russia. But on the other hand, the design base that has been preserved, for example, at our plant, will make it possible to partially launch the production of similar equipment in cooperation with other machine tool builders and in the presence of orders. Therefore, we hope that the sanctions and restrictions on the use of Western equipment in the defense industry will help us in this. With some state support, with the implementation of relevant additional R & D, we can commence the development of equipment of comparable efficiency with products of the same DMG. "
Numerical laser control out of competition
Another weak point of the Russian machine tool industry (and not only) is the lack of a wide range of components. If in the production of armaments only Russian electronics is used (and not fully), then in the machine-tool industry, where the basis of success is new efficient CNC systems, everything is different.
"In terms of electronics, there's really a big problem, we'll deal with it seriously, we already have a program to set up and develop the inlet of Russian CNC systems," says Sergey Makarov. - We intend to launch it by the end of the year, there are plans by the end of 2015 to create a new base of the Russian CNC, which could correspond to Western counterparts. There are a number of Russian systems, but in quality they are inferior to Western counterparts. We will create a CNC, which will also have a Russian element base - a processor, for example. "
However, so far none of the machine tool builders of the Stankoprom holding interviewed have said directly that they have been denied the supply of CNC systems. Although some have admitted that their European and American partners, just in case, began to carry electronics for machine tools through Estonia and other Eastern European countries. It is precisely because, as a result, machines with this electronics are intended, inter alia, for enterprises of the Russian defense industry. But it is known that cases of direct refusal in deliveries are already in place with domestic electronics manufacturers, which means that numerical control in the machine tool industry also remains at risk.
"We use Siemens CNC at our milling center," says Anton Shlyapkin, deputy chief technologist at the NPO Sterlitamak Machine Tool Building. - In principle, it is possible to change it to domestic systems, but it will not be such an efficient machine. If now, to change the configuration of work with detail, it's enough, relatively speaking, to press a button, then with the Russian CNC for each such case you will have to write a new program code on forty pages. But we have already begun to look closely to domestic developers, because you never know what could be next. "
In particular, Anton Shlyapkin and some other participants of the practical session at the Savelovsky Machine-Building Plant were extremely interested in the developments of VNITEP CJSC, which presented its metal-processing complexes with a fiber laser and linear synchronous motors. The competitive advantages of the Navigator machines (laser cutting with high accuracy and speed for any type of metal, even armored) can be listed for a very long time. In terms of performance, efficiency, energy saving, reliability and ease of use they have no equal in the world. Including due to the unique numerical control (and many other patents). The Navigator is already being shipped to Europe, now another batch is being prepared for shipments to the USA.
"In principle, there are analogues in the world, but they are copied from our patents, which I have long registered in Russia, because then I was doing this as a scientific hobby," says the general director of VNITEP CJSC Alexey Korukov. - Competitors do not hesitate to say: yes, we used them, because they are not registered by international standards, which means you can use. But fiber laser technology and other unique machine solutions require fantastic CNC, which we have now achieved. The leading manufacturers of CNC came to us, offered their development. We say: put them on our machine, let's see how accurately it will work then. For some reason, they never returned. "
Now VNITEP enters into cooperation with Savelovsky Machine-Building Plant, installing its own CNC on their machines, which improves the accuracy of metal processing.
"Our iron (mill - ed.) Is excellent, durable, eliminates the effect of vibration," says Alexey Korukov. "At the exhibition in Hannover, we made a splash with such machines, the French competitors are drooling — they have no such iron."
Western companies are ready to create joint ventures with VNITEP even now, despite the locked politicians. In Russia, the main customers of VNITEP are also private companies that can count money and value efficiency and productivity along with quality. But the sales volume of budget and near-budget companies from VNITEP is only 6% of the total. And this speaks of another problem of the Russian defense industry enterprises - their slowness. One may complain as much as possible about the shortcomings of domestic machine tools, but the elementary loss of the habit of looking for the very best, first of all in Russia, deprives them of additional possibilities, including the improvement of product quality. However, it is possible in the case of regular holding such sessions as at the LPS, it will allow our defense specialists and not only them to see the achievements of our machine tool builders. In particular, the same Korukov, it seems, has found new clients here. Sergey Makarov, in turn, suggested that the session participants create a council of chief engineers to search for the best options for import substitution.