The first losses suffered American troops in the "fight" with the so-called "Islamic state." American tiltrotor
MV-22A Osprey
took off from the deck of the US Navy carrier Makin Island, but immediately after takeoff began to lose altitude. While the pilot attempted to rescue the aircraft, two of the soldiers on board jumped straight into the sea. Reports about it
Telegraph
.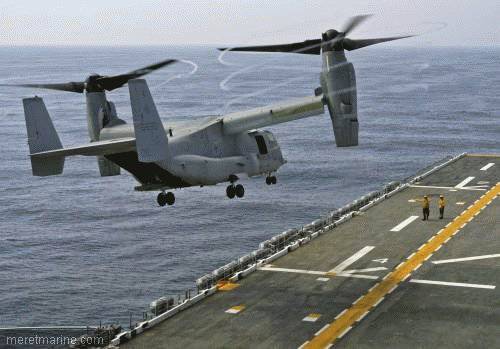 The pilot managed to level the convertoplane and put him back on the deck of an aircraft carrier. When we began the operation to rescue American servicemen who jumped from the aircraft, it turned out that only one could be saved. The second could not be found either in the early stages of the rescue operation, or in the course of attracting special funds.
After the incident, the command of the US Navy issued a statement:
An American soldier is considered missing (at sea).
According to data presented in Western publications, this soldier was a member of the US 11 Expeditionary Force Corps. So the Americans lost the first Marine in the "war" against ISIS. And after all, this ISIS has not yet begun to fight against the US military ...