Shelling of Donetsk in the last 2 of the day was conducted by units of the Armed Forces of Ukraine, and not the National Guard, Deputy Prime Minister Andrei Purgin said on Thursday. Reports about it
RIA News
.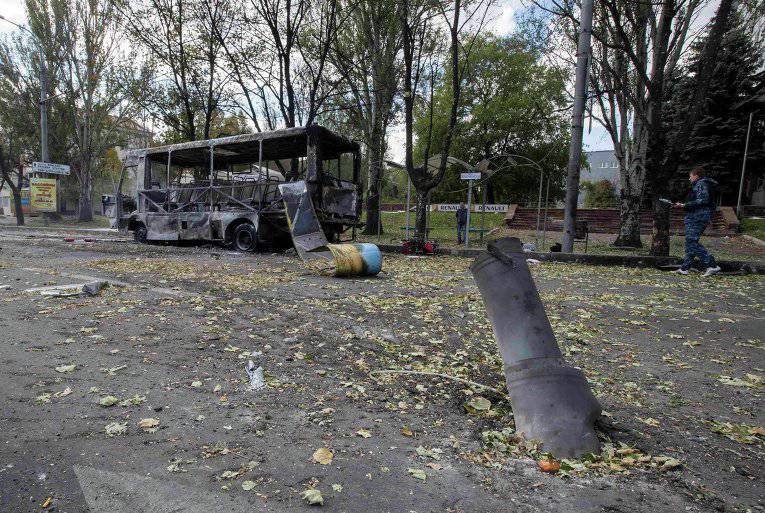 "They are mainly used by the Uragan system of salvo fire. National Guard battalions do not have such weapons»
, - he said.
According to him, the fire is "on the squares", and not specific targets. "Not a single military object was damaged. Infrastructure objects mostly suffer, for example, 400 transformer substations have been destroyed, "added Purgin.
As it became known, on Thursday, during the shelling, an employee of the Red Cross, Swiss Laurent Etienne, 1976 was killed. The projectile hit the ICRC office building was confirmed in the organization's official Twitter account:
"In our office in Donetsk in Ukraine, a tragic incident occurred. We are currently establishing the facts and informing you of the situation as soon as possible. "
.
"Our sincere condolences to the family of our colleagues and friends. We share your grief "
- says the ICRC.
Yesterday, eyewitnesses reported explosions of shells in the central and northern parts of Donetsk. "Heavy artillery salvos are heard in the central regions, as reported by the residents themselves. In the northern part of the city, a column of black smoke is rising, which is visible in many areas, "the city council said on its website.
According to eyewitnesses, a fire rages near the airport, a column of thick smoke is carried by the wind to the center of the city. Also, the townspeople said that the explosions damaged "Vishnevsky hospital, shopping center and tennis courts." In addition, suffered an apartment building on the street. University.
On the eve, the city authorities said that as a result of the shelling, "11 died and about 40 residents were injured."
Meanwhile, the European Foreign Service (EMU) expressed concern about the violation of the truce in the Donbas, which led to the death of civilians in Donetsk. As noted in the communiqué distributed by the service, not only civilians are dying, but Ukrainian soldiers in the vicinity of the airport.
"We express our condolences to the families of the victims, and we recall the need for strict observance of the cease-fire under the protocol of September 5 and the fulfillment of the memorandum of September 19"
- stated the representatives of the EMU.