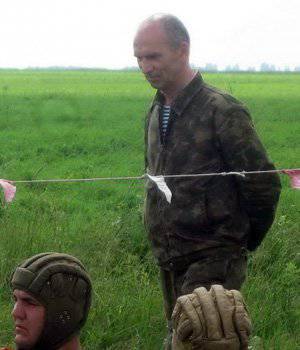 The hero of Afghanistan, Leonid Khabarov, was convicted on charges of preparing a mutiny, was serving a sentence in Khakassia, and was released early in July of this year. After returning home, the colonel did not communicate with journalists, but recently there were rumors that the retired military volunteered to the Donbass. Our online newspaper was able to contact Leonid Vasilyevich, find out how he relates to the Ukrainian war and how it can be useful in the conflict zone.
- Recently, in a blog of the Novaya Gazeta journalist Irek Murtazin, information about rumors appeared that you allegedly went to Donbass as a volunteer. I wanted to know, is this true?
- Unfortunately not. Do not release yet. I haven't finished my term yet, three years left. I am under restraint. I need to go to celebrate. I should not leave the territory of the city, in general should be at home from ten o'clock in the evening until six in the morning.
- You say "unfortunately." I understand correctly that you still want to go there?
- This issue is being resolved, but so far they have not met me. But if I am allowed to go there, then I will certainly be there.
- And how are you trying to resolve this issue?
- I have already sent two appeals addressed to the president. One sent somewhere in August, and the second appeal - in early September. To give me the opportunity to go to perform combat missions. At the first request I received an answer, but I believe that this is a reply. It said that I was under restriction of freedom, so I can not leave, that I need to submit for review of my case, and every kind of casuistry was kept there, so I sent the request a second time, slightly correcting it. As I was informed from the presidential administration, the second appeal was sent to the Ministry of Defense. Now this question is solved there.
"But why do you want to get there so hard?"
- I want to once again benefit the Fatherland, if possible.
- Are any of your former colleagues already in Ukraine?
- So I just called from there my guys who work there. They found out they let me out and asked to come. Interestingly, they called on both sides of the "barricades". I tried to dissuade those who are fighting for the other side [of the National Guard of Ukraine], saying that neither Ukrainians nor Russians need this conflict, that this America is leading this war to the last Russian, to the last Ukrainian. I think I was able to convince the guys about something, at least they thought about it. I gave a couple of tips to those who called from this side, so, apparently, some information leaked out.
- And with your family, with your wife and son, did you discuss your intention to go to the Donbass, how do they relate to this?
- You know, I am a military man, this is a military family, and that says it all.
- Immediately after his release, you wrote a blog post that you need to improve your health, to take care of yourself. Do you feel you have the strength to go to another country now?
- Yes, I, in principle, "repaired." It is clear that I can no longer be a front-line fighter ...
- Well, what role do you see yourself there, assuming that you will be allowed to leave?
- I have pretty good experience in managing units: I served twice in Afghanistan. The first time I was the commander of the assault battalion in 1979-th year. Then, even before the general introduction of troops, we were the very first to go there, took the Salang Pass. And the second time was the chief of staff of the assault brigade. Of course, all these campaigns went through half in the mountains, half in a cast. But I think my skills can come in handy. I can help in the organization of active defense, in the organization and conduct of active hostilities.
- From the point of view of your combat experience, how do you assess the actions of the militias for whom you want to fight?
- How do I rate? Well, some actions are not evaluable. Of course, I don't know completely how this happens there, but a lot, it seems to me, could be done more expediently. It must be said that the militia have already learned a lot on the cones and on the donuts, but still there are many more nuances. Take at least volunteer training. They scored there, say, miners in the militia. They are good guys, they have a desire to fight. Here they begin to train sambo, hand-to-hand combat. Yes, what a hand-to-hand fight ?! It's like walking to Beijing, it's an extra, waste of time. This intelligence needs a similar skill, but here it is necessary to teach elementary rules of conduct in battle, reconciliation-adjustment
weapons
Shooting from all types of weapons from various distances.
Suppose the enemy conducts artillery fire on their territory. There is equipment - electronic "serifs", so that along the trajectory of the projectile or the flight of the mines, determine where they were released from and to immediately reply that the debt should be paid red. This is what needs to be taught, because such skills do not immediately come, but for now the guys lack literacy.
- Leonid Vasilyevich, now a truce has been announced in Ukraine, but you still strive to get to the militia. Do you think that fighting will resume sooner or later?
- Of course, will resume. It repeats
история
with Chechen campaigns. I believe that if they [the militias] successfully developed the offensive, then at least it was necessary to complete it, but not to stop it in any way. It was necessary to knock out the enemy from its territory, and then conduct some kind of negotiations. Many battalions fought against the militias, which are now in their own right. This is not a full-time Ukrainian army. A separate formation. They are not subject to any government or any services. They need to somehow neutralize.
- What do you think, when the conflict finally ends, then in whose favor?
- I will tell you that if they give everything to complete directly to the military, then everything will end quickly and as soon as possible. If not, there will be a long protracted slaughter. The current truce in Ukraine is only a delay in the run-up to the big "meat grinder".