The head of the Ministry of Foreign Affairs of the United Kingdom made a tough statement on Russia during the conference of the Conservative Party, threatening the introduction of new measures as a response to Russia's actions in Ukraine.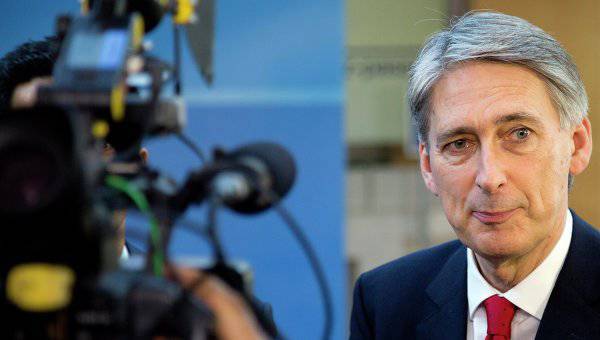 Hammond noted that after a long period of the Cold War, Britain "offered Russia investment, trade and partnership," but she "chose confrontation."
"We should be proud that the UK was a leader in the introduction of far-reaching sanctions, which make it clear that we will not tolerate Russia's illegal actions. And we will not allow intimidation of our NATO allies in Eastern Europe. Let me remind Mr. Putin: threats to any NATO member will be met by a response from the whole of NATO. That is why we sent our Typhoon fighters to the Baltic and will do it again if necessary. Because NATO and the principle of collective self-defense helped us in the difficult times of the Cold War and will remain the key principle of our defense policy in the future, "the RIA policy quoted
"News"
.
Relations between the Russian Federation and the West began to deteriorate after the outbreak of the crisis in Ukraine. After the annexation of the Crimea to Russia, the European Union and the United States imposed a whole package of sanctions against companies, banks and other sectors of the Russian economy.