Since the fifties of the XX century, all domestic
Tanks
equipped with stabilizers of weapons (guns and a machine gun coaxial with it). Regardless of the fluctuations of the tank's hull that occur when driving over rough terrain, the weapon stabilizer allows you to keep the gun's position in space unchanged, as well as to direct the weapon at the target. The use of an arms stabilizer allows targeted shooting when the tank moves with a high probability of hitting a target.
The weapon stabilizer is a system of two drives - a drive for pointing and stabilizing a gun in a vertical plane (vertical guidance - HV) and a drive for guidance and stabilization of a tower with a gun in a horizontal plane (horizontal targeting - GN). Both drives are associated with the gunner's or commander's sight, while the sight may have an autonomous stabilization of the field of view (line of sight) in one or two planes. With a rigid connection of an unstabilized sight with armament drives (a dependent line of sight), the field of view of the sight stabilizes with the same accuracy as the gun. Stabilization of the sight itself (independent line of sight) makes it possible to increase the accuracy of the stabilization of the gunner's field of view and at the same time implement the introduction of ballistic and meteorological corrections into the contour of shooting, thereby significantly increasing the probability of hitting the target.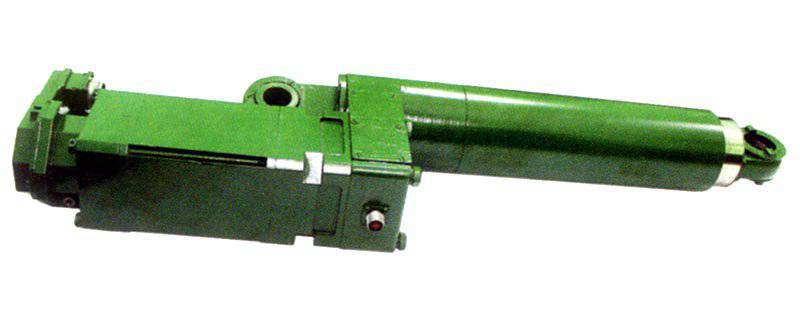 Lifting mechanism with synchronous motor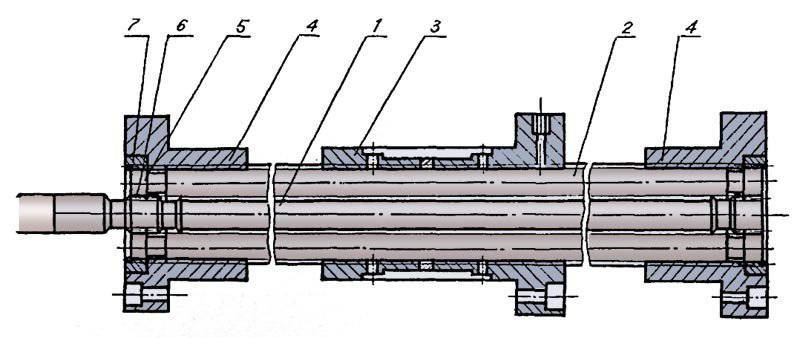 Planetary gear with long threaded rollers (HPHT). 1 - screw; 2 - threaded rollers - satellites; 3 - running nut; 4 - support nut; 5 - gear rims of the rollers; 6 - screw gear rims; 7 - toothed ring gears.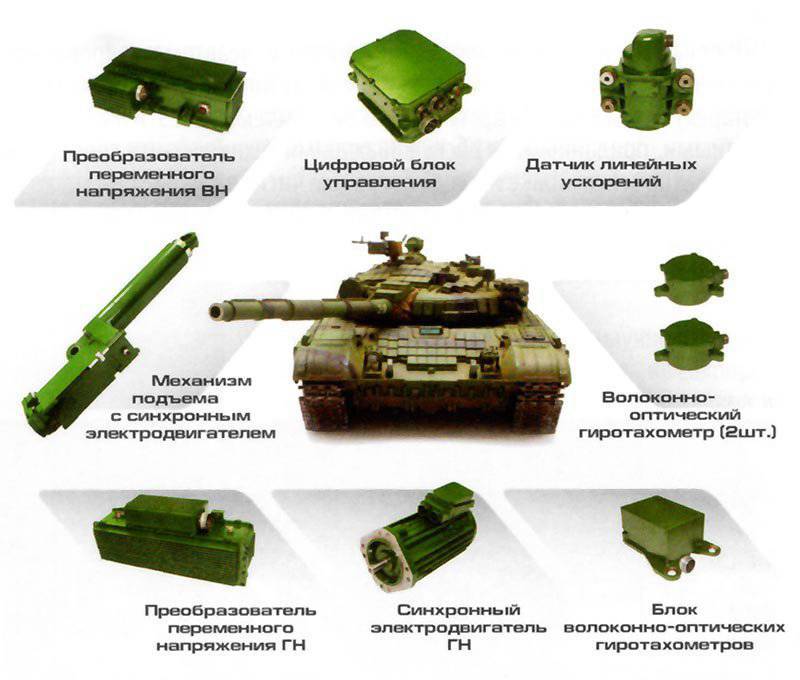 In recent years, the global tank building industry has clearly seen the tendency to abandon the hydraulic drive in the high-voltage channel used previously in most foreign tanks and to use vector-controlled electric drives based on synchronous electric motors in both channels (high-voltage and low-water).
Modern electric drive with vector control of a synchronous motor has significant advantages compared with a hydraulic drive, in particular:
• long service life and high efficiency;
• lack of flammable working fluid under high pressure;
• less labor and maintenance;
• high stability characteristics;
• low power consumption, especially in the parking lot ("quiet observation").
The modern domestic enterprise "VNII" Signal "is actively working to create new types of equipment with a wide use of the latest achievements of scientific and technological progress. One of the important developments of this organization in recent years has become the electromechanical stabilizer of tank weapons of a new generation. Thanks to new advances in electronics, such as microcomputers, IGBT power switches, drive technology and mechanics, it is now possible to reach a qualitatively new level of development. As a result, a modern high-precision and reliable electromechanical stabilizer 2E58 was created, intended both for the modernization of production tanks and for use in new experimental design designs.
To date, an experimental sample of the stabilizer 2E58 has successfully passed bench and field tests as part of the T-72 tank manufactured by Nizhny Tagil UKBTM.
A comprehensive analysis of the options for the implementation of HV electric drive, taking into account foreign data, showed that the use of a traditional cylindrical gearbox with a toothed sector as a mechanical elevator would not provide promising requirements for stabilization accuracy and smoothness of guidance speeds. The reason is that the mechanical connection between the gun and the tank turret in this case is a long kinematic chain, in which variable backlash, increased kinematic errors and reduced rigidity are unavoidable. The use of backlash-pickers leads in turn to significant and non-constant moments of resistance, which are quite difficult to compensate. It became clear that a high-precision, low-inertia, reversible, high-rigidity mechanical lift with a progressive displacement of the output link, installed in place of the hydraulic power cylinder, is necessary. The latter circumstance is very important when upgrading tanks in service.
In the process of development, various transmissions of progressive displacement (screw, ball screws, roller screws, etc.) were analyzed. As a result, a mechanical lift was developed on the basis of a planetary roller screw drive with long threaded rollers (TPR) that meets the necessary requirements.
The RAWP turned out to be better than other gears of progressive displacement in such indicators as specific load carrying capacity, moment of resistance, moment of inertia, accuracy and smoothness of movement.
The technical reserve created at JSC "VNII" Signal "allows the modernization of various types of combat vehicles, thereby expanding their tactical and technical characteristics: increasing the effectiveness of fire, reliability and performance. Modernization of armored vehicles can be carried out with minimal modifications and costs - the EST 2E58 is installed on the regular places of the previous generation stabilizer.