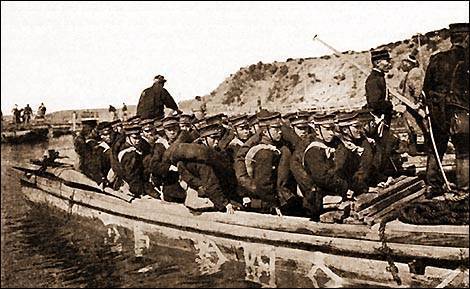 The development of the Russian Far East - история courageous people at the end of the 19 century managed to adapt to the harsh climate and great distances. The hard and dangerous life, the closeness of the Chinese and Americans, isolation from the homeland could not but impose its imprint on the specifics of their weapons. The features of their gunshot weapons well described by Vyacheslav Panteleimonovich Vrad in 1904 year.


Going to the Far East, the scientist thought about what kind of weapon would have been useful to him in the harsh lands. The zoologist and ethnographer should have been able not only to apply his knowledge, but, first of all, to survive. It is now in the harsh climate of Siberia there are no big problems with heating: those who wish can install themselves
electric convectors
but there is no need for weapons at all. The beginning of the 20 century - a period significantly different from our present. The scientist had to possess weapons and skills to survive in harsh conditions.
Initially, Vradiy chose a shotgun-shotgun intended for hunting, and a large-caliber 5-shotgun, necessary for protection. However, it quickly became clear that the shotgun was simply useless: according to the builders of the East China Railway, it is more fun in these parts than a serious weapon. After consulting with experienced people, Vradiy thought about buying a rifle.
The scientist recalled that the Russian residents of Vladivostok prefer medium-caliber hard drives. It is an ideal weapon for both self defense and hunting. Naturally, warm clothing was of fundamental importance: purchase and
sale of split systems
in the 19 century, as you understand, was not feasible. The scientist bought a ten-drive hard drive - and did not regret it. This weapon has often served him well both in hunting geese and in gunfights: "wild Manchurians" were often welcomed by bullets.
Vradiy said that many Russians also successfully used Mosin three-line rifles; shotguns connected to the choke; military rapid-fire rifles;
Mauser pistols; medium caliber revolvers.
The scientist did not immediately adapt to the climate, because modern
air curtains
then were still unknown. In this troubled region, he was advised to acquire a combat magazine rifle, or at least an army Nagant.
The conclusions made by Vrady, sounded like this: in Manchuria, a military rifle is needed, and better hard drive, smooth-bore rifle and revolver. All three types of weapons for the traveler are irreplaceable.